In case you missed it, we are initiating our instagram Monday series to highlight some of our favorite moments of the past week! Since the big day, we've been extremely busy. Traveling, unpacking, repacking, organizing, painting, and more painting. Well, this past week hasn't been any different!
We kicked off the week with a birthday celebration for David. Surrounded by new and old friends, we wished David a happy birthday, grilled burgers, and ate some divine, ice-cream cake from Maggie Moo's. He's getting so old, it took three people to light all of the candles. Happy Birthday, David.
On Tuesday, I received a very special email from Birchbox which announced my wait is over! If you haven't heard of Birchbox, visit their website – it's the most incredible concept and I can't wait until I receive my first box in the mail. Yes, Justin consented to my subscription – which means, I will thank him each time I receive my Birchbox full of goodies.
Thursday was my Mama's birthday! Unfortunately, she had a date with our sweet baby cousin, Stewart and we haven't had the opportunity to celebrate. However, in recognition of her special day – I posted a few of my favorite photos of us two, from the wedding.
As the weekend neared, I packed my bags in preparation for Allie's bachelorette weekend in Charleston, South Carolina. I must confess, I nearly cried leaving my love for the first time since saying, "I do." Despite how much I missed Justin, I had a wonderful time going to dinner, hanging out on the beach, and para-sailing with so many sweet girls.
On the way to Charleston, I made a pit-stop in Tifton at the lovely, At Home on 12th boutique. Our long-time family friend, Toni has opened this shop in downtown Tifton and I must say, it is darling! I can't wait to go back. So, if you're in the area – you must stop by!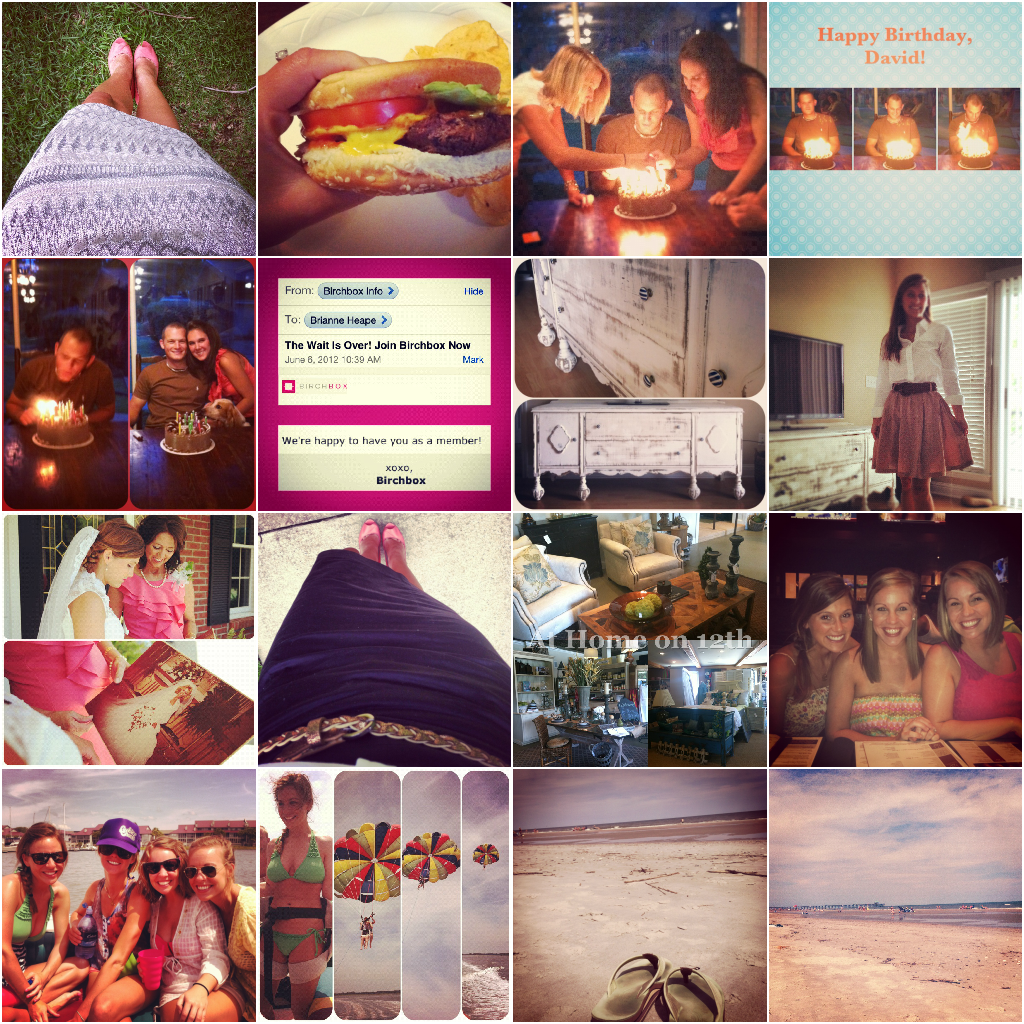 For more photos – follow me on Instagram, @BrianneJoy
As we begin this new week, we prepare for another chaotic week with another birthday, another layer of paint, and another trip!
What was the best part of your week/weekend and what're you looking forward to this week? We'd love to know!
Happy Monday!
xo, the newlyweds