In attempt to bring some goodness to this hot day, we are recapping the past 7 days through Instagram photos!
Last Monday, I kicked off the week by stumping my toe… Ugh. But, thanks to my June Birchbox – I had some lovely BAND-AIDS® designed by Cynthia Rowley to bandage my wound.
On a rainy day last week, my love caught a big, ole bass while fishing in Parrot! Isn't she a beauty big one?
Although the week was busy, we made time for a lunch date to Cafe 230, followed by a stroll through downtown Albany. Cafe 230 is a local business, using local produce – which is a great reason to support them – not to mention, their service is great. It was quite a treat to share lunch together, while discovering a new, delicious place to dine! The food was amazing. I repeat, amazing! For $7.25 I got a fried, green tomato, cheeseburger, which included soup, salad, fries, and dessert. Justin got the special of the day – fried catfish with cheese grits and coleslaw.  Cafe 230 receives 10 squirts of goodness from the Heape's. (Our scale… 1 squirt = eh, 10 squirts = incredible.)
We spent the rest of the week cleaning, organizing, working, and spending some quality time together. With the headboard and our letters finally complete, it was nice to sit back and admire our work.
To compliment our bedding, I ordered a pair of chevron print shams from Urban Outfitters last week. They are exactly what I had in mind and on sale, which was the icing on the cake! Plus, I am so proud of our bedskirt which I finally finished sewing. Yep, I sew – as a hobby not an actual talent. When I say proud, it's more of an excited-to-see-it-finished, I'll-do-a-better-job-next-time, yay-we-have-a-bedskirt and it-doesn't-look-too-shabby.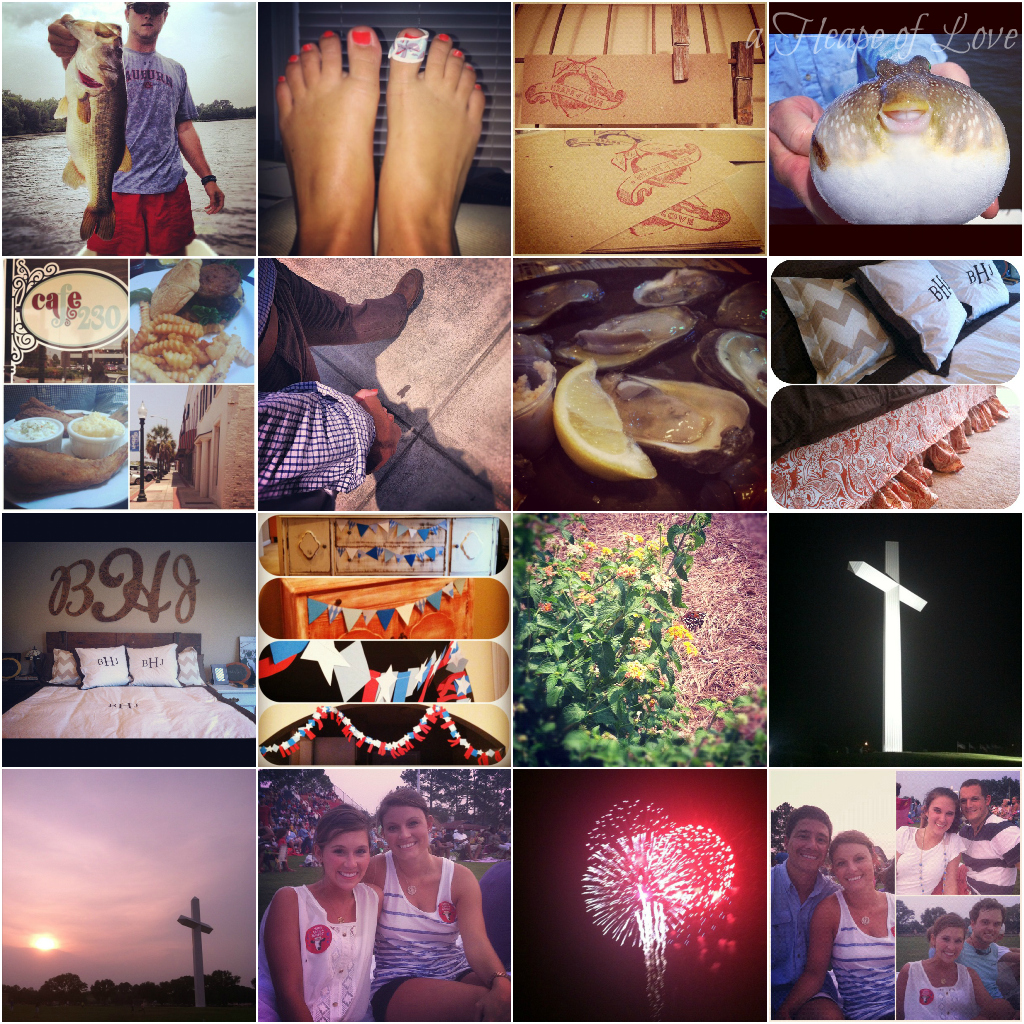 For more photos – follow me on Instagram, @BrianneJoy
After completing our bedroom decor, I decorated the rest of the apartment with red, white, and blue banners and pendants. I love holidays, especially ones that include firework shows! To kick-off our 4th of July celebrations, Sarah and Matthew came into town to attend Sherwood Baptist Church's 8th Annual Freedom Festival. Although the 100° temperatures had us all sweaty and sticky, we enjoyed the company, food, festivities, and the fantastic, firework finale. (Please ignore the commentary, the guys didn't know I was filming the show!)
How did you spend this past week/weekend? Did you celebrate Independence Day? If not yet, how do you plan on celebrating our freedom?
Happy Monday,
the newlyweds