Sometimes, the Lord works in mysterious way. For instance, I believe and like to tell people that Jesus mails me checks – because He does. It may not always be in paper form (although sometimes it is), but He provides… always. It's as if by giving, I'm given an abundance. In fact, it's reasons like this that I tithe each and every paycheck. In our home, we tithe – first and foremost. After all, it's His money.
Thus all the tithe of the land, of the seed of the land or of the fruit of the tree, is the Lord's; it is holy to the Lord.
Leviticus 27:30 (NASB)
You shall surely tithe all the produce from what you sow, which comes out of the field every year.
Deuteronomy 14:22 (NASB)
He swore by Himself, saying, "I will surely bless you and I will surly multiply you."
Hebrews 6:14 (NASB)
Tithing is a command, in which we are called to obey. Us tithing the monetary gifts the Lord has provided, is just an act of obedience. According to Proverbs 3: 9-10, by honoring the Lord, our barns will be filled with plenty and our vats will overflow with new wine – He will provide. And He has. I have no doubt, He will continue.
Honor the Lord from your wealth and from the first of all your produce; so your barns will be filled with plenty and your vats will overflow with new wine.
Proverbs 3:9 – 10 (NASB)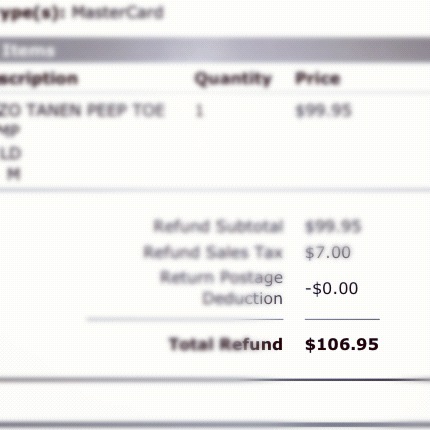 Now, let me explain the reason for my tithing spill. Months ago, I ordered a pair of pumps for the wedding. (It took months to find shoes to fit my teeny feet.) Well when they came in, it didn't take long to realize that a size 4 1/2 didn't fit – too big. I returned them and completely forgot about the shoes after that. But, He didn't forget.
Then today – seriously months later! – this email arrives in my inbox! Money. His money. Basically, a check from Jesus saying, "Thank you for being obedient, my child." He receives all praise! He is so good to me… to us! God is good, all the time. From our obedience, He provides – when we least expect it. Thank You, Lord!
How have you seen the Lord work in your life lately? Has He surprised you with a gift? Provided a miracle? Comforted you in weakness? Share with us, please.
blessed because of Him,
the newlyweds