It's Friday and I couldn't be more excited about this weekend! One reason being, it's been a really long, busy week. However, it's these five things that have me really pumped about this weekend.
baby James is on his way home from Egleston (the procedure went well and because his heart function has improved, he will not be placed on the transplant list – see here if you missed yesterday's post)
this work week is o.v.e.r. and it's been a very busy, stressful, meeting overload week
dinner with our newly engaged friends, Wesley & Kelly (mentioned here)
Julie & Sam are getting hitched and we are so excited to be celebrating with them
I get to see a few of my favorite people, including these 3 fabulous ladies pictured below!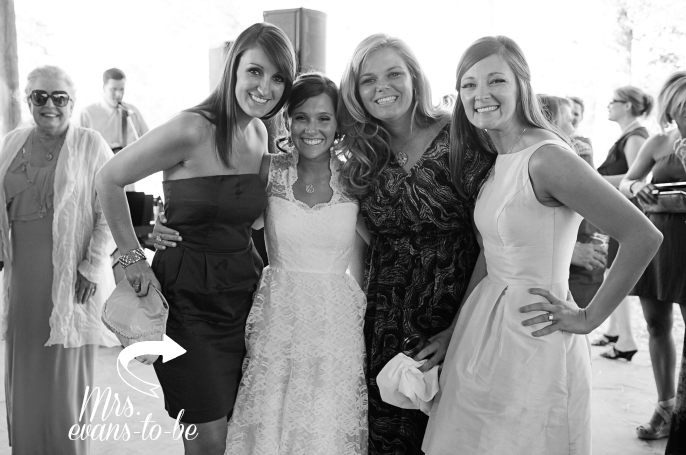 With all of our busy schedules, the miles that separate us, and so many wedding plans, it's been quite some time (well since this photo was taken, 4 months to be exact) that we've all been together. Which is a big reason I'm so excited about this weekend! I get to see all of them. Julie will officially be, Mrs. Sam Evans! Liz, Megan, and I will be enjoying the celebration with our husbands! The best part, we'll all be there! (Plus, several other friends that I'm super excited about seeing.) I'm pretty sure I've been counting down for this day, since my big day. Justin is equally excited! Although, I don't think he was counting down.
To Julie and Sam,
Happy wedding weekend. We couldn't be happier for the two of you! And, we are thrilled to share your special day with you. Congratulations! May you be blessed with years of happiness, joy, excitement, and love.
We love you!
Can't wait to see you, ladies! One day to go.
high five for Friday,
the newlyweds