After an extremely pleasant, vacation like weekend, it's no surprise Justin and I were both dreading Monday.
Let me begin by saying, you may notice a little change in the photo sizes today. That's because we've received a few request for us to enlarge the photos. Apparently, people (who will remain nameless) have some difficulty seeing and distinguishing the photos. Hope you enjoy!
To kick start the week, the Heape home was filled with excitement as our new, return address stamp arrived. Okay, excitement for me… Justin, not so much. Don't think I'm weird, but little goodies like that make me giddy! Especially when I think of the 100s of thank-you notes that I will not have to hand write, return addresses on – yep, that's worth a celebration!
As I mentioned last week, this sweet baby had to make a special trip to Egleston for a heart cath. (We couldn't be more appreciative of your thoughts, prayers, and words of encouragement! He's now happy, healthy, and home with good news.) With the McBrides spending the majority of their week in Atlanta, Chevvy & Ron's did a little brainstorming, revamping, and began several new projects towards the beginning of the week. This allowed me to spend some time with those adorable littles you see below and their Mama. Beau's rockin' her new, fabulous headband from "me & 'ustin!"
On Wednesday, Justin and I enjoyed a delicious, sushi dinner with the Glows! With good food and great company, it was much needed, middle-of-the-week break.
Thursday was that day for me – leave the house at 8 AM and don't return home until 10 PM kind of day. It ended well, though – curled up on the couch, watching a movie with the husband, while writing thank-you notes… definitely a good ending.
Friday morning, a few ladies at work ordered Ellianos which is similar to Starbucks, except they deliver. They included me in the order, which I greatly appreciated. Especially once my pumpkin spice latte showed up. (This coming from the girl that discovered coffee about 6 months ago.)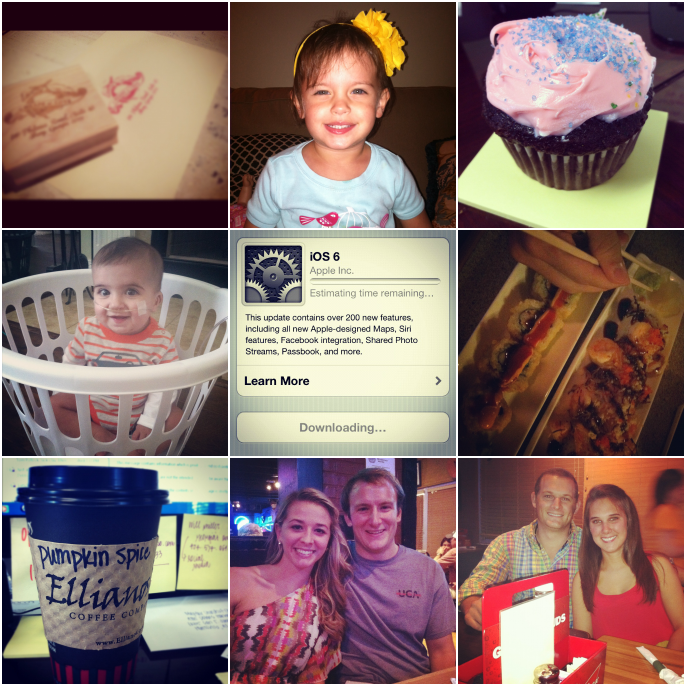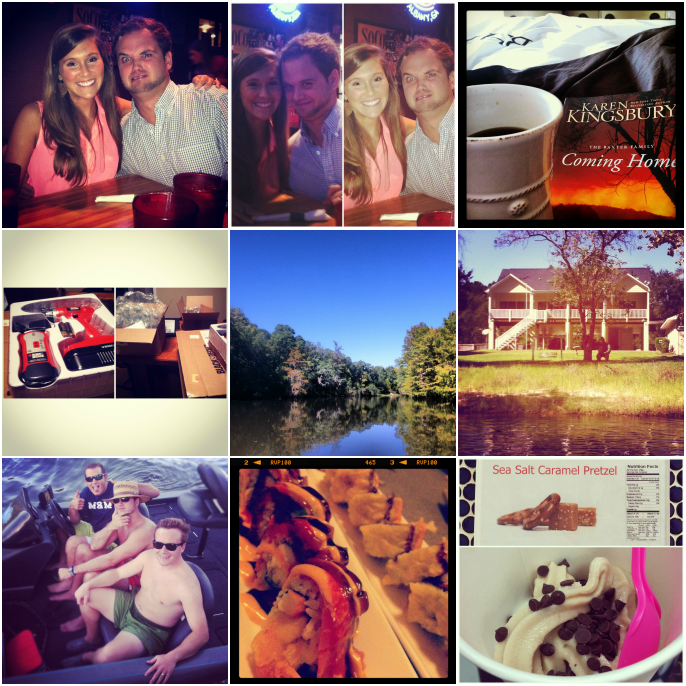 On Friday evening, we made plans with the Glows and our newly engaged friends, Wesley & Kelly. (You may remember them from here or here.) Dinner at Harvest Moon, followed by a fun-filled, guys vs. girls game, Battle of the Sexes – we had a great time! Did I mention that the girls dominated? Team Girls, 3 trophies and Team Guys, 0. Just sayin'.
Saturday morning (while Justin was in the deer stand), I lounged in bed with my new book and a mug of coffee. It felt so amazing not to rush out of bed!
We spent the majority of our afternoon celebrating the nuptials of Mr. & Mrs. Evans! Congratulations, Julie & Sam. Everything was beautiful and we are so happy we were there to celebrate with you. (More on this to come.)
Before leaving Thomasville, Megan was so kind and delivered several of our wedding gifts that were shipped to Savannah. One of which, you see above. It was like Christmas morning in the Heape home. Seriously, Justin was one happy man unveiling his new tool kit!
Our Sunday Fun Day began around noon when we joined our Sunday school class for lunch. (Thanks, Mr. Jim & Mrs. Sheila!) Right before my eyes shut for an afternoon nap, we got a call from the Glows. Next thing I know, a few of us ventured out on David's boat for some fun in the sun and a relaxing cruise down the river. Followed with our favorite sushi rolls from Shogun and fro-yo dessert from Freeze, it felt like a mini-vacation! (It was David & Maryanna's first, Shogun experience… I think we've hooked them.) Can you believe that it's officially fall and we're enjoying mid-90° weather? It's really no surprise. After all, we do live in south Georgia. No matter how eager we are for pumpkin spice lattes, sweaters, boots, and bonfires – fall won't reach south Georgia until November at least.
It was that mini-vacation fun I was dreaming about whenever my alarm went off this morning and I was forced to hit snooze 3 (or more) times.
With the new week before us, we're acknowledging how blessed we are to be healthy and alive on this September Monday. Okay, okay, we are but… we're already daydreaming about this upcoming weekend too. What's that song say? We're workin' for the weekend.
We hope your weekend was filled with awesomeness and your week is a pretty great one too.
happy fall,
the newlyweds