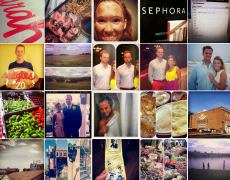 Yea, yea – we know it's not Monday. It's not even Tuesday, so we're way behind! However, please excuse the tardiness… It's been a long, holiday weekend! But, we're back and excited to fill you in on the happenings of last week and weekend.
For the most part, last week was pretty low key. We spent our evenings around the apartment, cleaning, cooking, folding laundry, and watching a few movies. With our busy schedules the last few weeks, we were both in need of a halt – or at least slowing down. So that's what we did. We watched the Change Up, Lock Out, and The Campaign. None of which I can will recommend due to the language. In fact, The Campaign was so crude – I'm embarrassed to admit that we didn't leave the theater. Aside from our relaxing-ish evenings, I worked on a few Chevvy & Ron's projects, while Justin worked on his project. We tried to keep the week pretty quiet,  because we had a busy weekend ahead of us.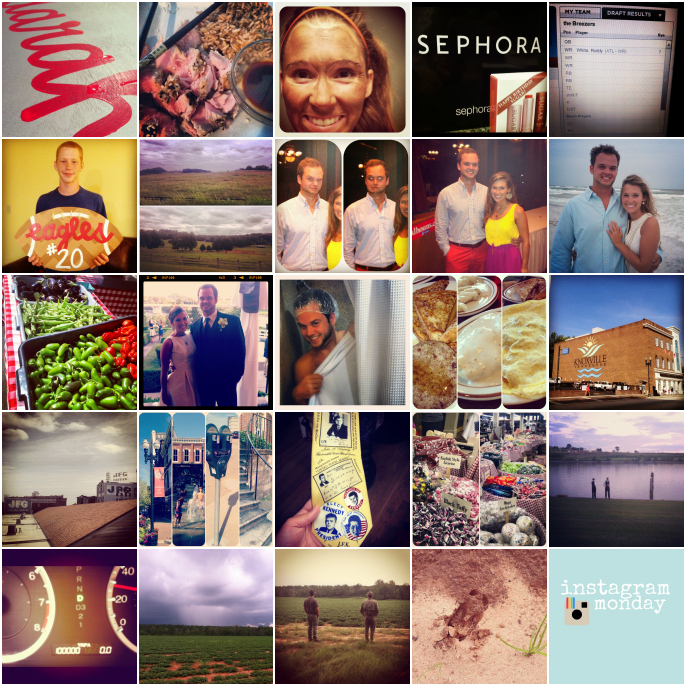 On Friday morning, we packed the car for our 3rd road-trip this month. (Month = in August, you know what I'm saying – a Heape of road-trips!) This time, our final destination was Knoxville, Tennessee. It's my first real trip to Tennessee, so I was pretty pumped. As we rolled into the neighboring state, I couldn't help but snap a few photos of the hills of Tennessee – while belting out the tunes of God Bless the U.S.A. Thank you, Lee Greenwood.
Over the weekend, we had a wonderful time with a few of Justin's college friends and celebrated the nuptials of Thomas and Helen. Congratulations, Mr. and Mrs. Cauthen! After breakfast on Saturday with the groom and groomsmen, Justin and I took a stroll through Knoxville's farmer's market and city streets. I loved experiencing the culture and seeing all of the unique boutiques and shops. So much of downtown Knoxville reminded me of Savannah.
Although we left souvenir-less, I did find that nifty, JFK tie. (See above.) If I could've convinced Justin to wear it, it may be at the Heape home now – but, he gave me a big negative on that idea. So, you can find it at Mast General Store in Knoxville – where it'll probably stay until some other President fanatic strolls through.
The wedding ceremony was perfect. The bride entered to the sound of chimes and a trumpet sounding – it was amazing. Not to mention, Helen made a beautiful bride! The reception was held at the Crescent Bend House & Gardens, located on the Tennessee River. It was stunning – the house, the view, the gardens, all of it!
Somewhere along the 6 1/2 hour drive back to Albany, my poor Honda reached 100,000 miles. Sad day for Henrietta the Honda – and me. I've been dreading the day that would happen for awhile now. Tsk, tsk.
As the weekend drew to an end, Justin couldn't resist dragging me out into a peanut field for a little dove hunting. I say dragging, only because I was perfectly content lounging on the couch watching the rain fall. (I'm not lazy, it'd just been a really long weekend and I was craving a little R&R.) But, I will confess that I do enjoy hunting with him, even if I rarely spot the dove first. ('With him' being the key words here.) Although, I've found it to be a similar experience whether we are hunting dove, deer, turkey, or some other wild animal – so, I blame it on my poor vision not my lack-of hunting skills. On this particular trip, we managed to avoid most of the rain, with the exception of the drive there and back – but, oh was it a pretty sight from afar. (See photo above.) Justin's Dad joined us on this afternoon adventure and the wanna-be photographer in me couldn't help but snap the image of the two gazing over the field. Like father, like son.
Now, we're back into the groove of the everyday hustle and bustle. We're back to work, back to household duties, and back to our incredibly busy schedules. Hopefully in the nearing future, we'll both slow down a bit.
For now, we're looking forward to my (late) birthday dinner with his parents on Thursday and Friday evening with our Sunday school class. Although above both of those, I'm 99% positive Justin is more anxious for Saturday in the stand. The stack of camo on the table, beside the bow and quiver isn't too big of hint, right? Plus, I may or may not have heard, "I can't wait for bow season" a dozen or so times over the last few weeks. Big hints here. And, obvious hints we're true southerners.
that's all  for now folks,
the newlyweds