Let me start by saying, after I wrote this post I found out that the Cannons are in fact moving to Tampa this Christmas season! Meaning, instead of being 7 hours away – they will only be 4, which is basically a hop and a skip compared to 7 hours! Thank you, Jesus! We've been praying for that answer for awhile now.
Now to pick-up where I left off,
After our day on the beach and lunch at the Capri Fish House, we fancied up ourselves for a hot date!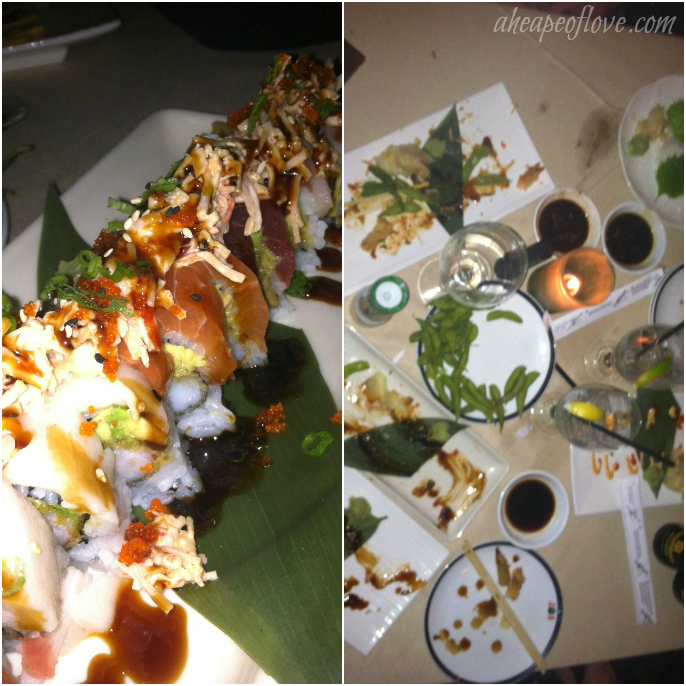 We enjoyed lots of sushi and edamame at DaRuMa! DaRuMa is a Japanese restaurant where you dine by candle light. In fact, it's so dark inside they put flashlights on the tables. Truth. Again (like the fish house), this restaurant was a recommendation and let me tell you, it did not disappoint. As you can see above, we more than cleaned our plates! Now I know I said before, that a great birthday involved sunshine, the beach, and friends – but, add sushi dinner to the day and wham-bam it's an awesome one! The perfect end to a perfect day.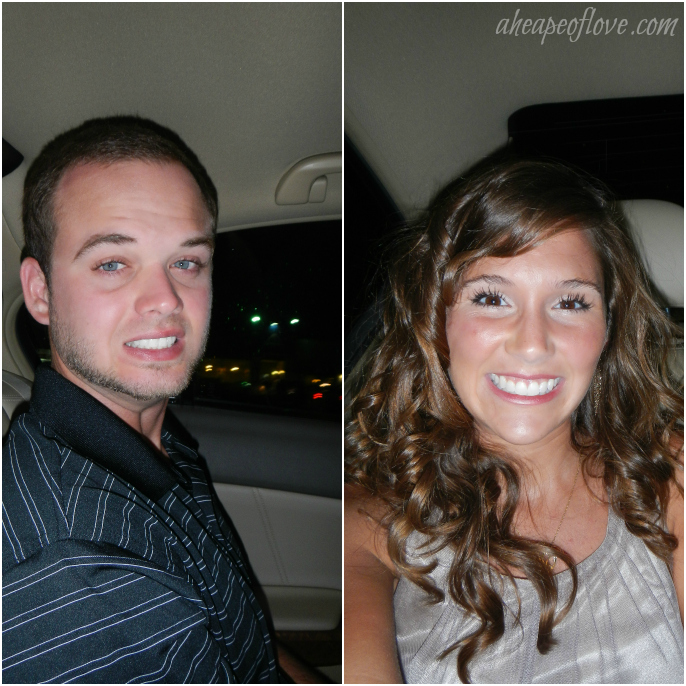 Above is a (not so good) photo of us on my quarter-life birthday. We were on our way to DaRuMa – chauffeured by Trae. After dinner, we journeyed over to a hip, hot-spot called Burn. Here we enjoyed good music, the aroma of cigars, and people watching before calling it a night.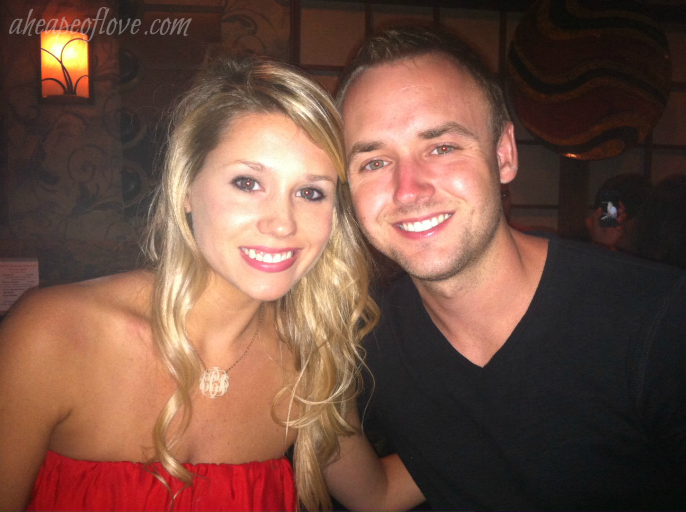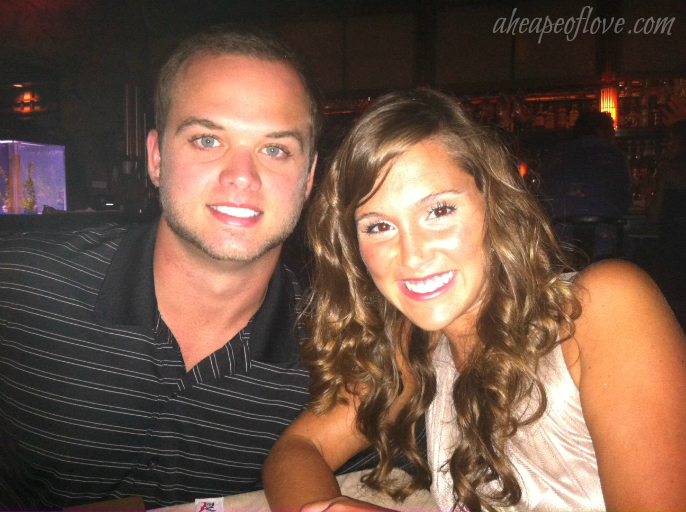 Warning: From this point forward, I will be quoting Will Smith's Welcome to Miami obnoxiously.
On our second day in Naples, we packed our beach bags for a road-trip to Miami. We figured since we were already in south Florida, why not cruise on over to Miami. During this drive in, I may or may not have blasted Will Smith's Welcome to Miami a dozen or more times. So now, I'll do it again…
Welcome to Miami (bienvenido a Miami)
Bouncing in the club where the heat is on
All night on the beach till the break of dawn
I'm going to Miami
Welcome to Miami……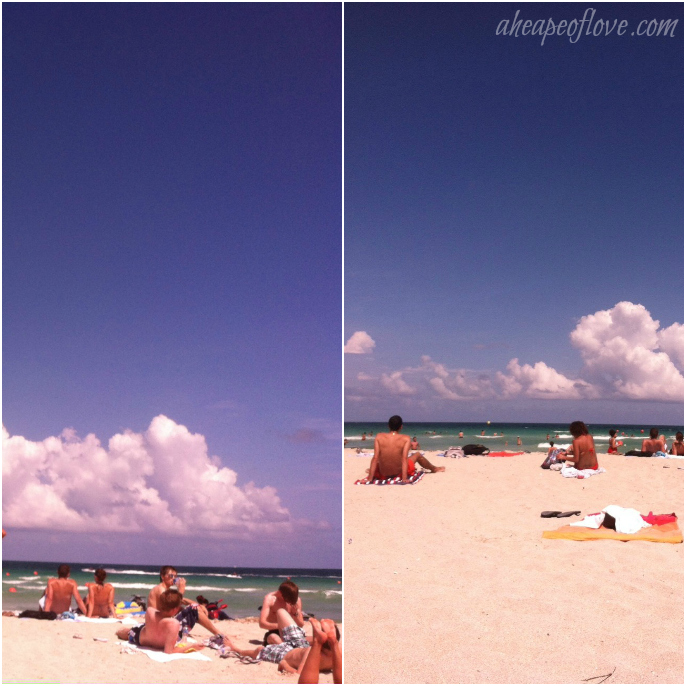 We went with the intention of exploring, but I'll be honest – when we spied South Beach, I didn't want to leave. It was breathtaking… and crowded to the max, spring break style. The water – blue as blue gets! The sand – amazing! Even the unattractive women and men sporting thongs (yep, you read that right!) couldn't ruin this view.
We left the beach momentarily in search of lunch. What we found, the Clevelander Hotel – which we recognized from the E! reality show, Keeping Up with the Kardashians. (In one episode, you see the girls host a launch party at none other than the Clevelander.) Yep, the Clevelander is a celebrity hot-spot in Miami. I'm always up for a celebrity sighting, so of course we stopped in for lunch. Haven't heard of the Clevelander? It's basically a cafe during the day, a club at night, and a hotel.
Unfortunately, we didn't run into any celebrities – but, our waitress said that the Kardashians and Shaq, along with Miami Heat players frequent the club often.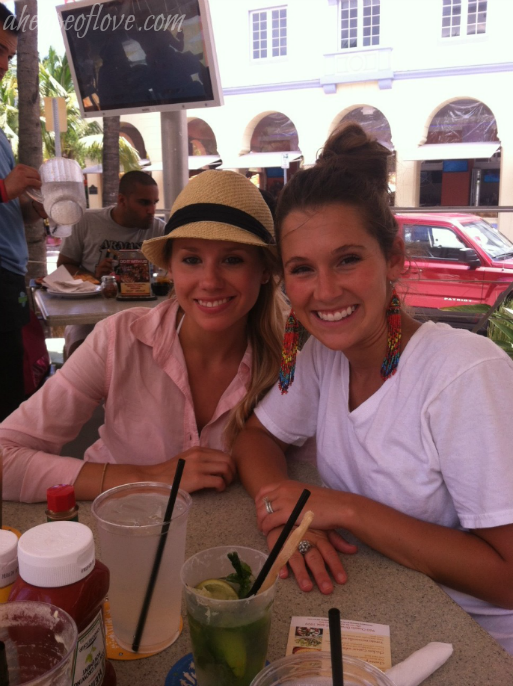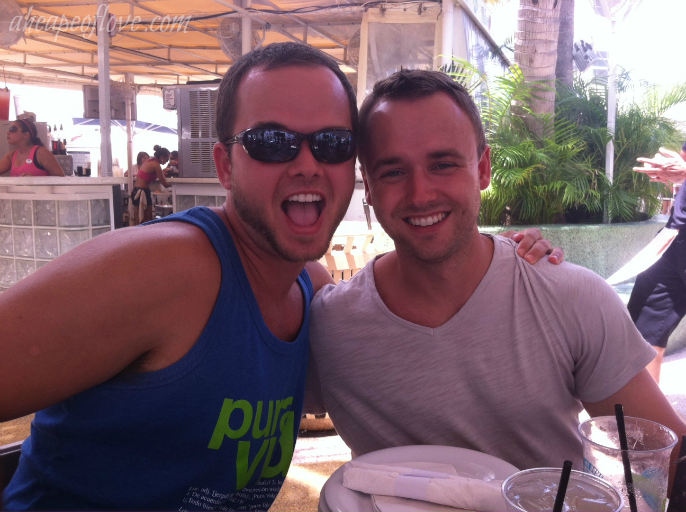 Despite the lack of celebrities there that day, we enjoyed a fabulous lunch. We ordered way, way, way to much – but everything was delicious! As usual, I couldn't resist ordering the fish tacos… They tasted even better than they look and that's saying a lot, because they're making my mouth water right now!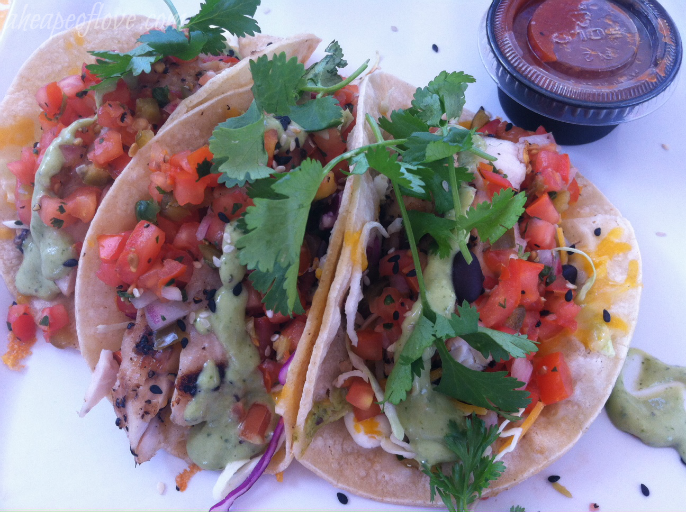 After cutting off my left arm to pay for lunch, we headed back to the beach to party all day, no work all play!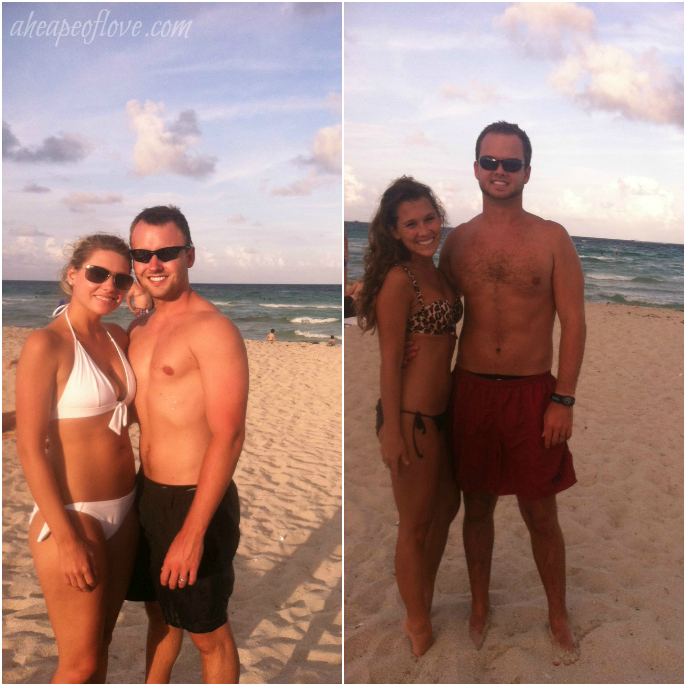 Wait, where is my left arm? That's right, it's at the Clevelander washing dishes to pay for our bill. Only kidding, I still have my left arm, but we did spend a pretty penny on lunch! However in my opinion, it was worth it.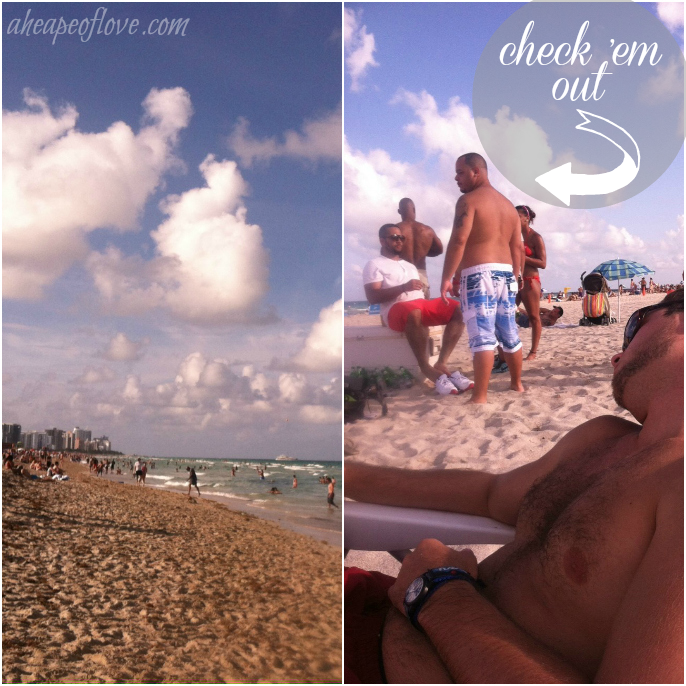 Ignore sleeping Justin and take note of our Spanish friends. They parked their cooler (and ladies) beside us and were there to party. After setting up camp, they didn't leave… ever. They had food delivered to the beach for dinner – about 20 take-out boxes! They jammed out to Spanish music, danced, laughed, and boozed it up. Don't think I'm complaining, we loved them. Seriously. According to our new friends, the way of Miami is to treat everyday like Mardi Gras and literally, party all night on the beach till the break of dawn!
Will said it right, "Real sweet faces, every different nation, Spanish, Haitian, Indian, Jamaican, Black, White, Cuban, and Asian." We saw them all, including the real sweet faces of our new Spanish friends!
By this point, you're probably tired of my Will Smith quotes but… Miami is best described by Will. It's just like the song.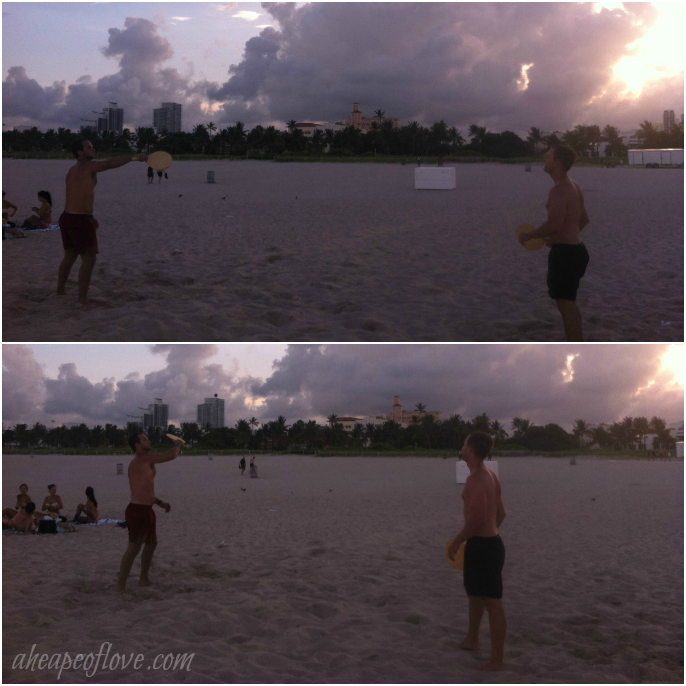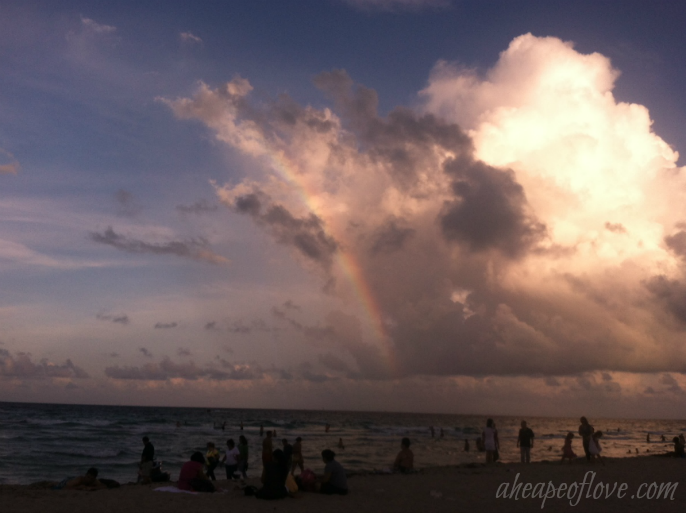 On our last evening in Naples, we dined at this authentic Mexian restaurant. Although I can't remember the name of the place, it is by far the best Mexican food I've ever eaten. Ever. They served us a giant bowl of cheese dip, with cilantro which I though was the best. I stuck to steak tacos, while Justin got brave and ordered a tongue taco. Yep, tongue! What kind? I couldn't tell you, he is saying cow. Either way, it's tongue and he liked it! Gag.
Oh and all of the entrees were served with radishes? Weird, but oddly tasty.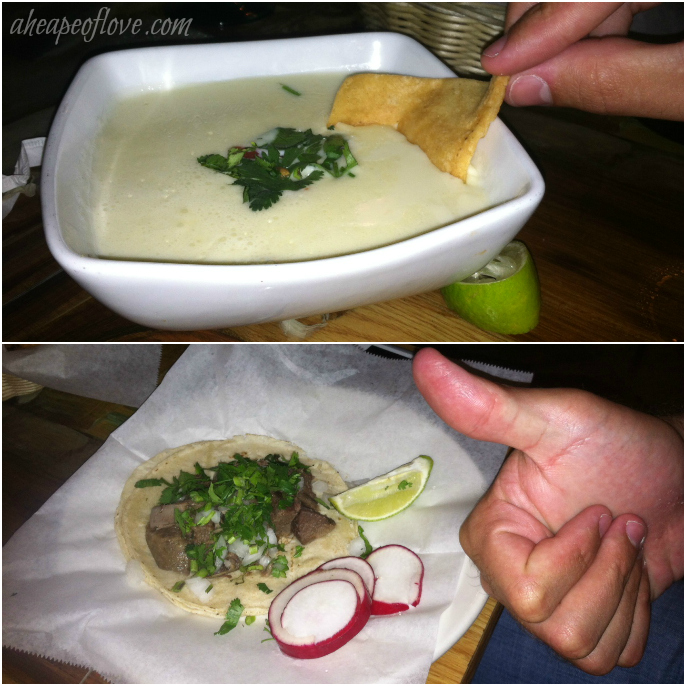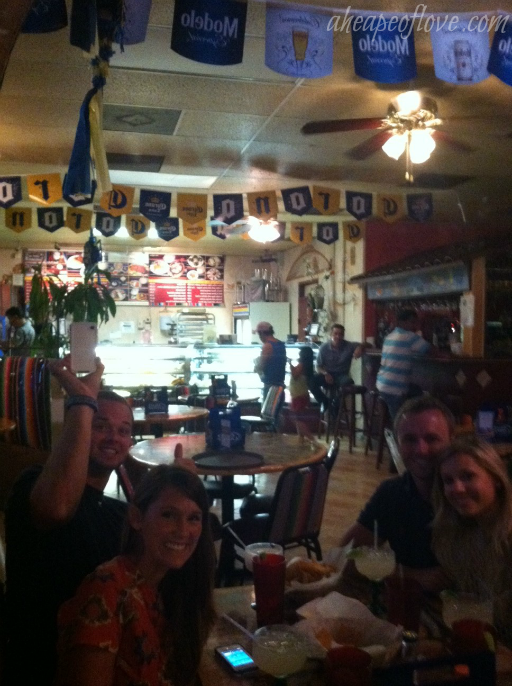 Our booth was next to a wall mirror, which was begging for a photo op. We obliged.
Carolyn and Trae, thank you for the awesome birthday weekend! We had a blast and we can't wait to come back to visit. It was quite a good time and a wonderful way to celebrate my 25th birthday!
happy Friday friends,
the Heapes