A week in the life of the Heapes, illustrated by my Instagram photos.
Last Monday, Mallory and I began several new projects for Chevvy & Ron's – which we can't wait to share this week! Get ready, you're going to love 'em.
On Tuesday, I received a special package from one of my favorite, Savannah boutiques, Red Clover. This shop brings classy and trendy to me, at reasonable prices – that's win win all around! Since I can no longer drop by the boutique once a week, I frequent their new website to suppress my shopping needs… often. I bought this pretty, sweater dress for a wedding we attended this weekend. (More about this below.) Not only was it perfect for the wedding, but I'm already envisioning it with tights and ankle boots this fall.
Wednesday marked 3 years for this guy and this lady. So, we volunteered to babysit the little ones so the McBrides could have a night out to celebrate. We lured Beau to stay with us by bribing her with a cookie. Worked like a charm. And I must add, Justin didn't come by until later (because he had to work), so I tackled bath time with those two cuties alone. I repeat, alone. Honestly, it was easier than I'd imagined – especially since Mallory warned me, two at a time is a toughy.
Same day, my October Birchbox arrived. It's always so exciting to unveil my goodies.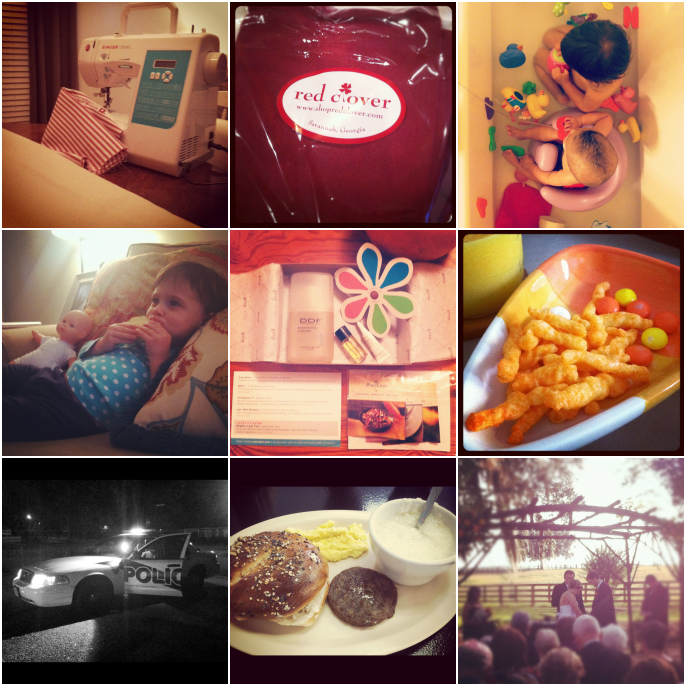 Thursday, I came home to a clean house, no laundry, and really nothing to do except wait for the Vice Presidential debate. So what did I do? I snacked on Candy Corn M&M's and Cheetos, that's what – while watching Remember the Titans for the umpteenth time.
After snacking, we joined the McBrides (at their house) to watch Biden and Ryan duke it out. While we were inside rooting for Ryan, a very mean thief decided to break into Justin's Jeep. When we found the Jeep ransacked, his wallet (with all of this identification), gun, camera, and more stolen… we called the police. After lots of finger print action, we finally crawled into bed around 1:30 AM. Not exactly how we imagined our Thursday evening. Despite the hassle (of replacing things and reporting the incident), we are praising the Lord that no one was harmed or injured and praying the guilty be found.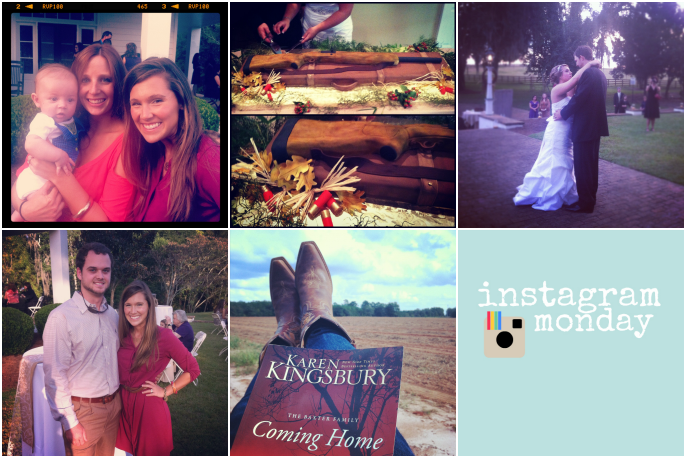 On Friday, Justin was off to another bachelor party. So, one of our favorite friends, Sarah (which you may remember from here or here) came into town for a night with the girls. Mallory, Teal, Sarah, and I enjoyed a very delicious sushi dinner, followed by frozen yogurt, and a comedy. On Saturday, Sarah and I indulged in brunch at the Corner Cafe before she headed back home.
We spent the rest of Saturday afternoon/evening at Emilee and Will's wedding at the Ocala House in Leesburg, Georgia. It was beautiful affair, with the most phenomenal Groom's cake I've ever seen. (Check out that cake!) We caught up with old friends, chatted with new friends, and celebrated the nuptials of dear friends. Congratulations, Mr. & Mrs. Will Griffin! We are so happy for you and wish you two the best.
On Sunday (after church), Justin and I enjoyed the day together. First, a lunch date to Outback – just the two of us. Then, we headed out to Parrot for a little dove hunting. For me, it was really a great afternoon with a good book. I did take a shot (or two or three or four) at a water bottle in the field. I'm going to brag, I didn't miss… not even once. Too bad I didn't see a dove or he'd be a goner!
Overall, it was great week and weekend. (Aside from the robbery thing!) This week, we're looking forward to a wild game dinner, the second Presidential debate, finishing this book, beginning this book, maybe a home project or two, and personally… Grey's Anatomy returning – even though I know Justin couldn't care less.
that's all for now, folks!
the Heapes