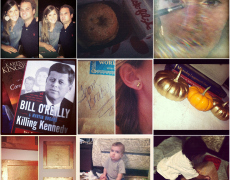 It's Monday and we're back with our weekly, Instagram Monday post – although I should preface, there is a shortage of photos due to a busy week!
On Tuesday of last week, Justin and I attended a local, Wild Game Dinner. The food was delicious and the company was great. A special thanks to this guy for the tickets!
We called it an early night, because I had to leave a 5:45 AM for Atlanta. I (along with 4 other co-workers) traveled to Atlanta for an all day conference with Credit Union affiliates. The early morning resulted in one awesome, chicken bagel from Chick-fil-A before sunrise and make-up application in the car.
The 3 1/2 hour ride there and back was ideal for reading. So ideal, I completed this book and started reading this one. This one by Bill O'Reilly is fueling my Kennedy fascination.
At home, I received a package from the sweet, Braley with those adorable moose earrings! How awesome is that? Thanks, Braley!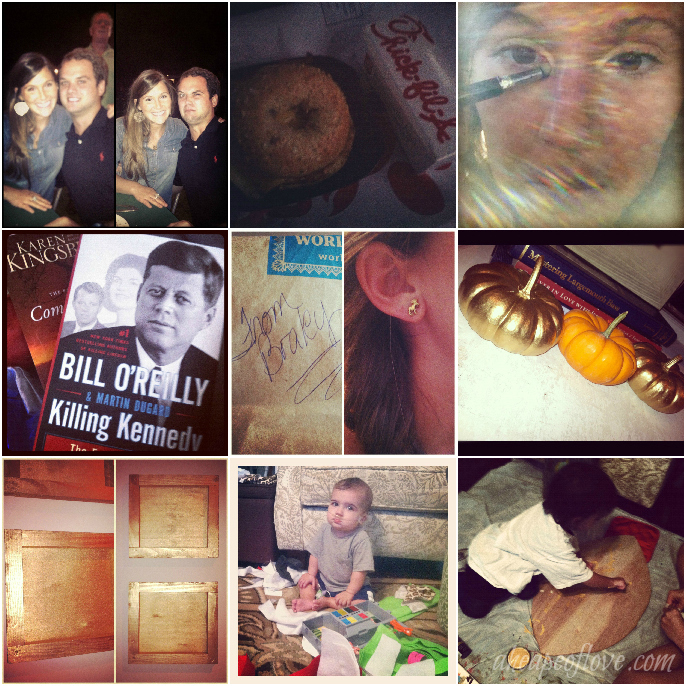 You can follow me on Instagram, @BrianneJoy
Later in the week, I got a little happy with the gold spray paint – painting frames and pumpkins to add sparkle to our fall decor! You may remember me mentioning these projects here.
For a bit on Saturday and Sunday, Mallory and I put our fingers to work on some new products for Chevvy & Ron's. We are so excited to reveal our new, Whoville Whimsical stockings! We were so busy, we put the little ones to work. James wasn't so thrilled about the sewing, but Beau was more than happy to help us paint!
Overall, we're happy to say, "We survived last week." But, it wouldn't have been possible without a lot of prayer and reliance on the Lord. (See here to know the need of survival.)
Honestly after last week, this Monday seems like a breeze. Maybe, just maybe I'll have time to cook for my husband dinner this week. Ha, I said maybe!
happy Monday, friends!
the newlyweds
By the way, guess who decided to stop by the office and surprise me today? That would be Jessica, my former roommate and friend that happened to move to Boston for her love, Matt. (And I haven't seen her since the big move!) Yep, I was so lucky they both graced me with their presence and surprised me!