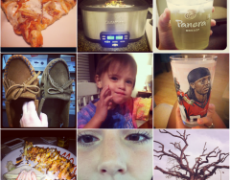 After a fun filled weekend, I'm excited to recap with our photos from the past 7 days.
Monday was the last Presidential debate of 2012. To commemorate, we invited a few friends over for a debate party – for which I tried a new, Buffalo pizza recipe. It was a hit and I can't wait to share this super easy recipe!
On Tuesday, I put our new crock-pot to work. With black beans, corn, cream cheese, and chicken – it was also a hit in the Heape home! I'll be sharing this recipe soon too. Same day, Mallory and I worked on some new, sewing projects for Chevvy & Ron's. (We've got lots of new, Christmas decor!) It was then, she shared her oh-so-delicious green tea from Panera. Yum. If you haven't tried it, make sure you do!
I also discovered those lovely, moccasins last week. Not only are they sweet in appearance, but they are uber comfy – at least that's what I hear. Mine should arrive sometime this week and I can't wait!
See that picture of Beau? With her cheeks full of food? That's her pose for her Auntie Marla! About 5 seconds after this picture, the mouthful of cheese ended up in my hand! Yikes.
Thanks to Dennis, I've been enjoying my Roddy White glass. Since the Atlanta Falcons are undefeated, the cheerleaders are doing a state tour to promote the team. In turn, they stopped by Publix and gave away glasses, t-shirts, jerseys, and tickets! Dennis knows how much I love Roddy White (he is my all-time favorite, NFL player!), so he snagged me this awesome cup – which I love!!
On Friday, we had a double date night with the Glows to our favorite eatery for some sushi. We tried the newest, sushi roll – Gangham Style. Yep, it's definitely named after the goofy, yet catchy song Gangham Style by PSY. Haven't heard of it? Watch. This. Video.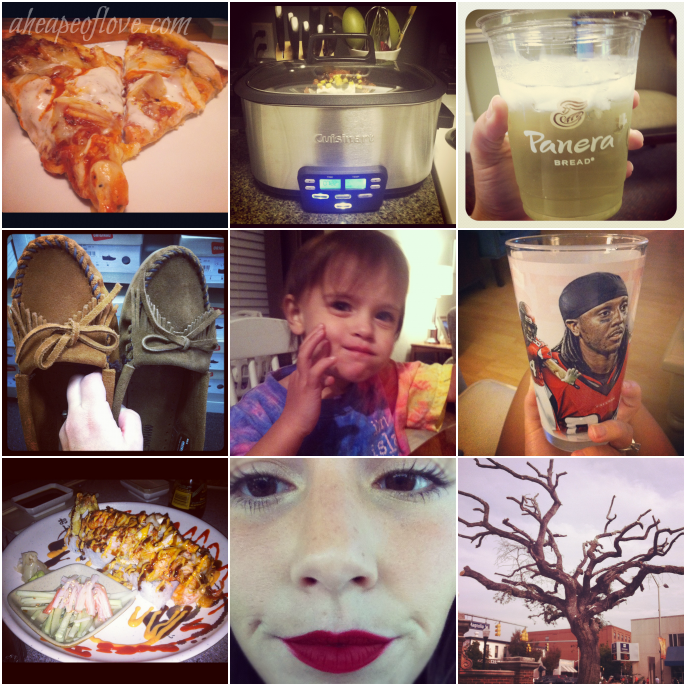 Also, at some point during the week – I purchased that fabulous, red lip stain by Stila. It's called Fiery and it's awesome. Only suggestion, do NOT cover with gloss – it will run/bleed/smear. Other than that, I highly recommend. It's going to be perfect with this year's Halloween costume. Plus, I just noticed that it's sold out online – which means it's just as awesome as I believe.
On Saturday, Mallory, Buddy, Justin, and I packed the car down in preparation for a trip to Auburn. The trip was last minute for Justin and I, since I'd been banking on going to Savannah this weekend – but, oh was it worth it. We set up camp at Chewacla State Park, then headed to Gene Chizik's house to pick up our tickets. Are you an AU fan? Probably not after Saturdays game, but if so… you know how excited we were to be given tickets to the game by Coach Chizik! I don't want to give away our whole weekend, because it's worthy of it's own post. All you need to know for now – our first, couples camping trip was a success!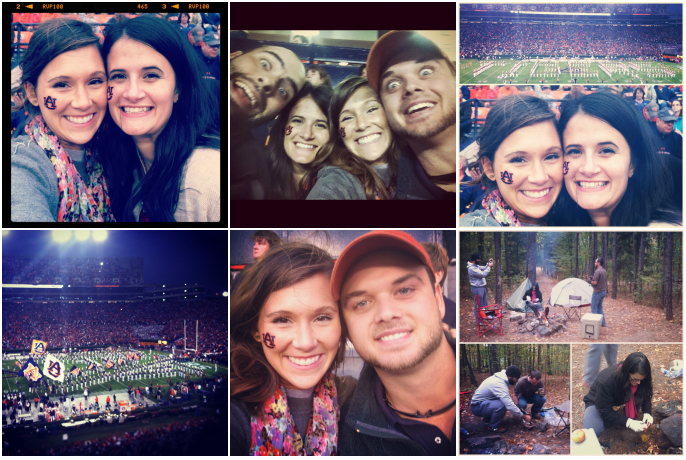 We're ending today's post with a prayer request. As all of you may know by now (unless you live on Mars), hurricane Sandy is expected to do some major damage to the United States this week. Of course, we would like for you to remember the residents of the east coast during your prayers – specifically the residents of Connecticut, Delaware, Maine, Maryland, Massachusetts, New Jersey, New Hampshire, New York, North Carolina, Pennsylvania, Vermont, and Virginia. However, while you are praying for these people, please keep my Daddy and his team in your prayers. As of Saturday, they received word that their assistance is needed along the coastline. In fact, over 1,000 linemen have been asked to travel northeast to prepare for the hurricane's aftermath.
This week, as you go through your day – please remember to pray for the people I mentioned above, along with this awesome group of men from south Georgia:
Brian, my Daddy
Brent, from Albany
Ty, from Albany
Jason, from Camilla
Chris, from Camilla
David, from Sylvester
Tony, from Sylvester
The team listed above will be traveling most of today, with their final destination being Hughesville, Maryland. As difficult it is for me to grasp the need for these men in the eye of the storm, I know the Lord is looking out for each of them. I'm praying for the Lord's hand to surround this team, guide them, and give them strength, wisdom, and warmth during the upcoming days. Please pray for these men, their families, and their safety. Please pray the entire team makes it home together.
The Lord is in control and I will not worry about tomorrow! Thank you, Lord.
If you would like to follow the hurricane reports for Maryland, click here.
Thank you in advance for your prayers!
the Heapes