For quite some time, we've been taunting you with a preview of our gallery wall. So now we're bringin' it – from the brainstorming, to the finished work, we hope you enjoy!
The brainstorming started shortly after we moved into our new apartment in May. We were in desperate need of decor, specifically along our dining area wall. (In our apartment, the dining area and living area are adjoined – separated by a mere illusion. Just to give you a visual.) In turn, I began gathering pieces for a gallery wall. I'd seen several on Pinterest and decided I wanted the wall to be about us – our wedding, cities we love, hobbies, and our faith. After unwrapping our wedding gifts, we found several gifts that were ideal for my foreseen vision. Add this and that DIY project, one wedding photo, and a trophy – voila!
Without further ado, we are I am proud to reveal the gallery…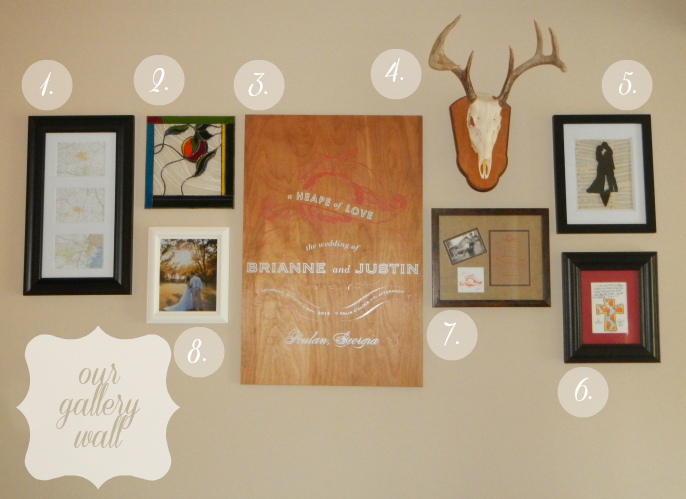 framed maps of Athens, Albany, and Savannah | cities we've lived in during the span of our relationship
peachy stain glass | a gift from a dear, high school teacher, Mrs. Rivers
wedding signage | designed and printed by Chocolate Butterbean, a gift from the Harrisons
one of Justin's trophies
framed cake topper from our wedding | cake topper purchased at Simply Silhouettes on Etsy
marriage cross | Matthew 19:46 scripture with a cross, a gift from my cousins, the Wingates
our wedding invitation | a gift from the Brabhams
framed photo from our wedding day | photography by K&R Photography
Below are a few additional views, although please excuse the flash glare on the glass!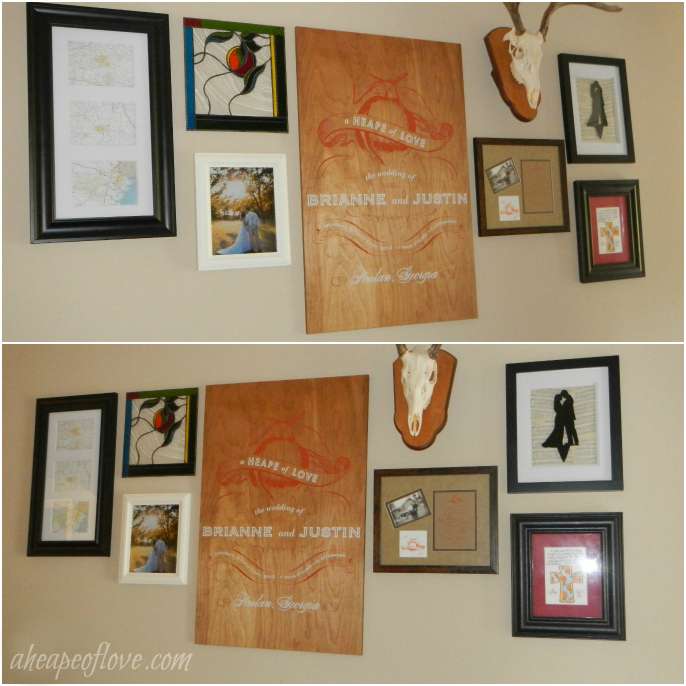 The gallery completes our dining area; it really brought together the look and feel we'd both envisioned for our home. I couldn't be happier with the finished product. It's too bad you can't see the whole place! (Unless you live near or visit often.) Maybe, just maybe I'll do a video tour. Although, I'm not making any promises. Video isn't really my niche. But, I'll try my darnedest.
So, what do you think? Was it was you had in mind? Would you recreate something similar in your home?
Hope you enjoyed the peek inside our home!
have a great weekend,
the Heapes