As a child, Justin nor I participated in Halloween – blame it on our parents, they both have religious opinions about it. Odd right? I mean, it's odd that we'd both grow up believing Halloween "to be of the Devil." Either way, the point is… we did  not dress in costume or parade through our neighborhoods asking for candy. Which may be why, I love it so much as an young adult.
It really has nothing to do with the candy or Halloween generally. For me, it's all about being someone else for the day. For as long as I remember, I've always admired the 1920s and 80s – totally different, I know – but, those decades seem so awesome to me. Which is why this year I channeled a 1920s flapper, inspired by Daisy from The Great Gatsby. (I may or may not be planning to dress similarly for the spring premiere of the movie featuring Leonardo DiCaprio.) In fact, this year may be the first year I've actually planned ahead and prepared for Halloween day. For two reasons really, one. we volunteered for Candyfest at the church and two. lots of people dress up in my office. So of course, I had to dress up.
Also, if you know Justin (which most of you do), it should come as no surprise to know that Justin wanted nothing to do with costumes or "playing dress-up." (Yep, I agree. He's lame.)
First stop of the day, work. It was here that Daisy met Cee Lo Green, Kobe Bryant, a witch, two nurses, Superwoman, a scarecrow, and Rosie the Riveter "We Can Do It!" icon! It sure made for a fun day at the office.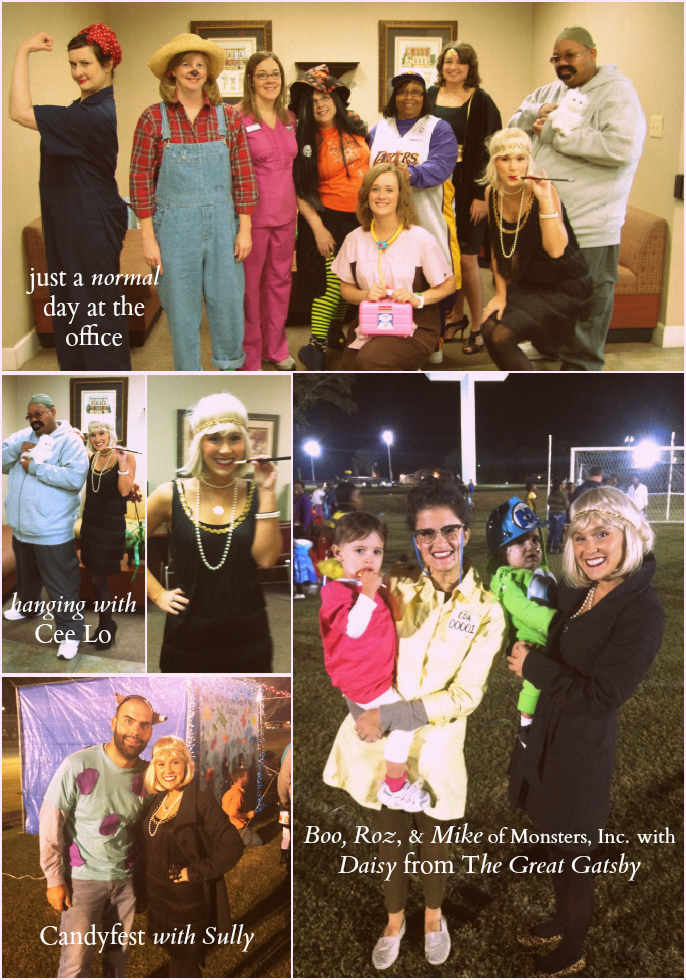 Second stop, Candyfest! Justin and I, along with several others from our Sunday school class, volunteered to work the Gone Fishin' booth. However, before our shift we circled around and found the cast of Monsters, Inc. Aren't Boo, Roz, Mike, and Sully quite the crew?
After sharing a lollipop, Boo and Daisy waited in line for the jumpy. In the process, we posed for a few kissy and smiley pictures.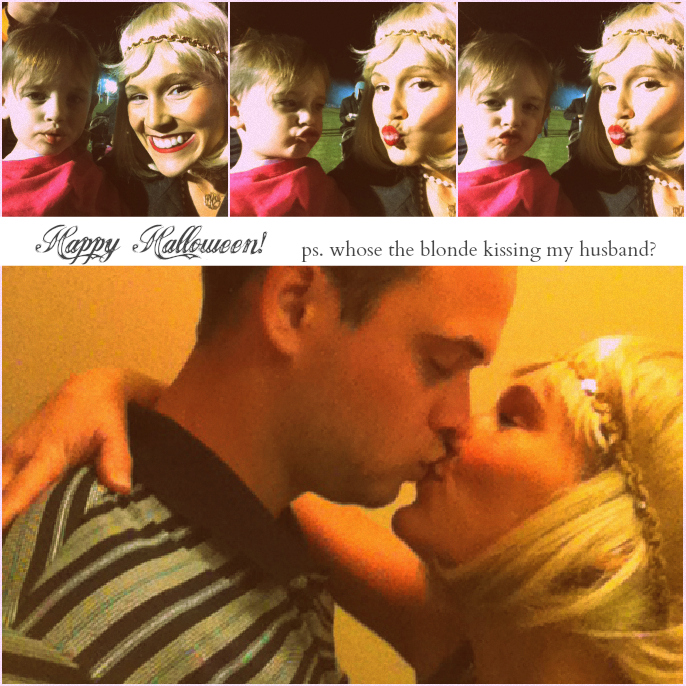 As Halloween of 2012 drew to an end, I caught this blonde smoochin' on my husband! My, oh my. It's a good thing that kiss from my prince transformed Daisy back to his wife.
After a fun filled day in costume, I'm happy to say Halloween was a success! However, we're not even slightly sad to say goodbye Halloween and hello Thanksgiving. We're more excited for family festivities filled with turkey, than costumes and pumpkins. Are you looking forward to Thanksgiving as much as we are?
hope you have a wonderful weekend,
the Heapes