Sadly, I'm slacking on this week's Instagram photos. Since posting most of the pictures here, I didn't feel the need to repeat – so it's short and sweet this Monday.
To kick-off last week, I tried a new, potato soup recipe in the crock-pot. It was not only delicious, but hearty enough to warm us too! In case you haven't kept up with the weather forecast for south Georgia, we had a bit of a cold front move in last week. Unlike a typical October cold front in south Georgia, this front was actually cold. Skip the warmer clothes and grab your sweaters and coats kind of cold. Don't mistake this babbling for complaining, I'm not – it was actually really nice to pull on a warm sweater in October.
On Thursday, Justin and I voted early! Although it's too late for early voting now, be sure to get to the polls tomorrow to cast your vote and make your voice heard.
Same day, later in the afternoon – my Minnetonka moccasins came in! A week or so ago, I saw them on a friend of mine and knew I had to have a pair. They are amazing. I've worn them almost everyday since! Bonus, my extremely tiny feet came in handy this once – because I had to order a kids size 2, I paid less than 1/2 the price.
Teal (the friend I've mentioned here & many other times) finally joined the iPhone phenomenon and Instagram! You can follow her at, @tealglow!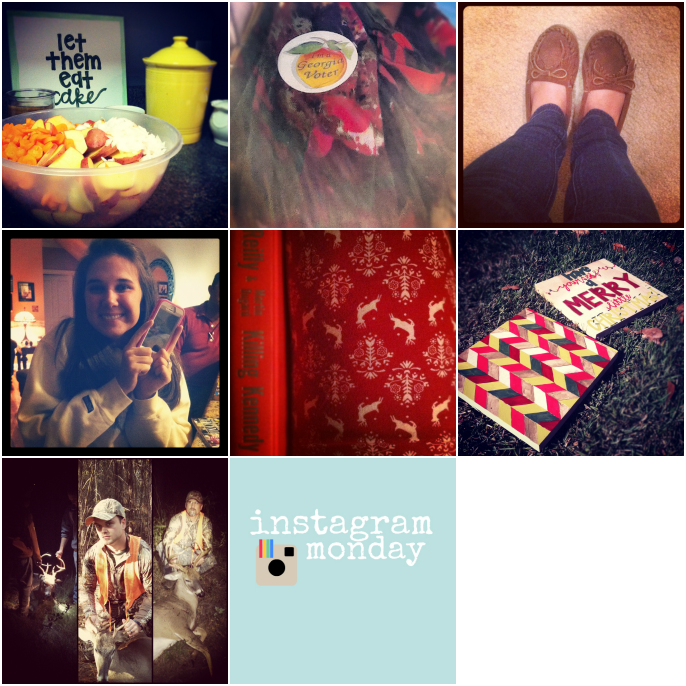 On Friday, I curled up in my Christmas pajamas with this good read. With all of the Chevvy & Ron's Christmas decor production, I can't help but think Christmas. We may or may not have broken all the rules about watching movies and listening to music about Christmas before Thanksgiving – but hey, we needed inspiration! For your own good (and to make me happy), stop by our Etsy shop here, http://www.etsy.com/shop/ChevvyandRons.
As some of you may know, we have some friends that live in Ft. Meyers, Florida and they visit once a year. (Twice a year, if there is a wedding or such!) When they visit, it's usually Florida vs. Georgia weekend and the guys typically hunt all day Friday – Sunday. This time, was no different. The guys were in the stands all day Friday, Saturday, and Sunday – which may be why there are now lots of dead deer. (Please excuse the imagery, it's not as gruesome as it may seem. In fact, it's just a way of life in the south.) Fortunately after this weekend, we're stocked on deer meat for the winter and probably good until next fall.
Like every Monday, I can't help but feel like the weekend was too short. Who ever thought working 5 days a week, with only 2 days off was a good idea? Whoever you are, it's in your best interest NOT to take the blame for this one. Anyone agree?
here's to a good week!
the Heapes
ps. today marks 6 months since we said, "I do" – a whole 1/2 a year. boy, oh boy does time fly!