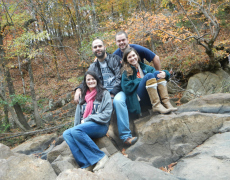 A few weeks back, I mentioned that we (along with friends) enjoyed a weekend camping in Auburn, Alabama. A spontaneous trip for us was originally a romantic, anniversary trip for the McBrides. They just so happened to be celebrating 3 years of a happy and blessed marriage! However, once they learned there were not only 2 tickets to the game, but 4 – it was only a matter of time before the camping trip was planned! We packed our bags on Friday evening, loaded the car early on Saturday, and hit the road. Bound for none other than the home of Auburn's head coach, Gene Chizik. Hidden beneath the rug, we found our parking pass and game day tickets to the AU vs. Texas A&M game. We were so excited!
Foreword,
Justin and Buddy camp often and love it. For quite sometime, the guys have wanted us to join them. Finally, it happened.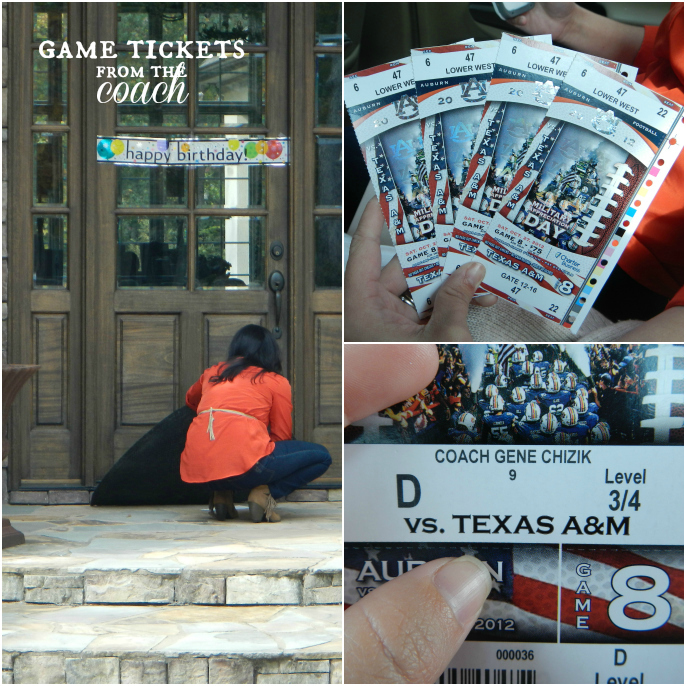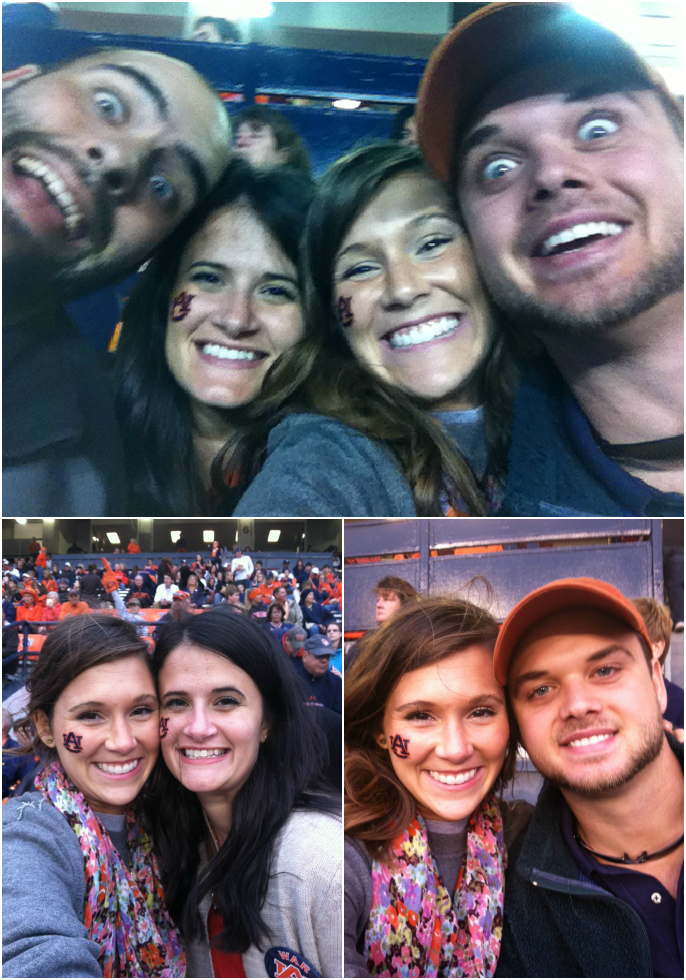 Despite the score, we had a blast cheering for the Tigers, waving pompoms, staying warm, yelling chants, and watching the Bulldawgs dominate the Gators (thanks to technology) – ahem, go Dawgs!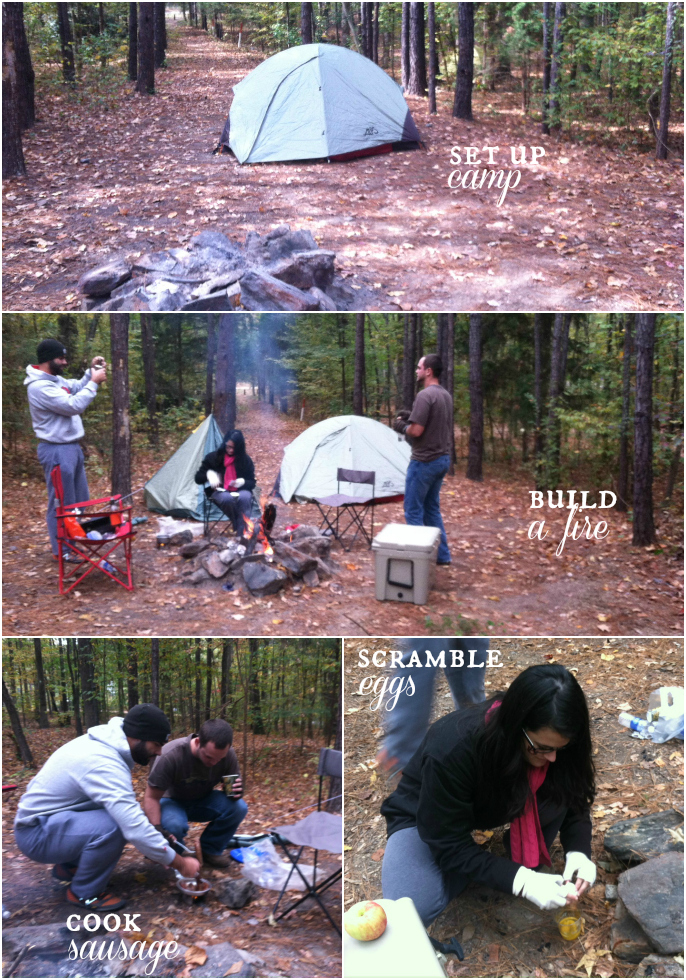 Before the game, we stopped by the campgrounds to set up camp. It was a true roughin' it experience as we used the bonfire to stay warm (in the 40° weather), roasted marshmallows, boiled water for coffee, grilled sausage, and scrambled eggs. Yes, Mallory is cracking eggs on the edge of a rock.
For the record, this may have been one of my favorite and most delicious breakfasts ever.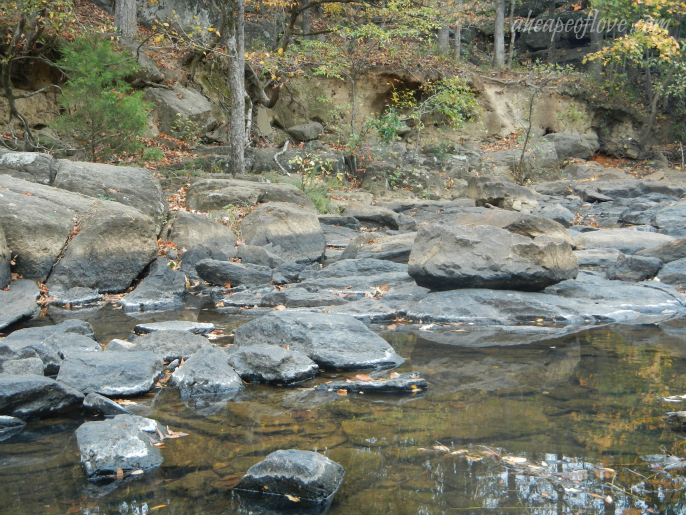 After breakfast, we took a stroll to the nearest stream, marveled at the changing leaves and crisp air, and enjoyed good company. Nice and relaxing.
That is until… the guys got the notion to climb the nearby dam. With Justin and Buddy, no experience is a good experience without a little danger. As Mallory and I watched from afar, the situation quickly went foul as Buddy slipped from the rocks. Justin (being the vigorous, young man that he is) quickly grabbed hold of Buddy's arm and rescued him to safety!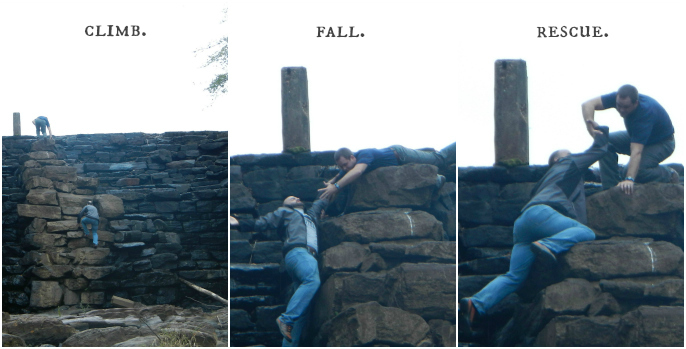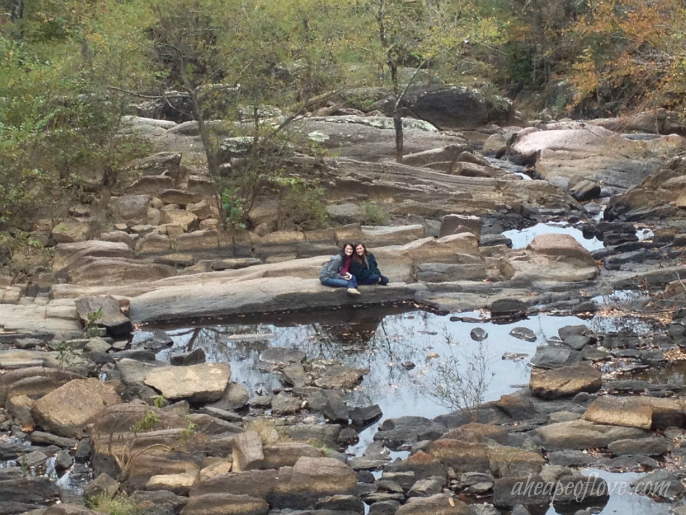 Told ya we watched from afar.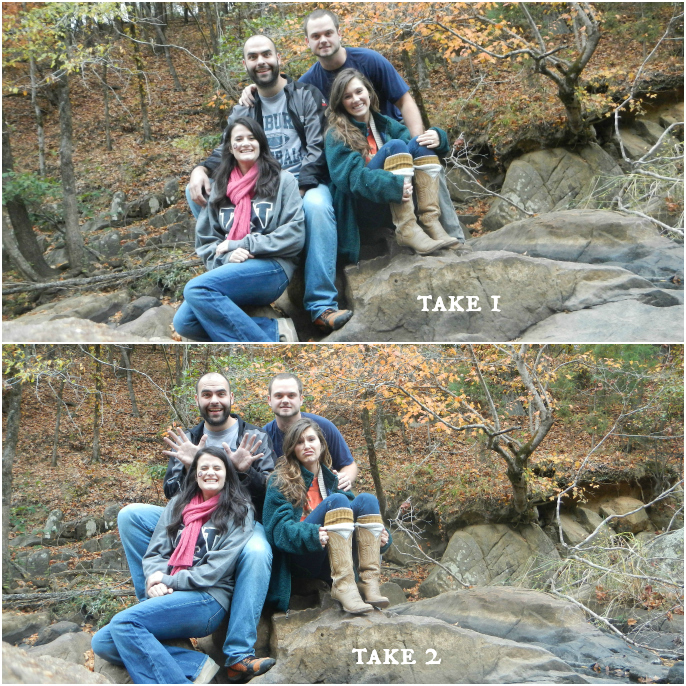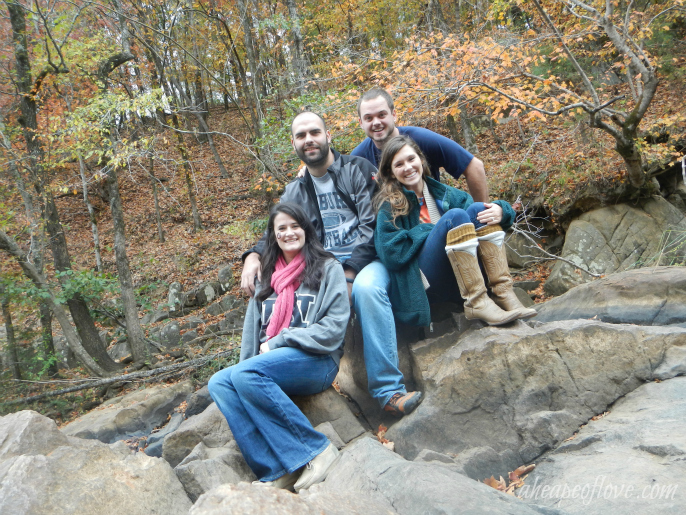 The trip wouldn't be complete with out a group photo or two or three. Please notice that in the everyone-make-goofy-faces photo, Justin actually surprised us with a normal pose. Surprise, surprise! I can't help but love my goofball husband.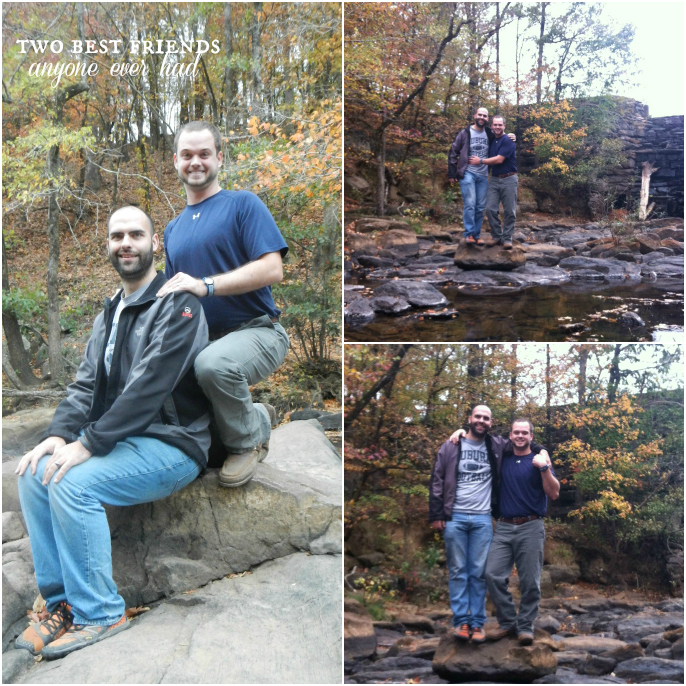 And even though I know they'll both kill me for these, I couldn't resist sharing the photos you see above. The pic on the left may be my favorite photo from the trip! It looks like a classic, brotherly pose from Olan Mills. You thought the same thing, didn't you?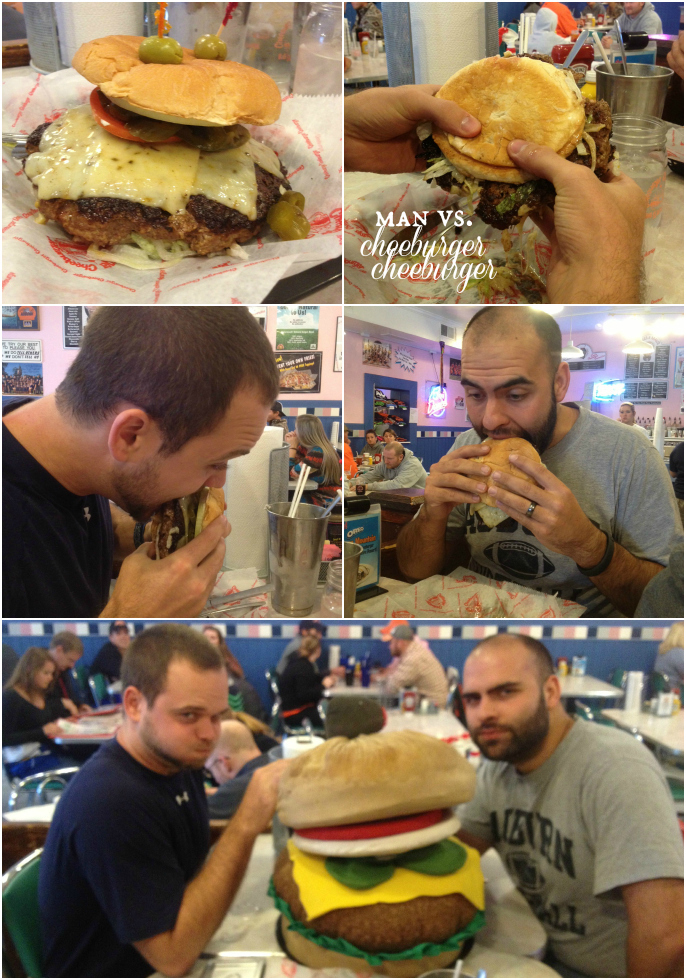 Before bidding farewell to Auburn, we stopped by Cheeburger Cheeburger for the Man vs. Cheeburger competition. Believe it or not, these two managed to engulf the Famous Pounder Burger! True champs! Although all they won was a photo with that nasty, cloth burger and a bloated belly. I'm not sure how neither of them upchucked.
Aside from the terrible loss Auburn endured, the camping trip was a success; we had a blast and can't wait to go back again.
To conclude this post, I'm reminding you that it is Election Day and leaving you with an encouraging message (without getting too political). Please exercise your right to vote; polls are open until 10 PM. If you are a Georgia voter, be sure to write in Justin Heape for State Senate! He isn't an official candidate, but it'd be mighty awesome if he made the news.
happy election day!
the Heapes