Last week was a bit of a whirlwind, with Bible study groups, side jobs, and birthdays – we were happy to find one evening to sit down for dinner together. That happened Monday. Surprisingly, we not only sat down to dinner together – we did not eat frozen pizza like usual and I actually prepared a meal! Don't act too shocked, please. If you're lucky, I'll be sharing the recipe this week.
On Tuesday, I received a fabulous, pink package in the mail. Yep, I'm talking about my November Birchbox – which I will fill you in on later this week. It was a good one, so get excited!
Some point between Tuesday and Friday, we had the Glows, Justin G., and Jetta over for a game of Battle of the Sexes. The guys dominated, but we had fun either way.
We also enjoyed an amazing dinner at Henry Campbell's with Justin's parents. It was an early birthday celebration for Justin and the food nor company could have been better.
Fast forward to Friday and I found myself standing in line at the post office for a duck stamp. Growing up in the south, I've heard of every kind of hunting and know about all of the licenses needed (at least I thought I did), but this one was new to me. Of course I'd heard of duck hunting, but $15 for a stamp with a duck on it? Did I mention it's required in the state of Georgia? Yep, it's a must-have apparently. Crazy. Needless to say, Justin got his duck stamp just in time for duck season.
Not only did the birthday boy get the stamp he needed, but those snazzy waders he's modeling too!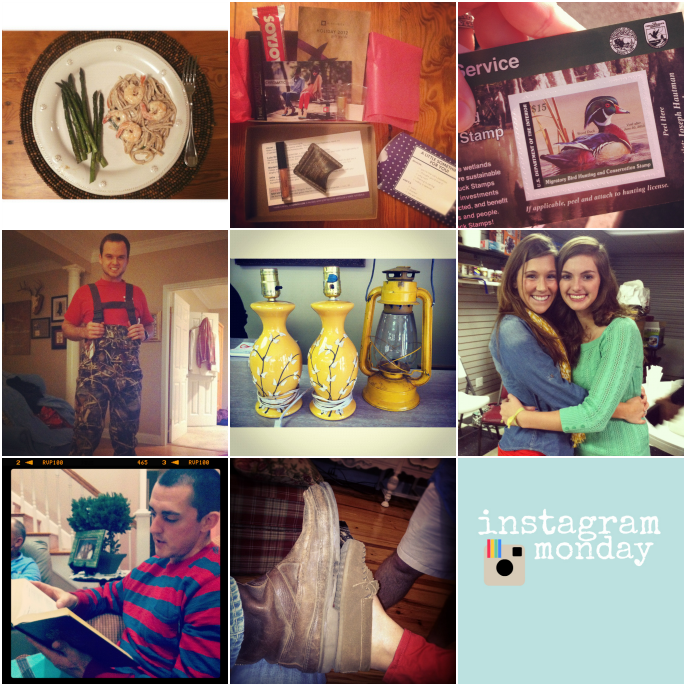 On Saturday, my Mama and I spent the morning together thrifting. After hitting several antique boutiques and sifting through a warehouse, I came across the yellow gems you see above. It's pretty obvious that my favorite color is yellow. Can you believe I got both of those adorable, yellow lamps for only $12? Yes, $12 for the pair! Talk about a steal. (In case you were wondering, they are both working lamps.) I plan on using the old lantern for decoration. Maybe on a shelf?
Same day just later, Justin and I joined the rest of my family at Ed's Truck Stop in Poulan for a birthday celebration for my cousin, Bailey. It's her sweet 16th birthday, so it's a big deal! Yes, we hold celebratory events at a truck stop – don't judge.
After dinner, we caught up with my family and somehow challenging JP to read the entire Bible by the end of 2012. (JP is my sister's boyfriend, for those of you who didn't know! He's pretty awesome.) Not only did he accept the challenge, but he believes he'll complete it within a week. I'm not even sure that's humanly possible. Guess we'll see? We also sized up big foot with my little foot, watched a little football, and made plans for Christmas.
How's that for a short, yet sweet recap of the past 7 days?
Hope you all enjoyed the weekend and are looking forward to Thanksgiving!
the Heapes
In case you missed it, be sure to check out the post from Sunday. It's dedicated to Justin for his birthday and describes how life would be if it weren't for him!