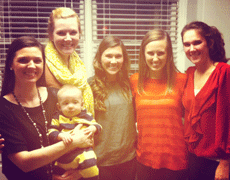 Let me start by prefacing that I do not typically post photos of myself that I do not approve or personally think I look good in. (Ask Bethany if you have any doubts!) However, this one instance… I'm breaking the rules. In fact, I hate this photo of myself – but, I love these ladies and was so incredibly thrilled to be with them that I'm posting it either way. So, disregard my wrinkled shirt, puffy/swollen face, and the zit on my chin. Please and thank you.
Back to that "so incredibly thrilled" comment, complete truth – I was literally giddy at the idea of several couples getting together for an early Christmas dinner. Why? Rewind to my first year in Savannah, this lady and her husband invited me (along with several people I did not know) over for a pre-Thanksgiving feast. A bit nervous because I only knew a handful of people going, but it quickly turned into one of my favorite memories ever. Again you may ask, why? Because it was that pre-Thanksgiving feast in which I met some of my absolute best friends and that gathering evolved into a weekly tradition we liked to call "family dinner."
Now fast forward to the present, why wouldn't I be excited about the possibility of this fabulous group of people becoming some of my closest friends? Exactly! The anticipation built after Katie sent me a text invite and quickly the dreaming planning began. First question, what to bring? Vegetable casserole, after all it is one of Justin's favorites. Second question, what to wear? Eh, scratch that one – my wrinkled shirt is evidence that I didn't plan too well.
On the day of, I was running around like a chicken with my head cut off. I rushed home from work, shoved the casserole in the oven, quick make-up check, hair-up, hair-down, snatched the wrinkled shirt, casserole out – let's go!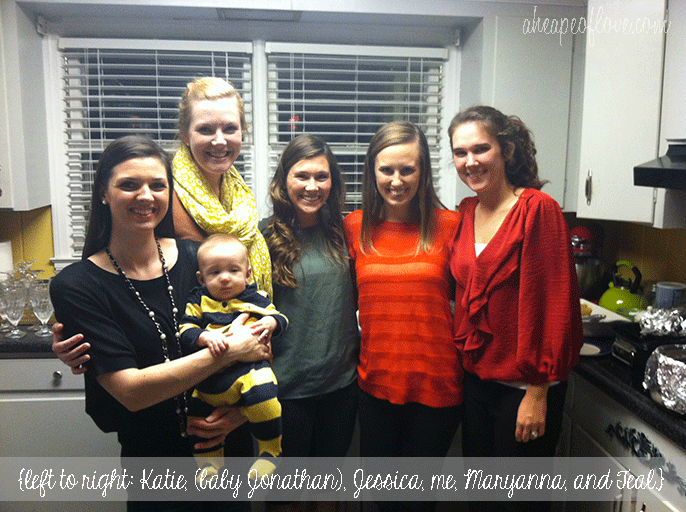 Unfortunately, this was the best picture snapped and the guys resisted a pose, so you won't be meeting them. Sad, I know. However, I did snap a picture of my extremely, full plate of food! Everything was so delicious. To give credit where credit is due, I've numbered all of the tasty treats and will happily tell you the chef of each!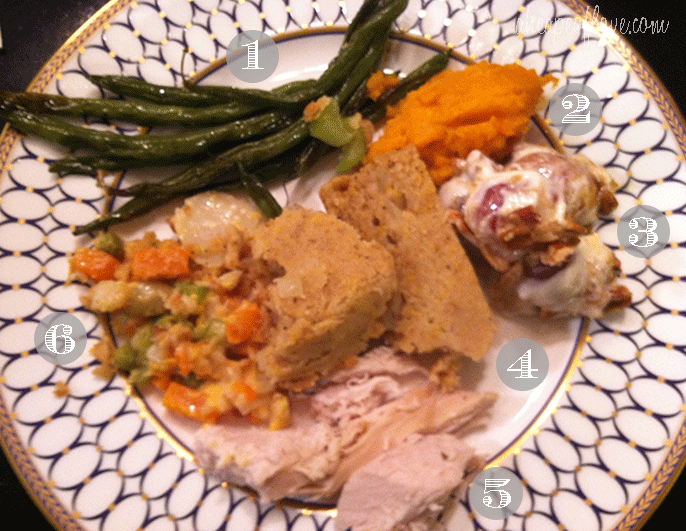 1. green beans, Katie & Jon 2. sweet potato soufflé, Maryanna & David 3. grape salad, Teal & David 4. dressing, Katie & Jon 5. turkey, Katie & Jon 6. vegetable casserole, me & Justin
What you can't see…
7. homemade, apple pie, Katie & John
8. brownie trifle, Jessica & Eric
Seriously, everything was fabulous! Did you notice that Katie and Jon provided just about everything? Yes, me too. They are fabulous hosts and we greatly appreciate them opening their home to all of us.
Although I do not have the recipes for all of the delicious foods you see above, here is the easy recipe for vegetable casserole,
What you need:
1 can
Veg-All®
Original Mixed Vegetables, drained 1/2 cup of diced onions 1/2 cup of celery (optional) 1/2 cup of mayonnaise 1/2 cup of shredded, Cheddar cheese 1 cup of water chestnuts, drained 20 Ritz® crackers, crumbled
1/2 stick of margarine, melted
Combine Veg-All®, onions, celery, mayonnaise, cheese, and water chestnuts. Bake at 300° F for 45 minutes.
Melt 1/2 stick of margarine and combine with crumbled, Ritz® crackers. Sprinkle over casserole and bake for an additional 15 minutes.
Serve and enjoy!

It's almost Christmas – the most wonderful time of the year! Get excited, if you aren't already.
merry, merry Christmas,
the Heapes