Be prepare for photo overload! After skipping a week of the Instagram posts, today's post is a photo dump for sure. To simplify the recap, I've numbered each of the photos and will try to limit myself to one liners for each! On your mark. Get set. Go!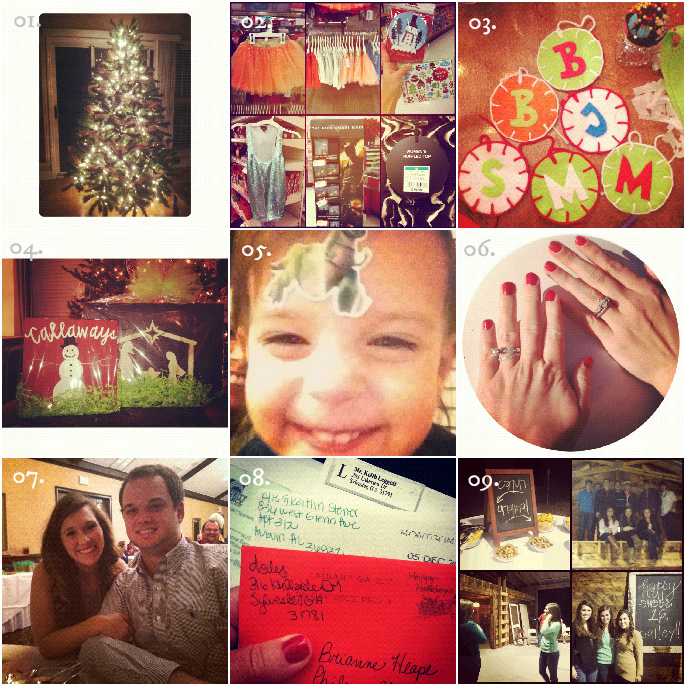 01.
Finally, our 1st Christmas tree is decorated – complete with white lights, cotton bolls, and pine cones. We did an ornament-less tree this year. Weird? Maybe. But I really love it!
02.
One trip to Target resulted in 6 photos, 5 texts, and a way too large receipt!
03.
Chevvy & Ron's
knocked out the last of our Christmas orders – lots of stockings, tags, nativity scenes, and more. Be sure to check out
our shop
in the new year, for discounts on Christmas decor!
04.
This holiday season,
Chevvy & Ron's
offered Christmas wrapping. Isn't it lovely?
05.
Play time with that beauty = lots of pictures of Beau
(and Rex)
.
06.
Mallory and I enjoyed our Christmas bonus from
Chevvy & Ron's
– Christmas nails!
07.
On Friday, Justin and I celebrated Christmas at the annual, DOCO Christmas dinner.
08.
Christmas cards arriving this holiday season brings lots of Christmas cheer!
09.
On Saturday, we celebrated Bailey's 16th birthday by surprising her at the barn. She was genuinely surprised!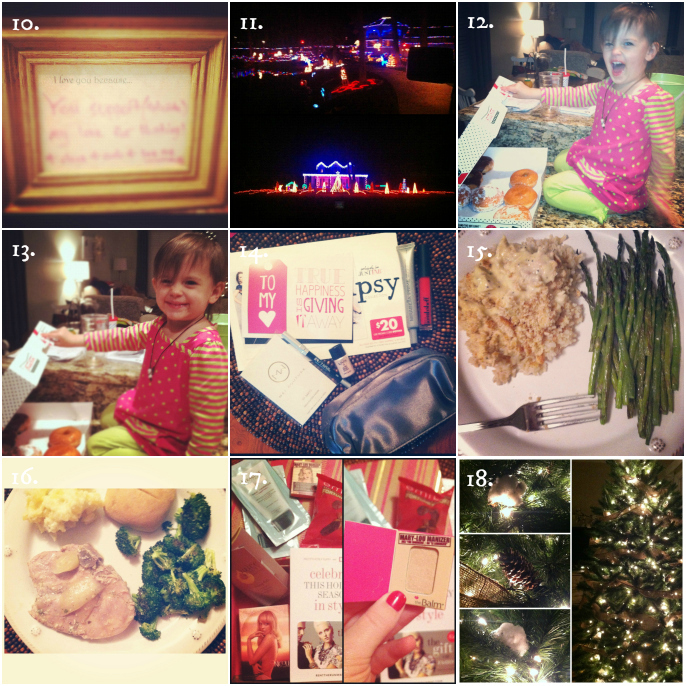 10.
It's always a treat to find sweet notes from my husband on our "I love you  because…" frame.
11.
On Sunday night, we drove around town in search of Christmas lights. I think we found the best of the best!
12.
A visit with Mallory resulted in catching that cutie getting into the doughnuts! Her favorite, if you couldn't guess.
13.
See above.
14.
A sweet surprise arrived on Monday, an Ipsy Glam Bag. I'll try to tell you more about this treat later this week.
Due to my darn wisdom teeth coming in, I spent a few days out of the office. In turn, I was a dinner making fool for a few days:
15.
Poppyseed Chicken with baked asparagus.
16.
 Crock pot, pork chops with baked broccoli and
horrible
 mashed potatoes.
17.
Another surprise landed in my mailbox, my December Birchbox!
18.
Cotton, pine cone, and burlap adorn our 1st Christmas tree – and I can't get enough of the finished product!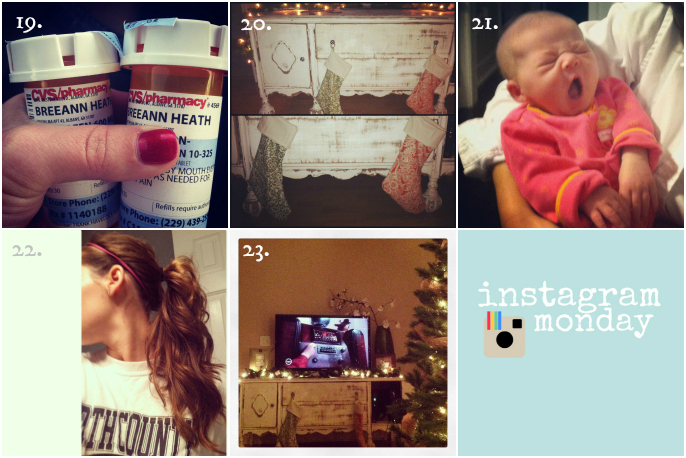 19.
Those darn wisdom teeth were too painful to ignore, so the doctor so kindly called me in medicine
and
forgot to tell me he'd changed my name! Breeann Heath? Is that even legal?
20.
Stockings were hung on the TV stand with care, while twinkling white lights danced in their heads!
21.
Earlier in the week, baby Abby Kate couldn't resist a yawn while I was holding her. Isn't she too precious?
22.
After our Sunday School, Christmas party – I was rockin' a darn good ponytail. I had to document it, because a good pony is rare!
23.
We ended our weekend with A Christmas Story and a beautiful view of our Christmas decor.
Whew, I warned you there were lots of pictures. So, how was your week/weekend? We'd love to hear!
If you'd like to find us on Instagram, be sure to follow us me – @BrianneJoy. We're also on Facebook, Twitter, and Pinterest! If you blog, we'd love for you to link up with your Instagram posts.
'tis the season,
the Heapes