First, let me apologize for the lack of quality photos. There is really no excuse, but I did forget to charge my camera and it appears I just forgot about my phone. Strange, huh? Not lack of photos, just lack of quality – and the ones I do have are mostly of gifts I received or myself. Anyway, can I say that this was the best Christmas ever? Great, because it was the best yet!
To kick-off the Christmas festivities, we spent Christmas Adam watching The Nativity Story with the Heapes. Recommended by friends, I have to say it was a great, Christmas movie. It was the Christmas story brought to the big screen and portrayed beautifully. I'd recommend it to anyone!
On Christmas Eve, we joined my family for Christmas at the Baggetts. It's an annual tradition that my immediate family, along with the extended family, gather together and exchange gifts. On Thanksgiving, we all draw names and play "Secret Santa." Although the point is for it to be a secret (hence the name) – a certain cousin, who shall remain nameless named Amy, is too curious (and sneaky, I might add) to let it be. She some how manages to always find out who everyone has drawn. This year was no different.
Before exchanging gifts, we gathered in the living room to read the Christmas story from Luke 2. It's such a sweet reminder to know that the Lord, after 400 years of silence, chose to send His Son in the form of baby to save each and everyone of us. It's truly miraculous!
During the gift exchange, Brian Ray (my "little" brother) was surprised with a pack of t-shirts and a note that said, "Shirts, because you must not have any!!" If you know my brother or are friends with him on Facebook, you'd know how suiting this is for him. (We are not friends on Facebook, probably because I'm not the cool, big sister anymore.) For those that don't know, he works out a lot and really likes to show off his physique. Everyone, including BR, thought it was hilarious. I couldn't resist snapping this photo to share!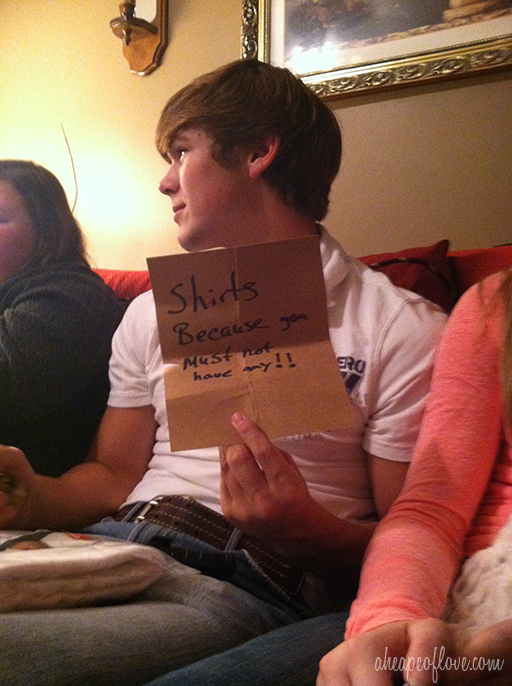 After time with the Baggetts, we typically stay at my parents for our Christmas "morning" that evening. This year was awesome and filled with surprises! First, Daddy surprised Mama with this beautiful, handcrafted frame. She's been wanting some frames made and he's spent the last few weeks working on this beauty! She was so surprised.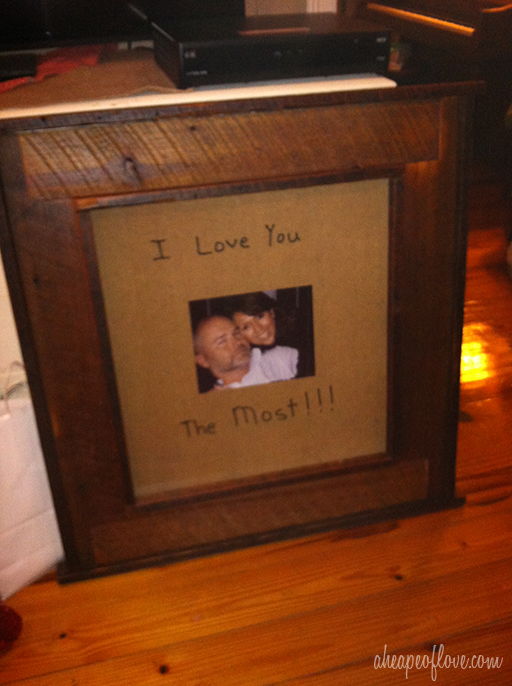 With lots of presents under the tree, we eagerly unwrapped surprise after surprise. Justin's proudly showing off his variety pack of HOT sauces! And, BR opened his Lifeproof® case from us. He was surprised with an iPhone 5!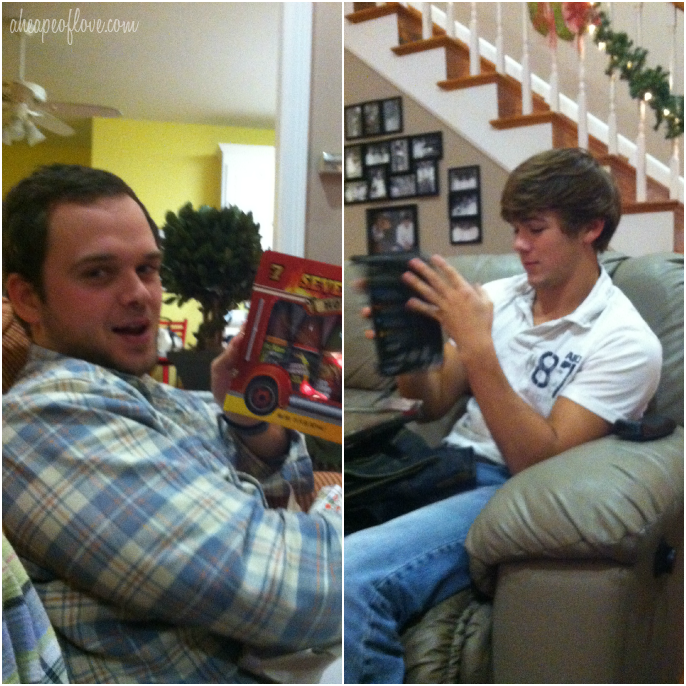 Bethany and I were surprised with new, Pandora charms from BR, along with a sweet note. As you can see, our charms are little frogs. Of course, there is a story behind that. Once when BR was little (maybe 5 or 6), he surprised us by opening his mouth (yes, you read that correctly) and revealing a big toad on his tongue! To this day, we have no idea why he put the frog in his mouth. He never had intent to eat it; he loves frogs! Either way, we were extremely grossed out – but could never forget that day. So as he thoughtfully chose our Christmas gifts, that memory came to mind – which is how he chose a charm to remind us of him. Isn't he too sweet? I'll cherish the gift (& note) forever.
Speaking of forever, see the charm beside it? The one with hearts? This one is from my parents this year. It means "forever" and is symbolic of the forever promise I made when stating our wedding vows. Another thoughtful charm for my bracelet. Thank you, Mama and Daddy!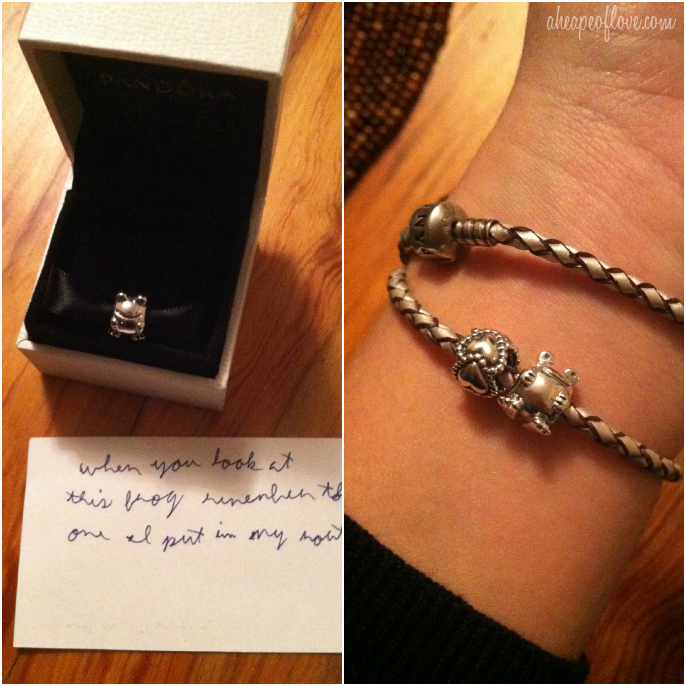 After each present was opened, my parents asked Bethany and I to go upstairs for a bit – they had another surprise!
Not only had my Daddy been building my Mama a frame, but he'd been working hard to craft each of us girls a hope chest – a treasure! He built three – one for me, Bethany, and Bailey – each unique. Forever ago While my parents were dating, he built a hope chest for my Mama. Since I was a little girl, I've always wanted one of my own. The gift is priceless and left me speechless. I couldn't value a gift more and feel honored that he'd take the time to build me something so precious.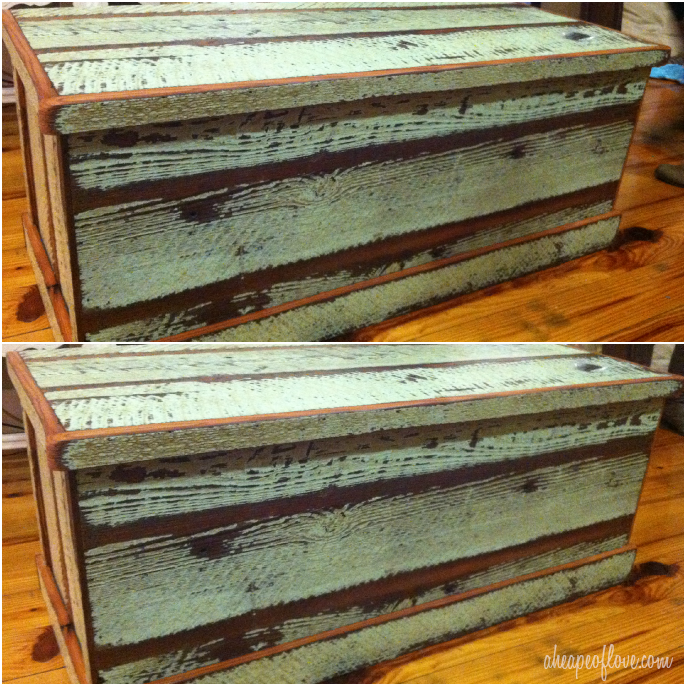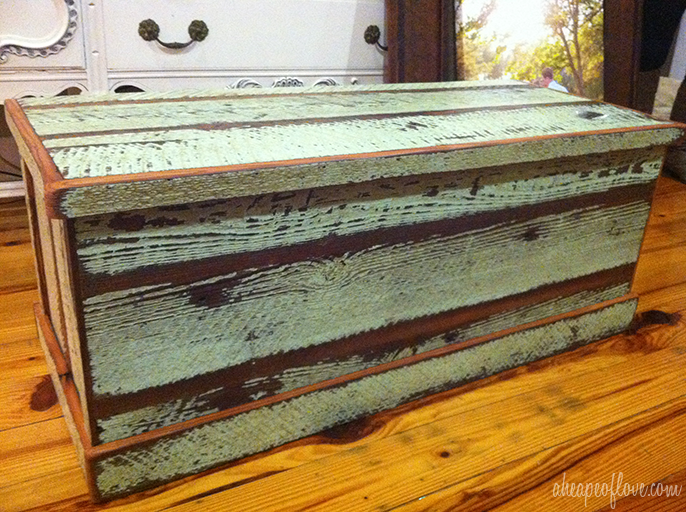 With his hands and wood from the 1930's, my Daddy crafted me a priceless treasure I'll cherish forever and always.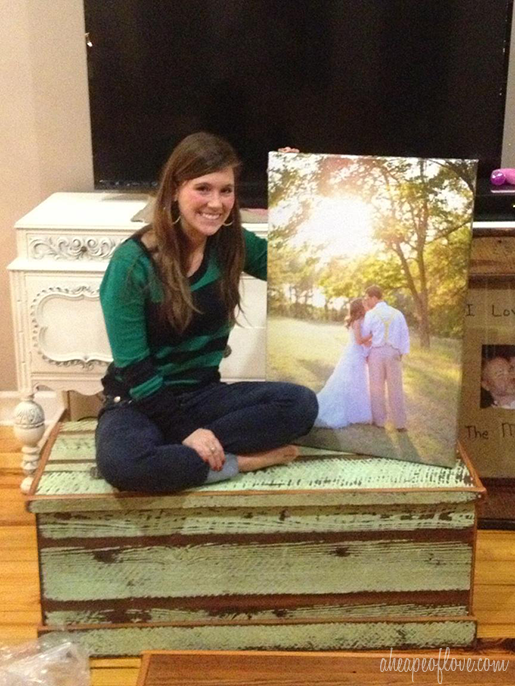 Along with the hope chest, I'm showing of the beautiful canvas my sister and JP had printed for me and Justin. It was such a sweet surprise (I was gifted lots of surprises) and I can't wait to hang it in our home!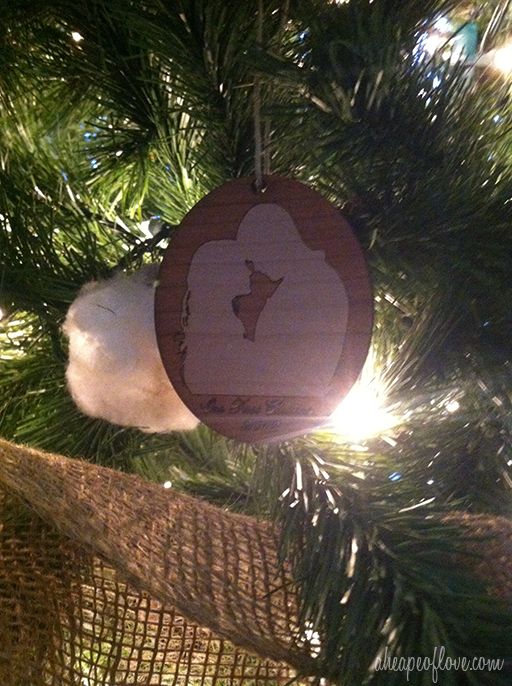 Above is "Our First Christmas" ornament, by Simply Silhouettes. You may recognize her work from our awesome cake topper! I couldn't be more happy with the wood finish.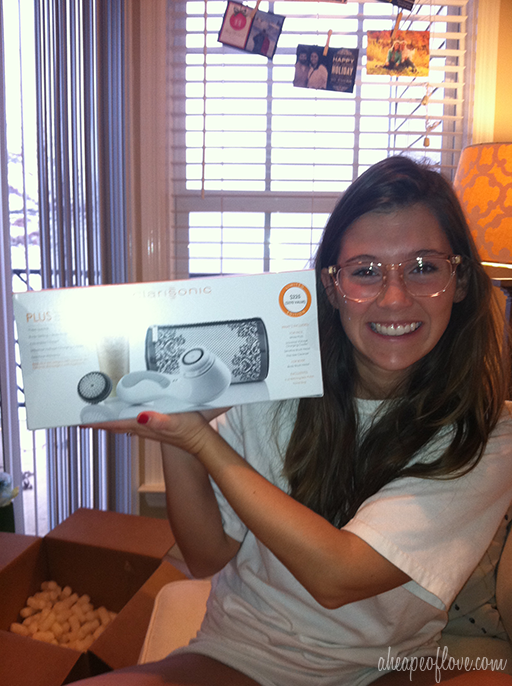 On our first, Christmas morning together, Justin surprised me with the Clarisonic Plus! You know, just another Christmas surprise – this one from my husband!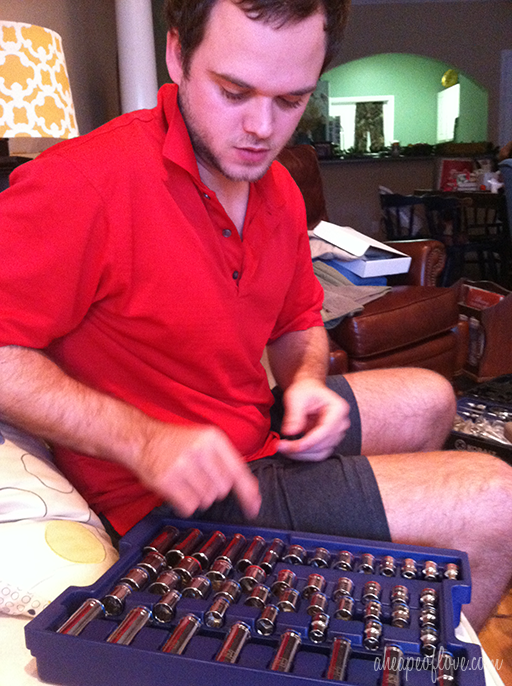 I surprised him with a Kobalt 220+ Mechanics Tool Set! I was so proud I'd kept this one a secret since Black Friday, but he definitely pulled off the bigger surprise. Either way, he was very excited.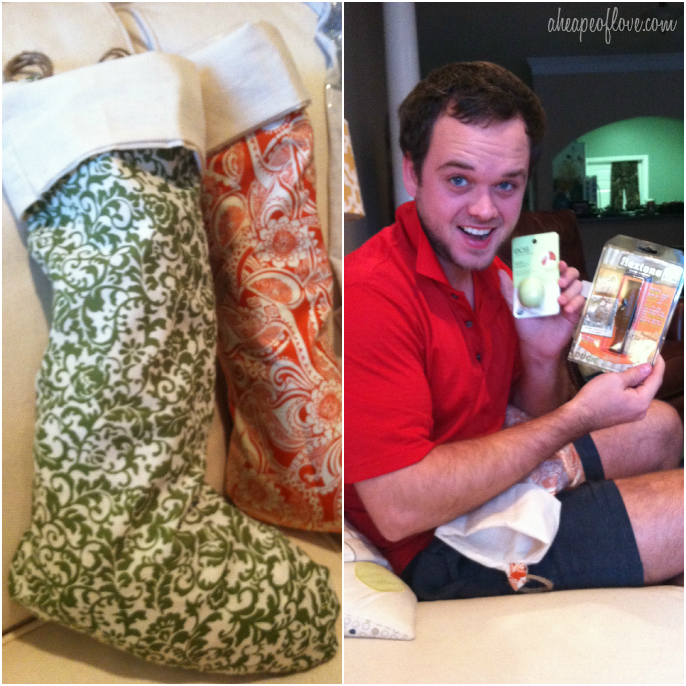 Time for stockings – EOS lip balm, duck call, BWW Mango Habanero™ sauce, and more. Stocking stuff is one of my favorites on Christmas morning.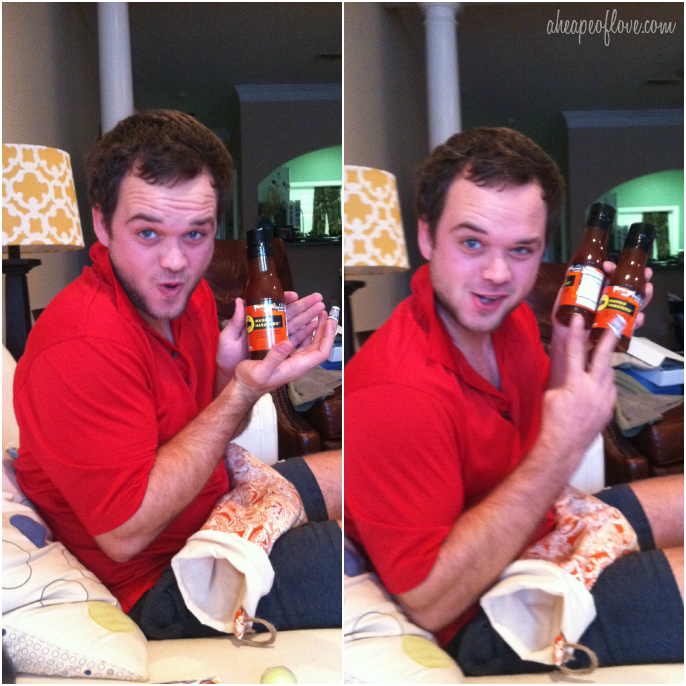 After sharing Christmas morning together, we spent the rest of the morning with the Heapes. Justin was surprised with expensive Under Armour camouflage. Can you tell he's happy?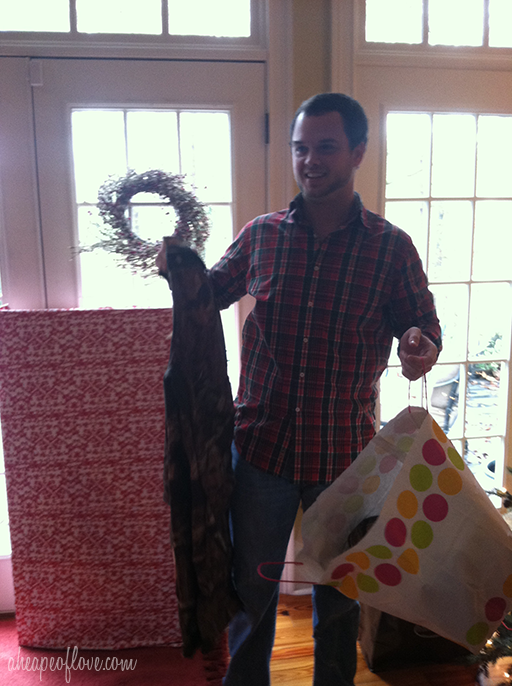 We surprised Mr. Barry (my father-in-law) with a new, Orvis backpack. And my in-laws surprised me with two of my Juliska, Berry and Thread canisters: like this and this.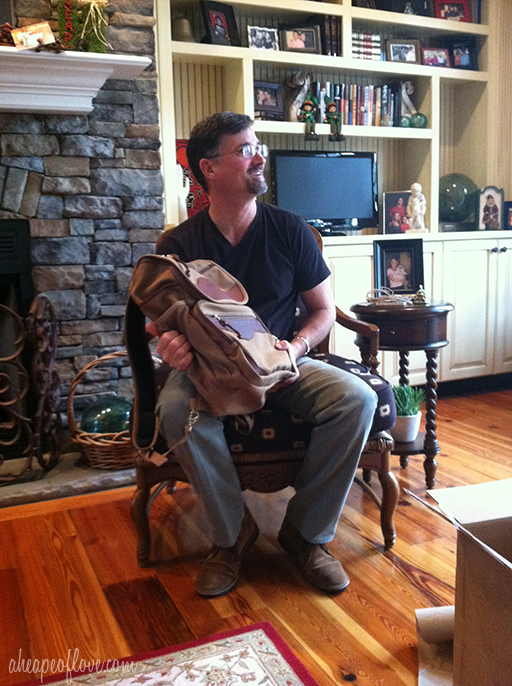 Then, when I though all the gifts were received and there were no more surprises… I was asked to open the last gift and it was a big box. To my surprise, I'd gotten a wheel! Now I should preface, Justin and I had talked about getting me a mountain bike for awhile, but it was just too expensive (or so I thought). When I saw the gift, I immediately though, "Oh, maybe I'm going to get pieces of the bike for the next few occasions. At least until we can afford the rest of it." Right? Wrong!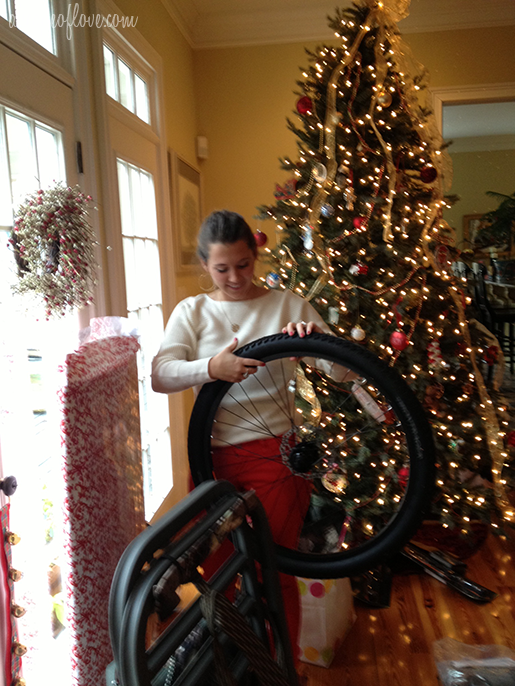 After posing a couple of times with my new, snazzy wheel – Justin revealed the last, big surprise for me! (Maybe my favorite photo of the day! It's pretty much the only picture of the two of us.)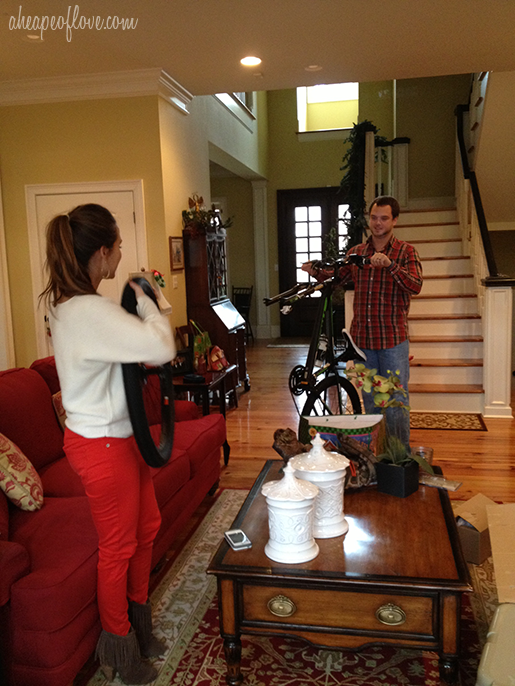 He surprised me with my very own, mountain bike! He claims it's a gift for him too, since we'll finally be able to ride together. But, I think he outdid himself this Christmas!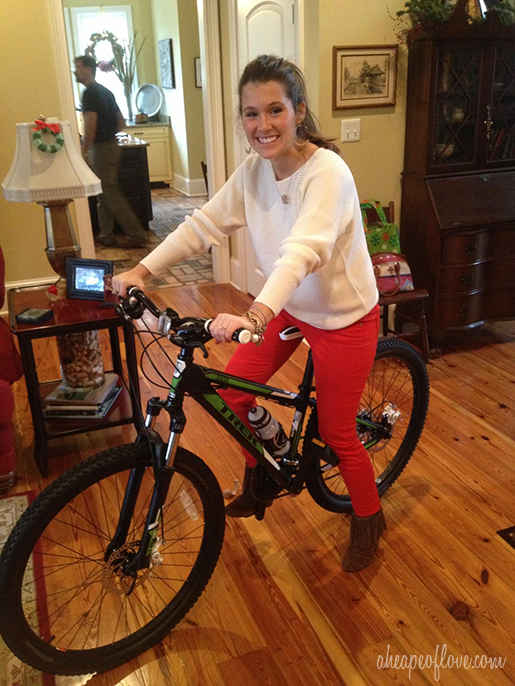 After the Heapes, we all headed to Meme's for some time with the Jackson side of the family. Each year, after exchanging gifts, we play a card game to determine the winner of a similar, Hello Kitty Toaster. The tradition began a few years back, when Carolyn won it. Since then, we duke it out over a round of cards to see who wins the coveted toaster. If you win, you bring it back for the next year's winner. After most of us were eliminated, it became a face-off between Teresa and Meme. (See below.) Ultimately, Mrs. Teresa took home the prize!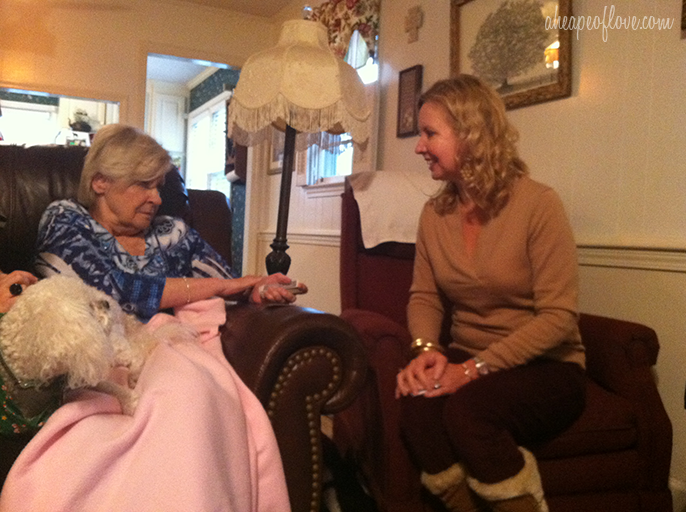 Soon after, we were back to my side of the family's for the evening and spent some time with the Leggett's and Futrill's to end Christmas day.
This year was filled with family, surprises, new traditions and love – I'd dare to say that this Christmas (our 1st as Mr. and Mrs.) was the best Christmas ever. I couldn't have imagined the holiday going any smoother, more pleasant, or filled with more surprises. We are truly blessed – with each other, family, friends, and life. We couldn't be more grateful for the true meaning of Christmas either. He is the reason for the season. He is the reason we're alive and well. He is the reason we can look forward to the future and eternity. It's truly, the most wonderful time of the year!
One tradition I'd like to add to the Christmas season is letters. From this year forward, I'll be writing a letter – kind of a memory spiel of the year past. It's actually something that came to me, as I was typing this post. After thinking about it more, I'll let you know if I'll be sharing these letters or stashing them away for a special time in the future.
For now, we hope your Christmas was filled with happiness and cheer!
—
Tonight, we're off to the in-laws to celebrate my father-in-laws birthday! He's turning the big, 5-1 and we're excited to be celebrating with him. I couldn't be blessed with a better father-in-law or boss. Happy Birthday, Mr. Barry!
—
Later this weekend, we'll be traveling south to visit my sister and JP for a late, Christmas celebration. JP's been visiting his home country of Canada, so we'll be the welcoming team and greet him with all the Christmas gifts he's missed out on. Pray for safe travels for him and for us when we visit.
wishing you and yours a happy new year!
Mr. & Mrs. Heape