We're excited to announce that we're officially home owners! As some of you may know, Justin and this friend decided to flip a house this time last year. They found a foreclosure and decided to take on most of the work themselves. Because of that, some of you may have heard me reference this project as, "Justin's house."
Love at first sight? Not at all. In fact, the former home owners didn't leave the place in top condition – so, there was and still is a lot of work to do. The first time I saw the house, it was in shambles. (And I may or may not have said, "I'll never live here.") The kitchen floors were removed due to some termite and water damage. In turn, all of the kitchen appliances had been moved to the living area. Plus, the former residents had zilch style. Meaning? New flooring, new paint, new appliances, new lighting,… you name it – we need it! The outside of the house needs work too. (Hence the terrible photo and necessary filter.) If nothing else, it's our first home and a fun project – which makes it exciting, big news!
So even though we are home owners, it'll be awhile before we're moving in. Be forewarned, from here on out – I may be sharing lots of DIY projects, ideas, and my inspiration. And, I may be seeking opinions too!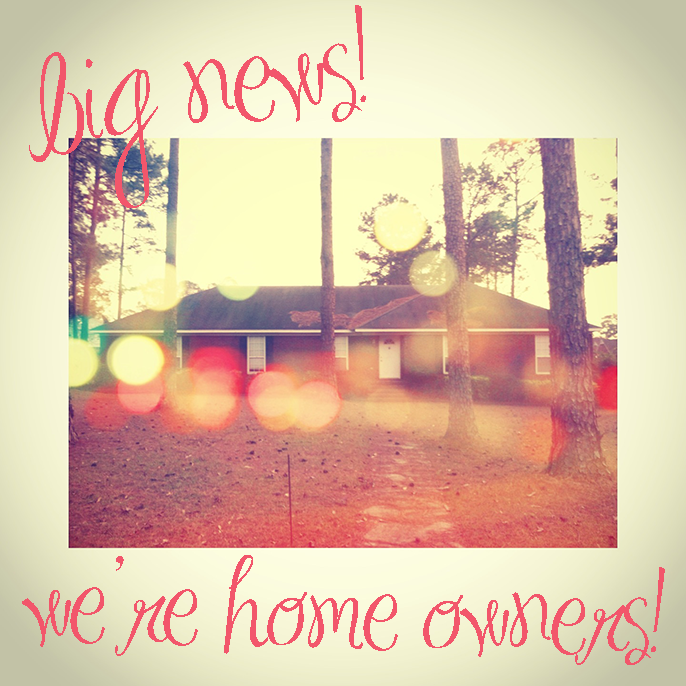 Where are we on the renovations? Basically, the only thing on is the water and termite damage has been fixed. We've chosen flooring, paint colors, and the bathroom counter tops. But, there is still a lot to do!
I've got a pretty good idea what most of you thought, thanks to the calls/texts/messages I received! But, what did you think our big news was?
happy Monday, friends!
the Heapes
SaveSave