I've done it. I've managed to bring back our weekly, Instagram post to a Monday. Big cheers for me! Apologies for the recent delays – January has been a very busy month. So busy, I've been slacking on my picture snappin' too.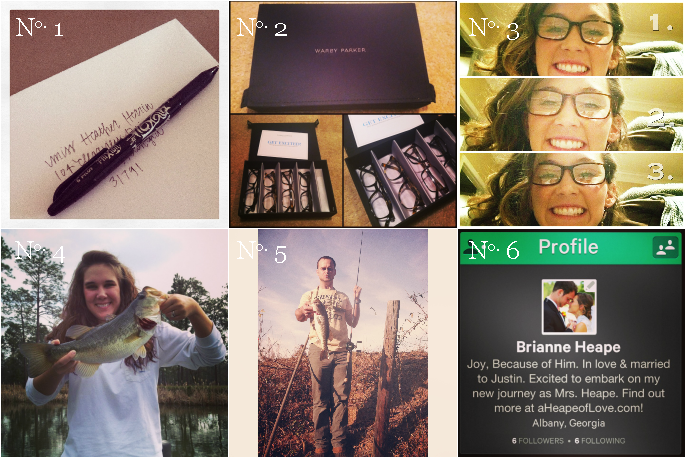 1| In case you didn't know, I can address invitations (wedding, party, etc.) for you! This past week, I was addressing wedding invitations for a friend – so that kept me busy in the evenings. Getting married or throwing a party? I'm you're gal, so contact me for pricing!
2| It's time for a new pair of glasses and Warby Parker was kind enough to send me 5 to sample.
3| What do you think? One, two, or three? I'm having trouble deciding.
4| This weekend, we spent our Saturday and Sunday fishing and enjoying the lovely weather. Unfortunately for me, I didn't catch anything.
5| That's my handsome hubby and his big catch!
6| I've followed the crowd and joined Vine. Similar to Instagram it's an iPhone app, but with a video feed instead of picture. Find me!
For now, that's all I've got. However, later today I plan on sharing some BIG news! Oh yes, BIG news. So be sure to check back later.
that's all,
the Heapes