Rain, rain, go away… In the last week or so, south Georgia has endured a lot of rain. (If you live in the south, that in an obvious statement.) So much rain, that the Flint River's water has reached high levels (see photo #16) and my grandparents lower level has been flooding! As great as the rain is for our farmers, I can't help but pray for at least a drizzle oppose to the hard rains.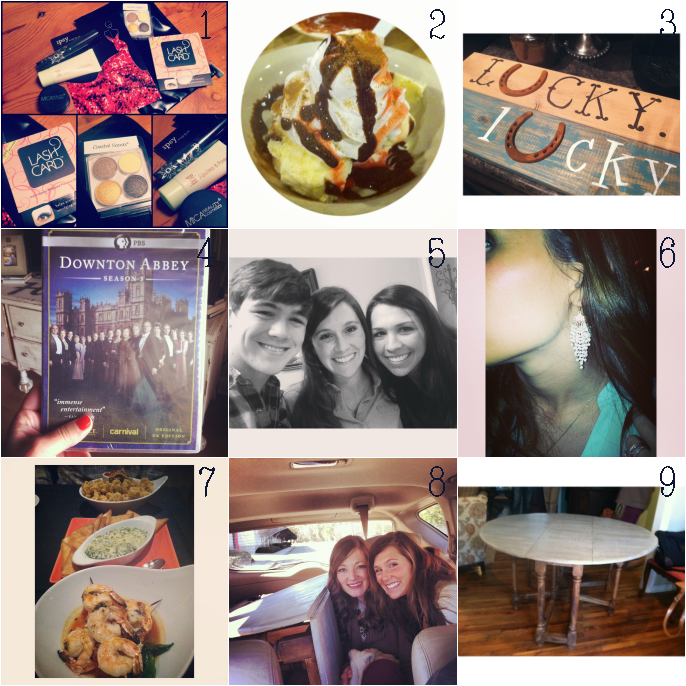 1| Last week, I received my February Ipsy bag. If things go as planned, I'll be sharing more about this later this week.
2| During dinner with my Mama – one of our regular, Mexican waiters surprised me with that odd dessert. I'm still not sure why, but it sure was tasty!
3| Mal and I are rockin' out some new creations on Etsy! Be sure to check out our shop here.
4| Justin surprised me with Downton Abbey's season 3 DVD set. I was super excited and got to watch this terribly sad finale early.
5| On Friday
(aka family day at work)
, Bethany and Brian Ray surprised  me by stopping by work. Bethany brought me lunch and BR just stopped by to say hello! 
Side note: Bethany's new to the blogging world, so be sure to stop by and
check her out
.
6| Justin bought me those fabulous, dainty earrings I'm modeling above. Aren't they darling?
7| We shared a romantic
(late V-day)
dinner at Jazz'd on Saturday evening. It couldn't have been more perfect, minus the 2 hour wait!
8| On Sunday, we spontaneously bought a table for our new home!
9| Check it out! Isn't it beautiful? I'm in love.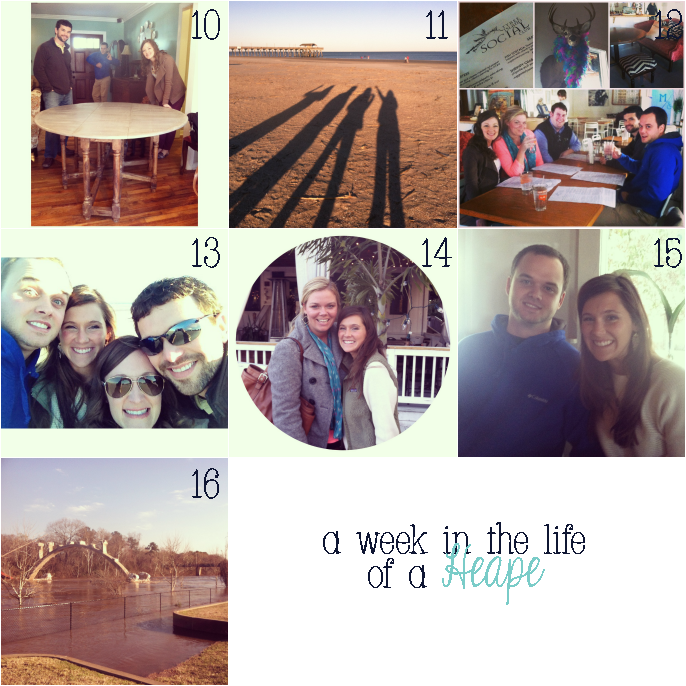 All photos are taken on my iPhone 4 (yep, I'm a few generations behind). Follow me, @BrianneJoy for instant updates on my Instagram feed.
10| We all really love the table!
11| We couldn't visit Savannah without a stroll down Tybee beach. Too bad it was 40° with chilling wind!
12| Sunday funday was spent with a few of our favorites, at one of my all time favorite eateries – Social on Tybee.
13| Group pic with the Savannah sweethearts on the beach!
14| Lizzy!! I've miss that pretty lady so much since moving back.
15| Probably the most normal pic we've taken together in a looong time.
16| The Flint River with water at extremely high levels – too high for comfort. For videos of this phenomenon, check out my Vine feed!
How's that for a week in the life of a Heape?
—
Now before you go, I've got a favor to ask and I promise it'll only take a minute of your time. That's right 1 minute, at the most. It's a short questionnaire – really short… 4 questions short. Why? Because we want to hear from you! If you would, please take a minute to let us know what you think by clicking here. Sincere thanks!
—
Later this week, we'll be recapping our trip to Savannah, plus sharing our latest reviews and recipes – so, be sure to check back!
hooray for a short work week and a happy Tuesday,
the Heapes