Happy Monday, friends! Aside from the chilling 30º weather that bit me this morning, today isn't too shabby. The sun is shining – the first time in weeks – and the sweet baby I asked you to pray for last week is doing well. In fact, praise to the Lord is due for miraculously placing His hands around the baby on Friday during the procedure! Although little James isn't home yet, the Lord is in control and steady working miracles. So from Justin and I, we thank you for all of the prayers!
*Update: James is doing well, but they are still monitoring his heart rate. Please pray for the Lord to continue working miracles, his heart rate to stabilize, and answers be discovered. Please pray for peace and comfort for James and his family.
Last week was a doozy! Chevvy & Ron's was asked to create custom center pieces for a special event benefiting hospice. HUGE opportunity, but lots of work. Of course, that just meant we spent several late nights together crafting and I got to see those two cuties that frequent my Instagram feed. Little B was so happy with her new "Lorax" movie from  "me and 'Ustin." We surprised her with the new movie for their big trip to Atlanta. (See pictures below!)
To add to the busy week nights, Justin and I are steadily making decisions for our new house. Flooring, plumbing, counter tops, appliances… will the decisions ever end?!
—
It's that time, for a week in the life of a Heape: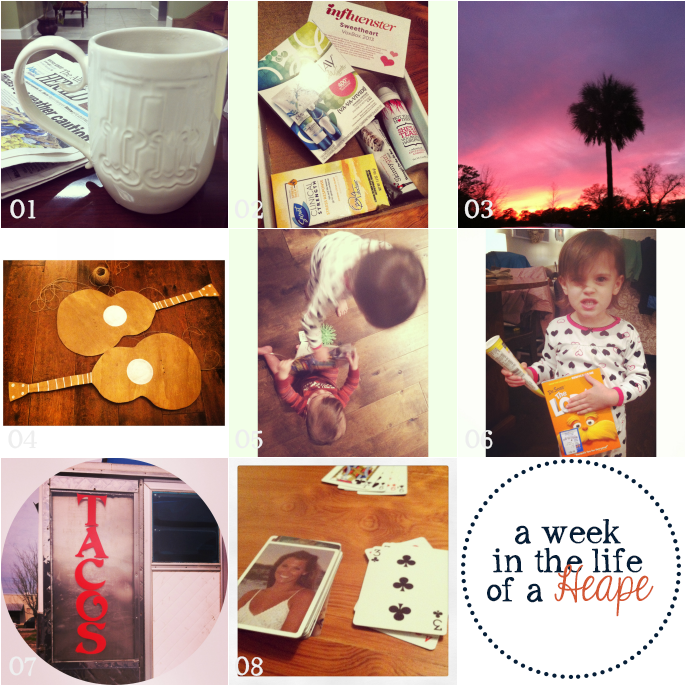 01| Mornings. Coffee and Albany Herald.
02| Sweetheart VoxBox by Influenster.
03| Sunset in Albany.
04| Guitar, center pieces by Chevvy & Ron's.
05| Little McBs playing.
06| Little B showing off her new movie!
07| Lunch date at a local, food truck.
08| Game night with friends and personalize, face cards.

09| Me with my favorite, mother-in-law at the Fish n' Pig.
10| Fish n' Pig, a Macon restaurant for a big, family event.
11| Kaylee and Chris are engaged! Me with the soon-to-be sister-in-law!
—
Did I mention that my brother-in-law popped the question on Saturday? He did and she said, "Yes!" We couldn't be happier for Chris and Kaylee. No word on a date for their big day, but I'm sure you'll be hearing more about their engagement in the future. Congratulations, Chris and Kaylee!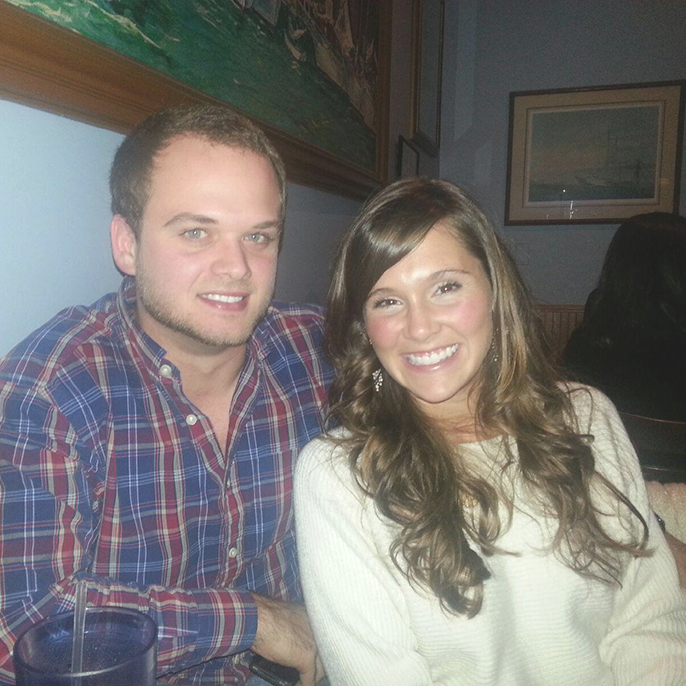 With the love of my life at the Fish 'n Pig in Macon, GA… He's my favorite. Oh what a hunk I married!
There you have it, a week in the life of a Heape! Anything exciting happen this weekend? Please share or link up!
xo,
the Heapes