Once we tied the knot, it didn't take long for us to find furniture to fill our home. A thrift find couch, new chairs, and other great accent pieces from West Elm and Target, we made our living space comfy. Although I'm sure we'll add more furniture in the future, this is the collection we've got so far.
1| The cream couch was a steal. For $200 bucks, we got a very nice – used couch. I love it; J hates it. 2| Chairs. We spent a pretty penny on these, but our purchases were made during a Memorial Day sale – so I think we walked away with a deal. 3|
Lamps
and
shades
were both Target finds. Like most things I purchase, they were on sale.
(Note: I did NOT pay $46 for the bases.)
4| Natural, Jute Rug. Purchased at
West Elm
, we found
this chunky, slate rug
on sale for $199.
(It's still at this price!)
Originally $549 rug, I think we got a bargain! Included
(but not shown)
in our living room furniture collection are an antique dresser, re-purposed for an entertainment center
(may be viewed here and here)
– along with a coffee table with matching end tables.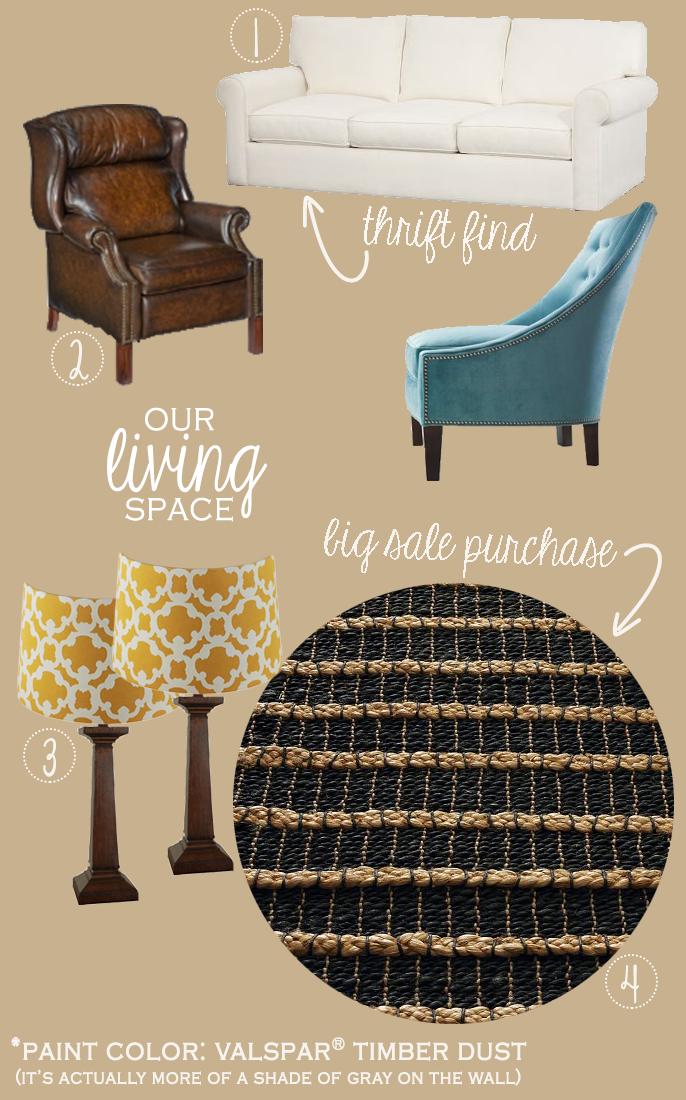 *all images are similar to what's in our home, but not exact.
We went with Timber Dust by Valspar® for the majority of our new home. Although it's more of a brown hue above, it actually has a hint of gray on the walls.
In our new home, there is a fireplace in our living space too. A fireplace! In case my excitement isn't blasting through your screen, let me spell it out for you: I am uber excited about the fireplace!
From this pin and others similar, I've been inspired to paint our 1995 red brick fireplace. Now let me clarify to the haters out there, this is an inspiration that I'm only 95% positive I want to do. Meaning, that this project will be a future DIY for me and may or may not happen. However, I am leaning towards it. Opinions welcome!
Anyone painted old brick? Suggestions or tips?
—
Today specifically, we would like for each of you to say a prayer for the health, care, and comfort of James – the little stud you see below!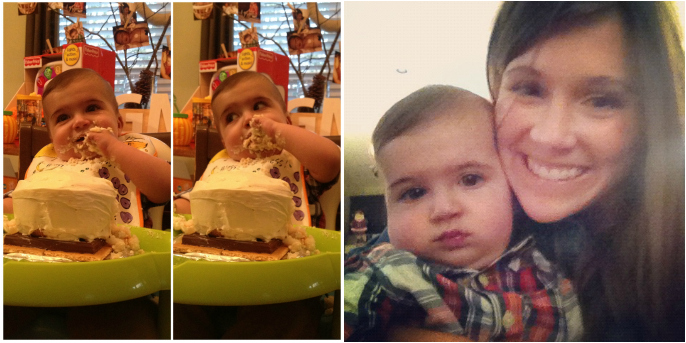 You may remember this request from a few months back, but basically James was born with Hypoplastic Left Heart Syndrome. Due to this condition, this baby has previously endured multiple heart catheterizations, along with open heart surgery. Today (this morning sometime between 6 AM and 10 AM), James will undergo another heart cath. If you could keep him in your prayers, along with his family, we would be greatly appreciative!
*Update: James is out of the procedure, but the doctors are monitoring his heart. If his heart rate stays consistent, he may be able to come home tomorrow! Keep the prayers coming! **Update: James is doing well, but the doctors are monitoring his heart rate. Please pray that his heart rate will stabilize tonight. If it does, they may be able to come home tomorrow.  
thank you in advance for your prayers!
the Heapes
 ps. Can you believe it's March? Yea, me neither! February flew by, but we're excited about lots of goodness March is bound to hold.