After announcing our big news, I've stalled a bit with the home improvement updates. Mostly because not a lot has been improved, but also because I'm lacking photos of decent quality and frankly, the house is anything but picturesque right now. However, as the process continues, I hope to provide more frequent updates and possibly pictures too.
Right now, the process involves a lot of decisions and not a whole lot of result – I reiterate, right now. So as I choose appliances, sinks, knobs, paint, and flooring, I'll do my best to share the best parts with you. In return, I ask for opinions… genuine, honest opinions. Because there are way too many decisions to make – some fun, some not so fun. Example, sinks. Who knew there were so many options? Not I.
I'm going to spare you the lengthy, to-do list and skip to the floor plan. Although it isn't a mansion, it's ideal for our first home together. Plus, it's spacious enough for a couple of little ones – whenever the time is right, which is not anytime soon. Point being, we'll be calling this place home for quite some time.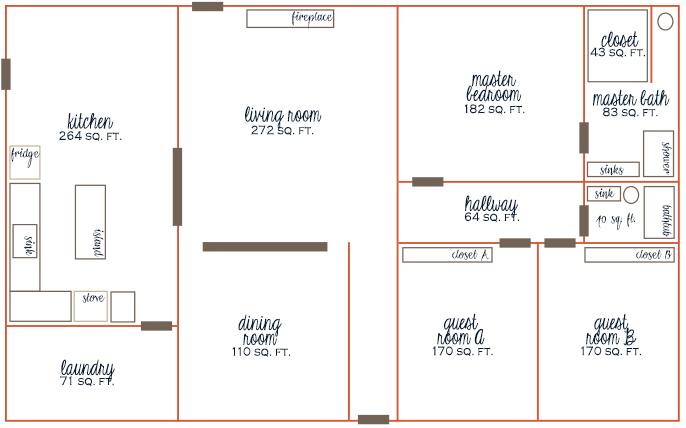 Immediate to-dos include: choosing flooring options for the kitchen, settling on a tile option for the master shower, and purchasing kitchen counter tops. Yea, you really don't want to see the entire to-do list. Did I mention our apartment lease is up on April 29th? Yep, you did the math correctly; we've got 2 months to complete a lot of renovations. I'm not stressed at all… Lie. Actually, I'm going to call that sarcasm. Or slight truth? I'm not completely stressed out, just getting there.
My stress levels are actually rising as I think of all the to-dos that I didn't include above. Which is why I'm going to spend the rest of my lunch break shopping for things like knobs, a front door, and tile. Am I oozing with excitement? Maybe not oozing, but definitely excited about all the future holds and making this place home for the Heapes.
Keep checking back for continued updates, DIY projects, and renovation inspiration!
—
To see the inspiration for most of our home projects, follow me on Houzz and Pinterest.
that's all  folks,
Mr. and Mrs. Heape