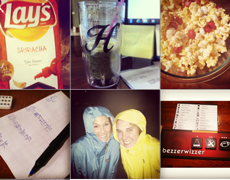 It's another Monday and I'm once again wishing weekends were longer and work weeks were shorter. Who doesn't?
I've got to confess though, this Monday isn't turning out too bad. I stopped by Target on my lunch break, which is always a good thing. (Not, at least not good for the wallet!) Believe it or not, I made it in and out in 15 minutes, I spent less than $20, and the Colgate® Optic White™ toothpaste (which was the purpose of my trip to begin with) was on sale for $2. I think I'm winning.
Now, on to our weekly, Instagram recap.
Last week (whenever I was shopping for these healthy snacks), I snagged a bag of Lay's Flavor Finalists and quickly knew sriracha had my vote! If you aren't aware, Lay's is holding a nationwide contest for a new potato chip flavor. The finalists: sriracha, chicken and waffles, and cheesy garlic bread. Aside from the fact that they were $4 flippin' dollars, they were definitely tasty and may be my new, favorite flavor!
As promised, Justin and I have been enjoying our kale smoothies everyday! And yes, I said enjoying. Justin is truly enjoying this nutritious drink and so am I.
Even with our healthier commitment, there is room for snacks like popcorn with M&M's too. In my opinion, it's the perfect snack to a light night game of Mexican train – which I dominated! There is no room to brag, since it's the first out of numerous games that I've not been the loser.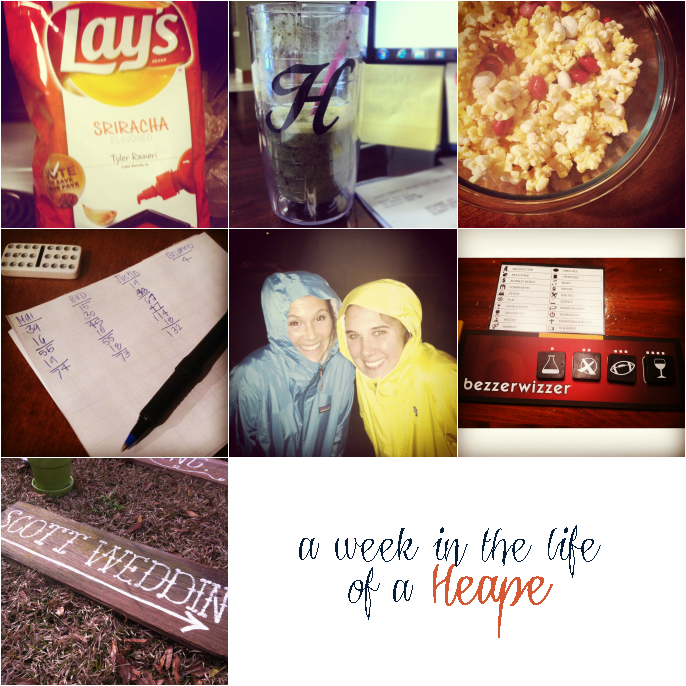 We kicked off our weekend with another game night, this time with the Glows. This late night involved Walmart, Bezzerwizzer, Waffle House, and Teal and I rocked our matching raincoats.
Sunday was spent with Mallory and her little ones. We painted for Chevvy & Ron's, while our men spent the afternoon casting and shooting – you know, serious guy things. In case you've missed it, we've got quite the collection of wedding signs and decor.
—
As most of you know, this little blog of ours is written from the small town of Albany, located in south Georgia. Albany, GA deemed "the good life city" has recently been recognized as the 2nd saddest city in America. For my fellow Albanians, this is old news… but for those friends from happier bigger cities, this may be news for you! Interesting, right? If you're from Albany (or currently live in Albany), what do you think? Are we seriously that depressed around here?
Honestly, I wouldn't go as far as saying the saddest but there is definitely a lack of attractions and activities. After all, before informing you of this sad news – I openly confessed we spent a Friday night playing Bezzerwizzer and going to Walmart. So maybe sad was misinterpreted for boring or lame? Sad or boring, whatever the experts city slickers say it's home to many and I'd bet my bottom dollar that most of the residents love living here. I mean, I did choose to move back to be home, with my husband, my family, and my friends. It's not like anyone is forced to live in the saddest city Albany, right?
—
What do you have going on this week? Any big plans? Yea, us neither.
happy Monday, friends!
the Heape
s
ps. All photos are taken on my iPhone 4 (yep, I'm a few generations behind). Follow me, @BrianneJoy for instant updates on my Instagram feed.