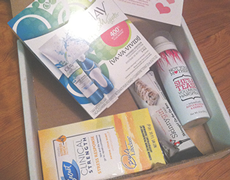 Surprised again, Influenster sent me the SweetHeart VoxBox in February! It's always a surprise and such a sweet treat to discover this box of goodies in my mailbox. This time was no different!
Olay® Fresh Effects may have been may favorite product, which included a facial cleanser and brush! A few months ago (Christmas to be exact), Justin bought me a Clarisonic® Plus brush – which I adore. Honestly, the Olay® Fresh Effects compares to the Clarisonic®, which is impressive to me considering the price difference ($175+ vs. $15ish). The biggest differences I've noticed are the rubber bristles vs. the soft brush bristles, the price point, and the size. The Olay® Fresh Effects brush is smaller than the Clarisonic® brush, significantly. I'm especially a fan of the Shine Minimizing Cleanser.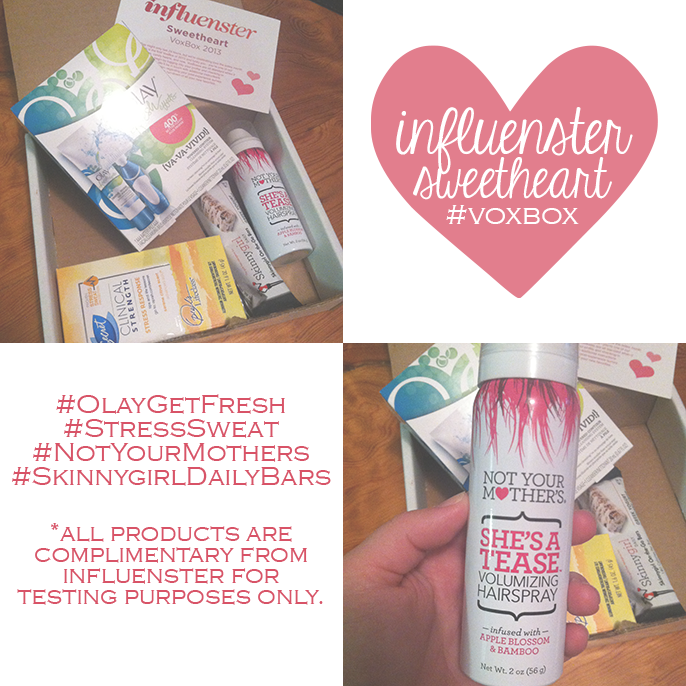 Included in my VoxBox, Secret® Clinical Strength deodorant. I'm sold! Not that I necessarily needed the extra strength, although I'll take a bonus –  it's the fragrance that sold me on this product. It's call Serene Citrus and it's pretty heavenly. Since trying it (and using it for about a week), I haven't stressed about sweat… Seriously, I'd recommend it.
Not Your Mother's® is a totally new brand to me and I foresee myself purchasing their products in the future. I sampled the She's a Tease volumizing hairspray. Not only does it work great, but it goes a long way. My only complaint here is the scent. (Can you tell I love a good fragrance?) It's an apple blossom scent and frankly, I'm just not a huge apple fan – not the fruit, or candy flavor, or hairspray!
Now, we've all heard of Skinnygirl™ products but have you actually sampled them? Yea, me neither. The Skinnygirl™ On-The-Go bars are delicious. I tried the Greek yogurt, blueberry crisp On-The-Go bar and it was delicious and for those that care, it's gluten free too!
Influenster, you're a sweetheart for sending me all of these goodies. I loved them all!
*I received these products complimentary from Influenster for testing purposes.
Have you tried any products you'd recommend? If so, I'd love to hear. Please link up or share by commenting below!
—
James IV Update: The family met with the transplant team today. They want to put James on the transplant list, so the next few days will be filled with evaluations for placement, instructions for Mallory and Buddy, along with further testing.
Thank you all in advance for your continued prayers! As many of you know, this family and baby James are dear to our hearts, so words can't express our gratitude for the prayers. We strongly believe in the power of prayer and have continuously seen the Lord work miracles through this sweet boy.
xo,
Brianne