This week's Instagram recap can be summed up into three categories: Chevvy & Ron's crafting, our home renovations, and our gals getaway! All I can say is that it has been one busy week and this week is promising a similar, busy schedule.
The beginning of last week, my week nights were consumed with Chevvy & Ron's crafting. From these crafting sessions came some of our favorite creations to date, including these awesome, "Welcome Home" baby signs and some beach inspiration from the Zac Brown Band's latest hit, "Jump Right In." Just a fun fact, the "Island Lullaby" sign you see below is actually a custom piece for the event, "A Wild Affair" to benefit the Flint RiverQuarium, which I mentioned here.

The rest of our week nights were spent working on our new home! With us trying to pinch every penny, we've made the decision to do the majority of our projects by ourselves. "By ourselves" really means, between Justin, my father-in-law, Daddy, and Trevin – thanks to them, all of our projects are getting done. Even though I can't hammer in flooring or master the really tough jobs, I've been busy painting cabinets and assisting in the ways I can.
Great news, all of the brick pavers are in and sealed! Now all that is left, grouting. Once that's done, I'll get you all a better picture. Below are a few photos of Justin and his Dad working tirelessly on the kitchen floor.

While the guys continued to slave away on the home projects, I hit the road with a few of my best friends for a gals getaway! Aside from bachelorette weekends, it's been awhile since we've had a ladies only trip – so we were all very anxious.
Once we arrived, Mallory surprised us all with cute, monogrammed t-shirts and the rest of the weekend was spent on the beach. Friday day, we soaked up the sunshine and played catch-up! After a half day on the beach, we enjoyed a seafood dinner at Oyster Boss in Apalachicola, Florida.
We spent Saturday, much like Friday. Except we spent all day on the beach, bumming it, and munching on homemade, pimento cheese and chicken salad. It was such a relaxing, mini-vacation for all of us.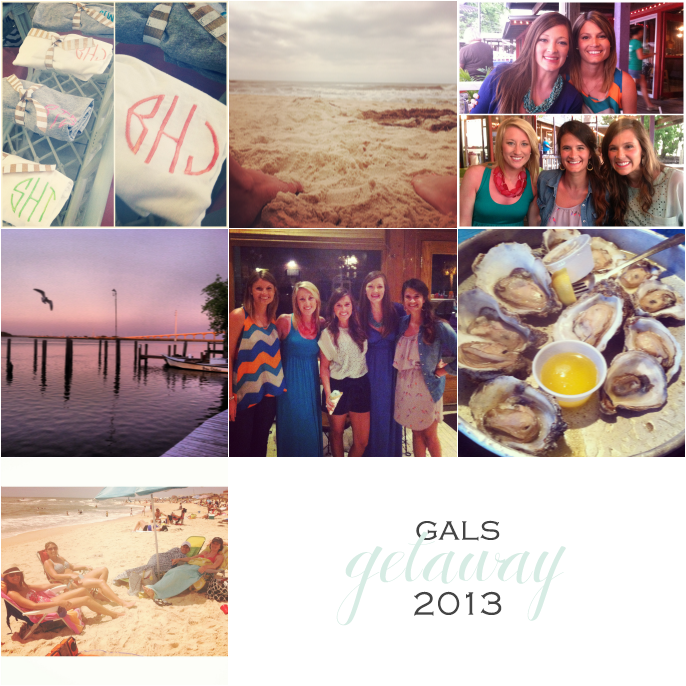 Later this week, I'm promising more photos from our trip and a full detail recap. Until then, I hope you all had a wonderful weekend and the goodness travels over into this new week.

facebook // twitter // instagram // pinterest // bloglovin'