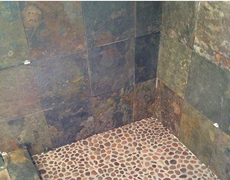 This weekend (while I was basking in the sunshine on the beach), Justin and my father-in-law were hard at work on the bathroom renovations. Since grouting the river rocks, it was time for the walls to be installed. A little more than half is complete (see photo below), but there's only about 3 more rows of slate tile to finish the project. Are you as impressed as I am?
Tip: When tiling a shower (the walls), you have to wait until one layer of tile is set before stacking the next layer of tile. For sake of time, we used spacers and did two layers at a time. Risk takers, I tell ya.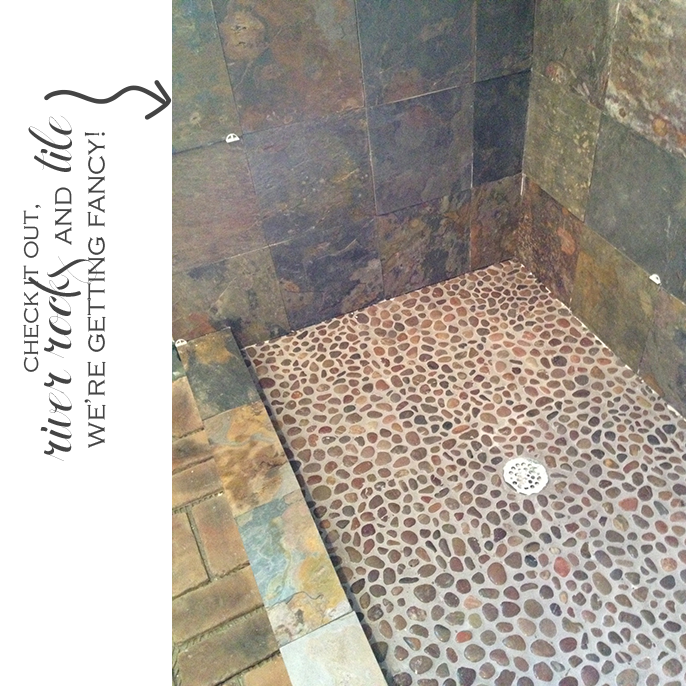 In the meantime (while the last layer of tile sets), a slew of us decided to tackle grouting the kitchen brick pavers last night. Yea, tackle is an understatement. It literally took: 8 sponges, 7 harder working people, 6 hours of time, 5 buckets of water (being continuously emptied & refilled), 4 bags of grout, and 3 trips to Lowe's…
Our system,
Barry apply the grout. I scrap the excess grout off the tiles. Justin scrub the tile. Daddy re-scrub the tile. David re-re-scrub the tile. Teresa rinse the sponges. Teal refill the buckets with fresh water. Repeat continuously.
We were all exhausted. However one thing is for sure, we've got some awesome family and friends!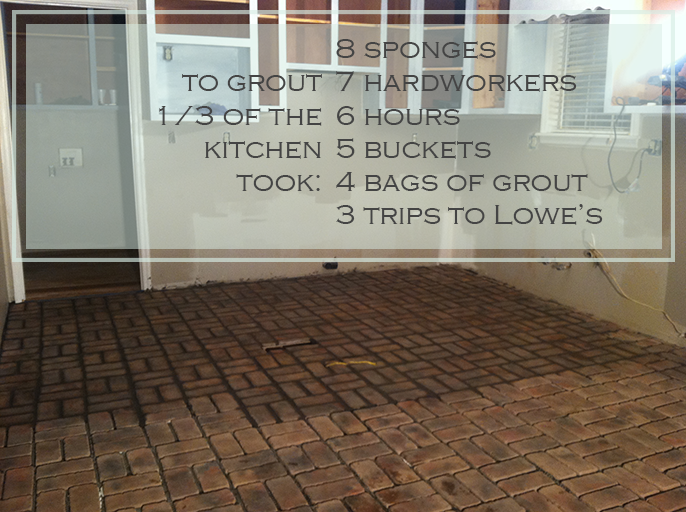 The unfortunate fortunate news, we're 1/3 of the way done!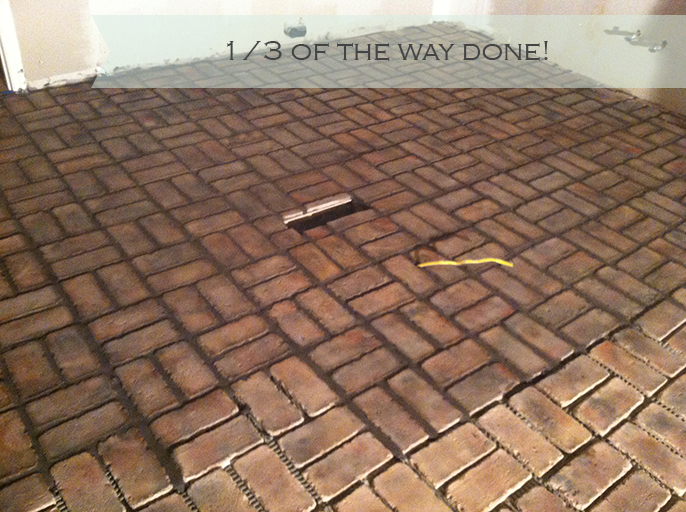 Even though there is still a ways to go, at least we've spotted the silver-lining!
The plan is to regroup on Wednesday and repeat the process. Hopefully (since we've each mastered our trade), it'll go faster. Plus, we've asked my Mama and Christopher to join in on the fun, so fingers-crossed – we can finish up!
So now that we are 1/3 of the way through the kitchen, I'm asking YOU… Do you have any tips or suggestions for grouting brick pavers? Have you ever done it or know someone that does? Any tips, hints, or suggestions are appreciated!

facebook // twitter // instagram // pinterest // bloglovin'