This post was written for today, April 17th – but it was my mistake. Their actual anniversary was yesterday, April 16th! Although (in my defense), today is also a very special day… it's my Mema's birthday. In her memory, I'm sharing a favorite scripture that always makes me think of her and the great example of wife, mother, and grandmother she was to me and my family.
Charm is deceptive, and beauty is fleeting; but a woman who fears the Lord is to be praised. Honor her for all that her hands have done, and let her works bring her praise at the city gate. Proverbs 31: 30-31
In honor of my Mema and her generosity to others, my family and I initiated a winter clothing drive for people in need: Mema's Closet. Each year, hundreds of coats, scarves, gloves, etc. are collected and distributed to less fortunate people in local communities. To find out more about this initiative, you can read our Mema's Closet blog or find us on Facebook.
—
From the day they said, "I do" my parents have exemplified Christ through their marriage and provided an example of true love to everyone they encounter. If you know them, you can't help but recognize that they are just as much (if not more!) in love today, as they were on April 16, 1983.
Today, as they celebrate 30 years together – I want to say thank you, Mama and Daddy, for providing such an outstanding example of a Godly and successful marriage. In a perverse world that is quick to choose divorce, you two have defied statistics and trusted the Lord throughout your marriage – in both good times and in bad. Bethany, Brian Ray, Bailey, and myself are all blessed beyond measure to witness such a powerful, stable, passionate, Godly example of marriage. So again, thank you! And congratulations on a happy, wonderful 30 years!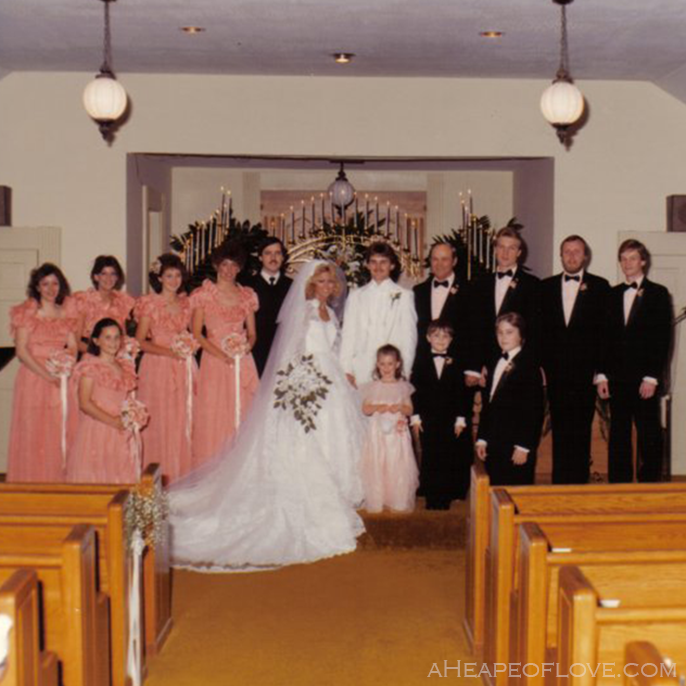 Above is a photo of my parents on their wedding day, with their bridesmaids, groomsmen, pastor, flower girl, and ring bearer. Recognize her dress? I wore her gown on my wedding day! Of course I'm bias, but I believe it looked just as beautiful in 1983 as it did in 2012.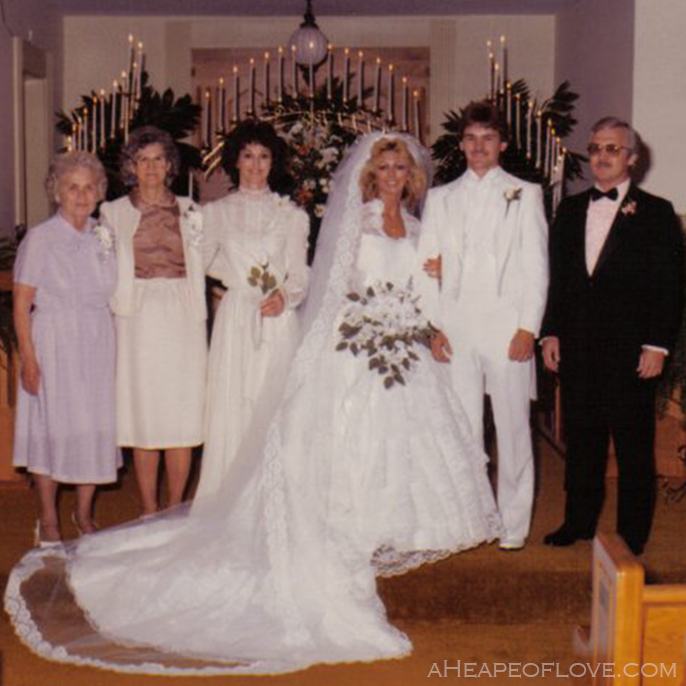 Since we're celebrating the 30th wedding anniversary of my parents and remembering my precious Mema on her birthday, I thought the photo above was suiting. Pictured (left to right) are my great grandmother (my Papa's mom), my great grandmother (my Mema's mom), Mema, Mama, Daddy, and Papa Leggett.
Happy, Happy 30th Anniversary, Mama and Daddy! We love you to the moon and back.

facebook // twitter // instagram // pinterest // bloglovin'