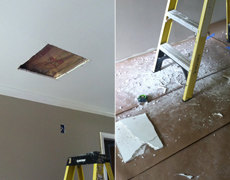 Repeat the title of this post to the tune of "Hole in the Bottom of the Sea" in your best cry voice, add tears and you'll know what I did last night. Okay, I didn't really but my evening did involve lots of tears and a handful of "We are never moving into this house!" rants. And I may have cried myself to sleep… Actually yes, that did happen.
Throughout this entire nightmare ordeal, I've tried to remain positive, encouraging, and hopeful. Unfortunately, that all went out the window last night  – or should I say through the ceiling? Either way, it's gone. Like The Band Perry song, all I wanna be is done! 
Should I recap all of the details?
Well… only if you insist.
Yesterday.
While rushing out the door to work, Justin and I agreed to a game plan for the evening: pavers sealed (for the umpteenth time), bedrooms cleaned out, master bathroom painted, and if we have help, finish painting the cabinets.
Fast forward to the evening, we (Trevin, Justin, & myself) met in our new kitchen to discuss the plan of action. We're going to get it done! Yes, awesome, great, get pumped, go!
With a promise to return momentarily, I left to drop by a going-away party for a lovely lady in our Sunday school class. (Mistake #1, never leave boys unattended with tools.) While I was gone, Justin sealed the pavers and the other guys (Trevin & Chris) decided to hang ceiling fans. Simple enough, right? Wrong! (Mistake #2, never divert from the plan.)
*Notice please, I'm not pointing fingers.
Six hours and a hole in the middle of the ceiling later, we still have zero fans hanging. Amidst the rubble and mess made, imagine me painting trim while crying my eyes out. It's just #aHeapeofchaos around the Heape home these days!
Without further ado, here is the image I snapped of the hole through the ceiling last night.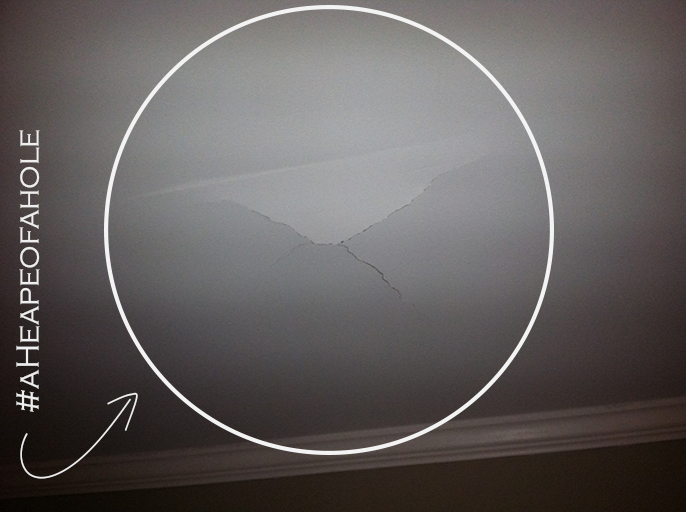 Today.
Above is the view today. It's a good thing that Trevin is pretty darn good at patching/fixing holes.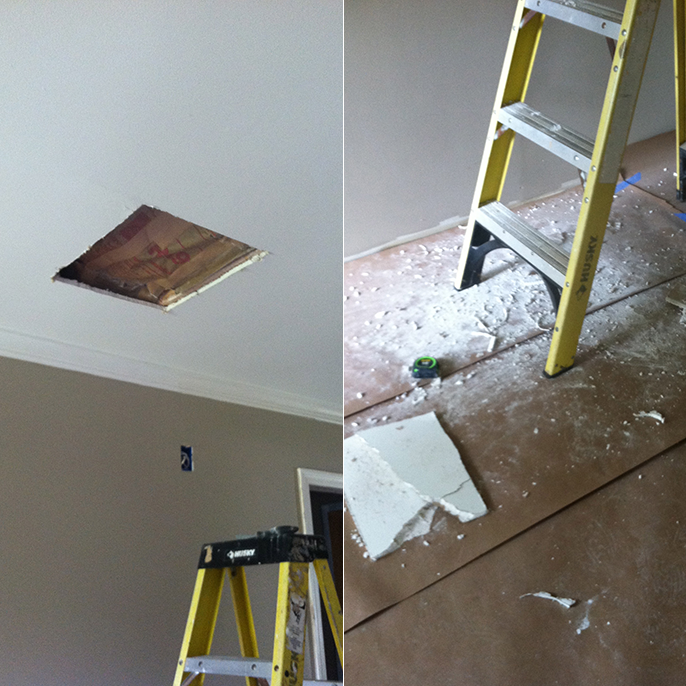 Still home related – the carpet will be installed tomorrow and our appliances will be delivered on Friday! That's something to be excited about.
—
In other news, a friend made a commercial for an Under Armour contest and needs you to watch it for a vote! Of course I couldn't resist sharing, especially since he is a friend and it's an awesome video!
Thanks for watching!

facebook // twitter // instagram // pinterest // bloglovin'