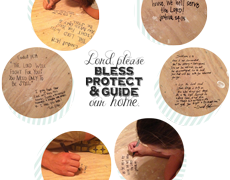 Believe it or not, I do try to keep the majority of our sentimental/monumental moments private (sorry I'm not sorry). However, this was a moment I couldn't not share with you all. We'd known all along that we wanted to fill our home with scripture and pour the Lord's love into our home's foundation. Even though it's been our plan all along, the time crunch and craziness made this act a bit spontaneous. (Don't get me wrong, we've been praying in and over this house for quite sometime now.) It was late, the night before our carpet was to be installed, and most of our family had gone home. However, in the midst of chaos – David, Teal, Justin, and I wrote scripture and prayers on our subfloor.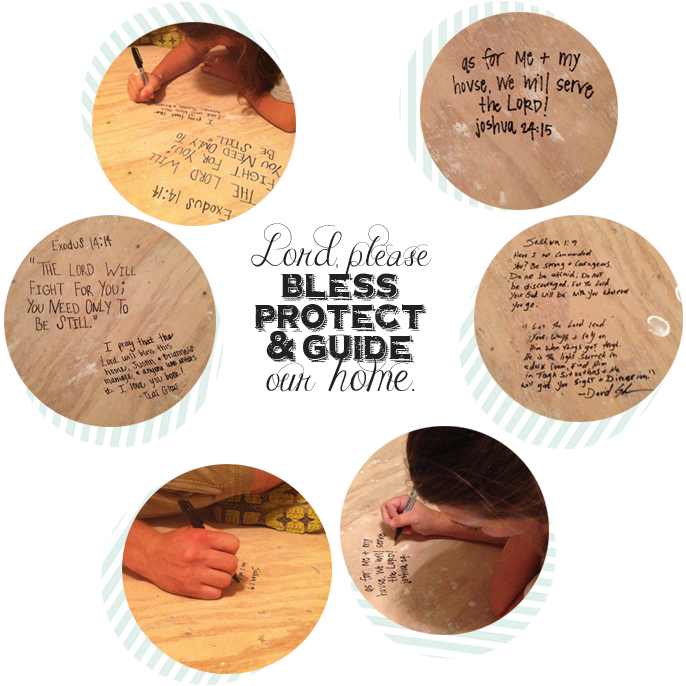 Even though odds are no one will ever see our scribbles again, it's there and we won't forget the words of the Lord inscribed there.
It's our prayer that the Lord will bless, protect, guide, and surround our home. We will continue to fill our home with Him and trust Him with our marriage, our family, and our love. Because "me and my house, we will serve the Lord."
—
Among our many blessings, the Lord has generously provided us with friends who constantly pour the love of Christ into us and our relationships. Thanks to friends, like David and Teal, there is no doubt the Lord has blessed us. We are surrounded with love, kindness, generosity, goodness, and prayer. Thanks, friends – to each of you who have prayed and invested in us and our friendships. (And helped us through this trying journey!)
Happy May Day!

facebook // twitter // instagram // pinterest // bloglovin'