Yesterday, we received our first fruits – eh, veggies from our local CSA. We were so excited to pick-up our first box and pleasantly surprised when we discovered all that was inside! Not only were our expectations met, we were overwhelmed with the abundance of veggies and the awesome variety! Here is a peek into what was inside,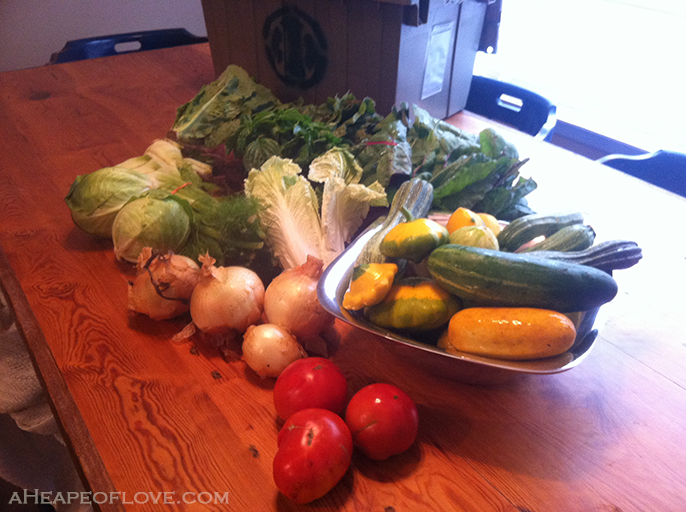 Recently, I read Jessica Alba's book The Honest Life and couldn't get enough of the tips to healthy living! One suggestion, joining your local CSA. Another, shopping at local farmer's markets. In Albany, our farmer's market is only once a month (the 1st Saturday, I believe) and unfortunately, I haven't been in town on those days to shop. After talking to a co-worker, she let me in on the scoop about White Oaks Pastures. Even though I was leery at first, after seeing her first box – I was convinced I wanted to join.
We picked our first box of produce up yesterday and after posting a photo on Instagram, there were a lot of questions. Most of which I had recently asked myself, which is why I'm going to try and answer most of the questions below.
What is a CSA? It stands for Community Supported Agriculture. For us, White Oak Pastures is the nearest and most convenient CSA for us.
Why a CSA? Aside from helping the local farmers, there are added benefits like: organic and ultra-fresh food, plus exposure to new/unique produce!
How often do you get the box? With White Oak Pastures, we will receive the box/crate once a week.
Do you have to pick-up your box or is it delivered? Both. White Oak Pastures is located in Bluffton, GA. Instead of driving to Bluffton, they deliver the boxes to Darton College (among other locations) for us to pick-up. Albany, GA participants have the option to pick-up their produce at Darton College or Our Daily Bread.
When you say "join," what do you mean? It's more of a subscription to joining the community. While I did pay a refundable deposit (for the crate), I am only paying a monthly fee for my subscription of vegetable boxes.
Does everyone get the same produce? Yes, for the most part. Even though most of the vegetables are the same in each box, there are a few variations based on the amount of crop. This week, some people got beets and some people got carrots instead.
Can you pick what produce you want? No. Most of the boxes are prepared with the same produce, but may have slight differences (see answer above). Even though some people got beets and some people got carrots, it was just a surprise once you open your box!
How much does it cost? It's $115 a month, with a $50 refundable deposit for your crate.*
How can I sign up? To sign-up for the White Oak Pastures Vegetable CSA, you can visit their website here. Not in my neck of the woods? Visit LocalHarvest.org to find your local CSA.
What are you going to do with those weird vegetables? Some (if not most) of the vegetables we received are 100% new to us. Although I'm not sure how all local CSA's work, White Oak Pastures has an email system that they utilize to share cooking and preparation tips for the seasonal veggies. Each week (the day before the box delivery), they send out an email with the veggies on the way and some helpful tips. Using the example of fennel, a veggie I'd never heard of, White Oak Pastures shared this link with us – fennel recipes. Pretty awesome,  huh?
*In case you were wondering…
Initially I thought, "$115? How will I ever convince Justin that this is worth it?" But truthfully, after looking at our grocery receipts  I realized that typically I spend about $90 a month
just on vegetables & fresh produce.
Of those $90 of veggies, most of them are gone within the first 2 weeks – or bad if they haven't been eaten. So if I'm
already
spending $90ish a month and those veggies are only fresh for a week or so – $115 is nothing to have fresh veggies once a week for a month! For us, it works. And if Justin doubted the produce, all doubt was erased when he got home to see all of it! His words, "Holy Moly! That looks good!"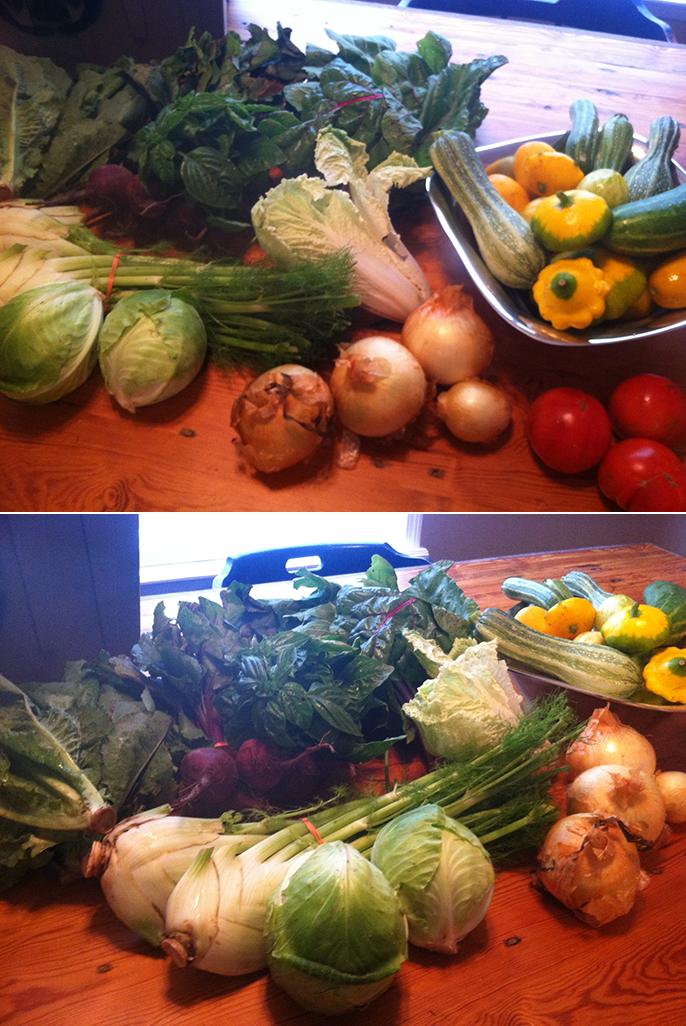 —
Want to know exactly what came in our box? Here is a list,
Farao Cabbage
Baby Chinese Cabbage (OR Bush Beans OR Broccoli) | 

We got baby Chinese cabbage, but others received bush beans or broccoli.

Head Lettuce

 

Beets (OR Carrots)

 | We got beets, but others received carrots.

Fennel 
Swiss Chard
Sweet Vidalia Onions

 

Squash |

 Our box came with patty-pans that look like yellow or green space ships, along with yellow crookneck and straightneck squash. We got a few zucchinis too!

Cucumbers, Slicing
Cucumbers, Pickling | Ours came with a yellow tint (totally normal!), but could have a tint of orange too. In fact, ours were so yellow that Mama and Justin had a debate over whether it was a cucumber or squash!
Basil
Tomatoes
If you are interested in finding and joining a CSA in your area, use LocalHarvest.org! And if you have any questions, please leave comments below and I'll be happy to answer them – if I can.