If you are familiar with Harry Potter and loved our Hogwarts themed Halloween party, you will LOVE this recipe for Butterbeer. For those unfamiliar to the Harry Potter world, Butterbeer is a popular wizard beverage described as tasting "a little bit like less-sickly butterscotch." It's not even similar to beer and typically (or according to the books) only contains a slight amount of alcohol which is known to get the house-elves in a drunk-like state. However, the recipe below is a non-alcoholic version.
This recipe is perfect for any holiday party!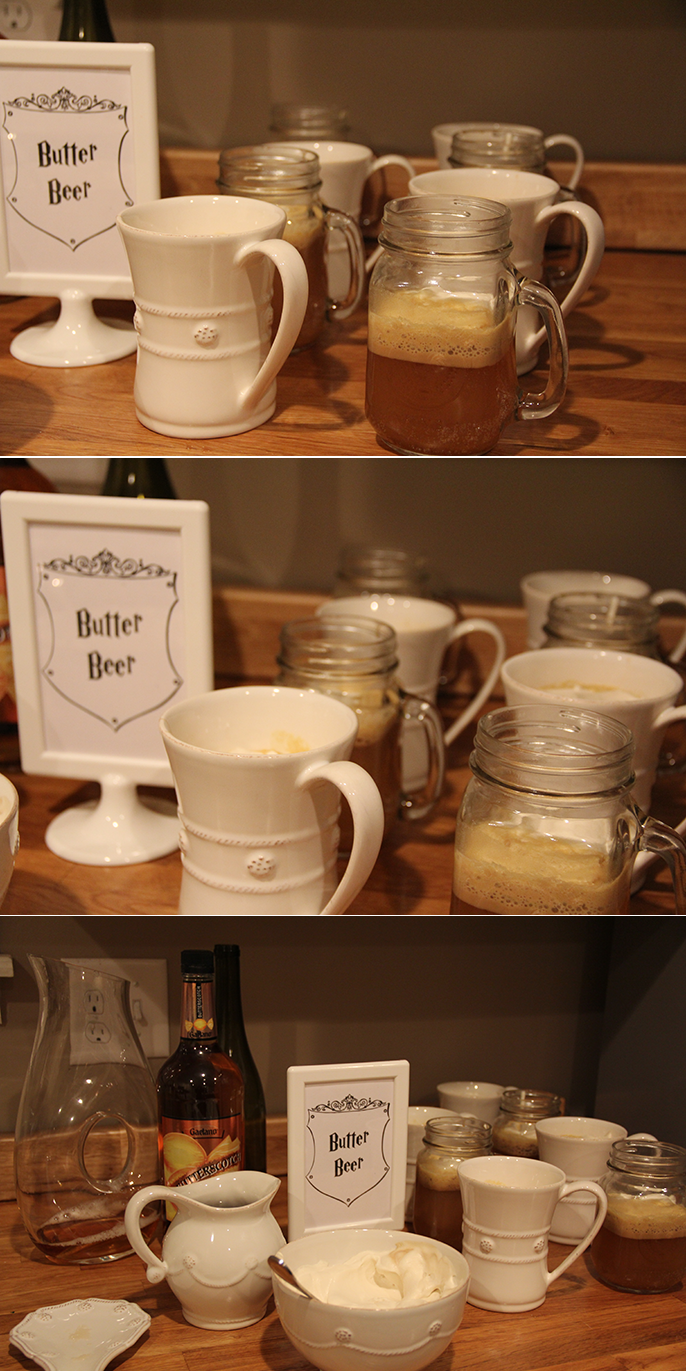 light or dark brown sugar, 2 cup (we used both light & dark)
water, 4 tablespoons
butter, 12 tablespoons
salt, 1 teaspoon
apple cider vinegar, 1 teaspoon
heavy cream, divided, 1 1/2 cups
almond extract, 1 teaspoon (other recipes called for rum extract)
bottles cream soda, 1 liter

One. Combine the brown sugar and water, in a small saucepan over medium heat. Bring to a boil, stir often, and let cook until sticky like tar.
Two. Stir in the butter, salt, apple cider vinegar, and 1/4 cup of heavy cream. Allow to cool to room temperature.
Three. Once the concoction has cooled, stir in the almond extract.
Four. Combine 1/2 cup of heavy cream and 2 tablespoons of the concoction from above into a mixing bowl. Use an electric mixer to whisk until thickened, but not totally whipped. This should take about 2-3 minutes.
Five. Divide the brown sugar concoction into serving glasses (we used mugs!). Add 1/4 cup of cream soda to each glass and stir. Fill each glass with additional cream soda.
Six. Top with the whipped cream. Serve and enjoy!
*This recipe makes approximately 8 servings.
We found several recipes for Butterbeer on Pinterest and combined several to our liking. Ours was a hit and very delicious, if I do say so myself. Other recipes call for rum or vodka for a bit of a spike, but a butterscotch schnapps would be delicious too!

facebook // twitter // instagram // pinterest // bloglovin'