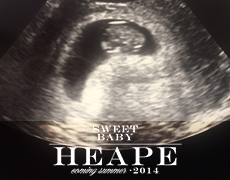 Since our big announcement, we've been overwhelmed with sweet words of encouragement, congratulations, and excitement! We are so thrilled to share this journey with you all and can't wait to see the Lord work through this little one's life.

Although I have no intention of bombarding you with daily (or even weekly), my-baby-is-the-size-of-a-key-lime updates, I do plan on sharing some of the highs and lows of each trimester.
A few fun facts:
Morning sickness hits me every morning and there is 0 relief until about 9 AM.
Baby Heape is due on 7/7/14.
Tastebuds went crazy about week 7. Most foods made me sick by sight, smell, or the 2nd bite.
We first heard his/her heartbeat at week 8, which was a sweet blessing!
We found out on October 28th and didn't tell a sole until November 28th. (One very long month!)
We shared our news with immediate family on Thanksgiving Day.
Our little one is quite active. We actually got to see the wee-one at week 11 and he/she was kicking, flailing his/her arms, and twisting all around.
We plan on finding out if baby is a boy or girl.
We've officially reached the second trimester! 12 weeks down, 28 weeks to go!
As mentioned above, we shared our blessing with our immediate family on Thanksgiving day. To help share our news, we had photos printed of our very first ultrasound with "you're grandparents, you're an aunt, you're an uncle, etc." printed on each one. Below is the print we gave the new grandparents,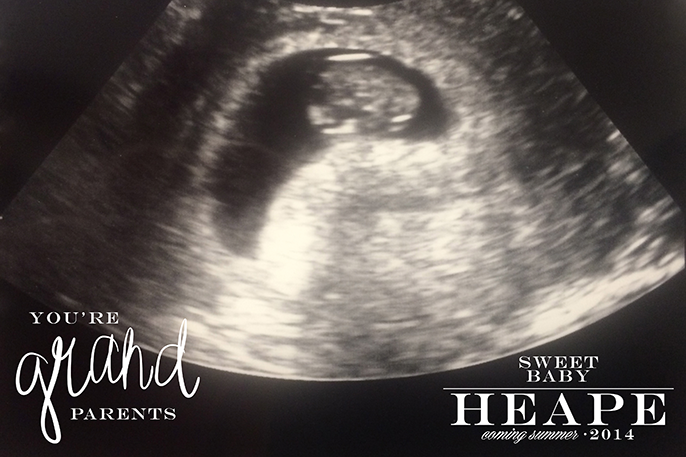 It's hard to believe that little blob has grown so much in the past few weeks!

facebook // twitter // instagram // pinterest // bloglovin'