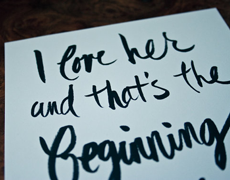 Let me start by thanking each of you for your sweet and encouraging words! Each text, call, comment, Facebook message, and tweet touched my heart like you will never know. Before writing this post, I knew my girl was loved by many –  but you all reiterated that and I will forever be grateful. Not only did you offer up words of encouragement, but you promised to shower my girl with your prayers and that means the world to us!
Obviously as a new parent I've got a lot of fear of the unknown generally, but whenever faced with a situation that the parenting books don't mention, worry sets in and all I can think of is how my baby will tackle normal activities like crawling, walking, and running. Suddenly everyday things like baths, footed pajamas, trips to the beach, and sandals seem extremely important. It won't be easy, but it'll be her normal.
Aside from how much the Lord has already taught me from this journey, we've learned a great deal about clubfoot in just a few short weeks. Not only is completely treatable and typically corrected within the first year of life, it definitely could be worse. The diagnosis could have be life-threatening and it's not – for that we are extremely grateful and counting our blessings.
A few things we've learned about clubfoot:
1 in 1000 babies are born with clubfoot (pretty common, actually)
it's most common in boys and about 50% of the cases are in both feet (bilateral)
it's 100% treatable
doctors are not sure what causes it, however it can be genetic
sometimes clubfoot may be an isolated abnormality, however it may be linked with chromosomal disorders (like cerebral palsy, down syndrome, and spina bifida) – there is a 1 in a 100 chance of this and they have not found any signs linking any of these chromosomal disorders to my girl
several professional athletes and gold medalist have overcome clubfoot, including Troy Aikman, Mia Hamm, and Kristi Yamaguchi
Although we have yet to meet (or decide on) a specialist, we believe treatments will follow something similar to this:
About 7 – 10 days after she's born, the doctors will massage her feet into place and her legs will be casted. For awhile the casts will be replaced weekly, the timeline for this will be determined based on the level of severity. At some point, she may have to have a tenotomy – surgery to cut her Achilles tendon because it may be too short to function correctly. Following this procedure, they typically cast their legs for several weeks. Once the doctors are convinced her feet have been corrected, she will wear what they call a boots and bar. Little boots to keep her feet turned at a certain angle, with a bar between them. From our research, she will wear this contraption 23 hours of the day for approximately 3 months. Treatment after that includes wearing the boots and bar at night until she is about 3 or 4 years old.
So she can't wear footed pajamas, pants, or cute sandals for awhile. So I can't swaddle my newborn like most. So we meet with a specialist weekly. And she learns to kick with braces or casts on. So maybe she can't have a normal bath and maybe she will have stinky feet from her boots. And maybe she can't put her toes in the sand for awhile. Yes, it's a hassle and an inconvenience. I'll cry when I see her tiny feet for the first time. I'm sure I'll cry each time her legs are casted. It's not going to be an easy journey. But at the end of the day, it's all temporary. Each treatment is one step closer to normal and by the time she's walking – her feet should be 100% corrected.
It's truly amazing how much your heart can love and ache for someone you haven't met yet. I found this quote by F. Scott Fitzgerald recently and it spoke volumes to me.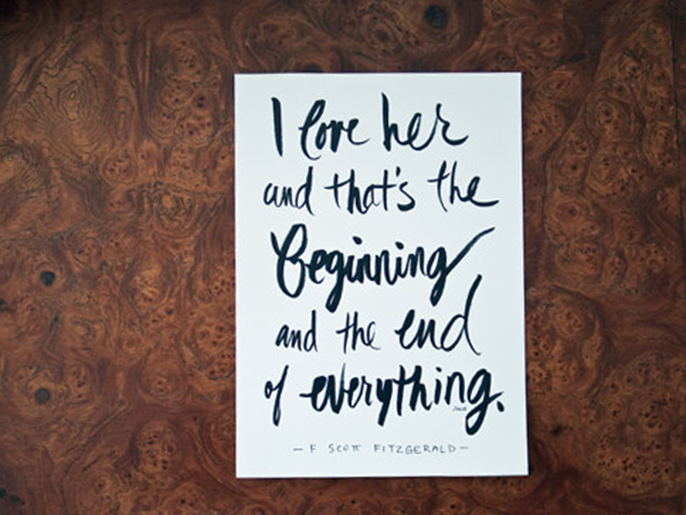 This print by HeyThereDesign is available here on Etsy.
One of the best moments of this journey (excluding all of the encouraging messages you've sent my way) came after finding out about the diagnosis. Justin and I had to go back to work, but he couldn't stop researching it in hopes of finding answers. He sent me a text with a list of professional athletes and gold medalists that have overcome clubfoot. I remember reading that message and smiling for the first time in hours. He knew I needed that and reminded me that our girl may be a future Olympian – the sky is the limit. It was sweet. At that point I recognized how much this journey (and parenting!) would help us rely on each other and grow closer together. Just another blessing to count!
Again, I can't thank each of you enough for all of the uplifting comments and messages, plus the extra prayers! Words cannot express how blessed we are to have such awesome people in our lives to love, support, and encourage us.

facebook // twitter // instagram // pinterest // bloglovin'