Justin's parents surprised us with a trip to New York City and Washington, D.C. for Christmas this year. The plan was to fly to NYC and road trip back south, stopping in Washington, D.C. for a few days on the way. We left last Saturday and got home yesterday evening. To say we were anxious to get back home is an understatement, but all-in-all we had a blast!
I couldn't fit all of our photos into one post, so here is part one of the Heape vacation. (Plus, I only managed to edit the NYC pictures last night… so this is all you get today.) This is a recap of our time in the big city!
—
After an early flight out of Albany, we were eager to hit the ground running when we arrived in NYC on Saturday. We stayed at the Edison Hotel in Times Square, so we were surrounded by the bright lights. Day one, we decided to have dinner at Guy's American Kitchen and Bar, followed by a viewing of Chicago on Broadway.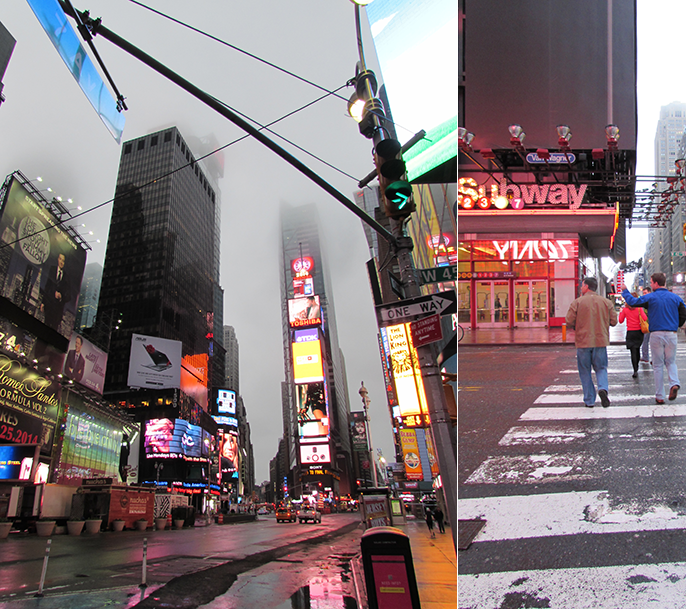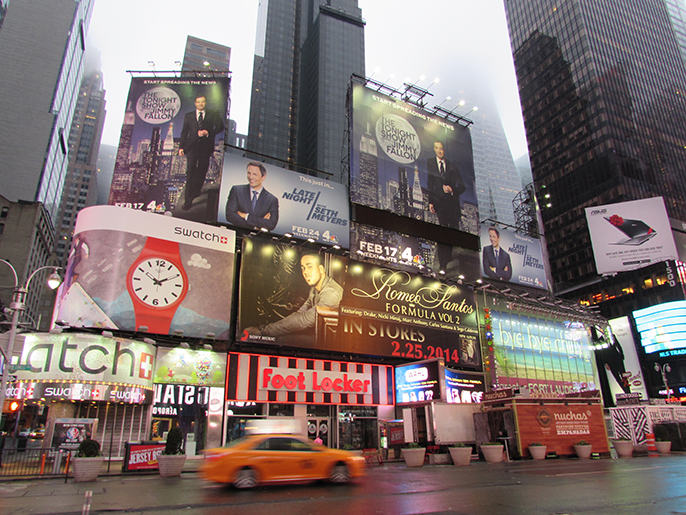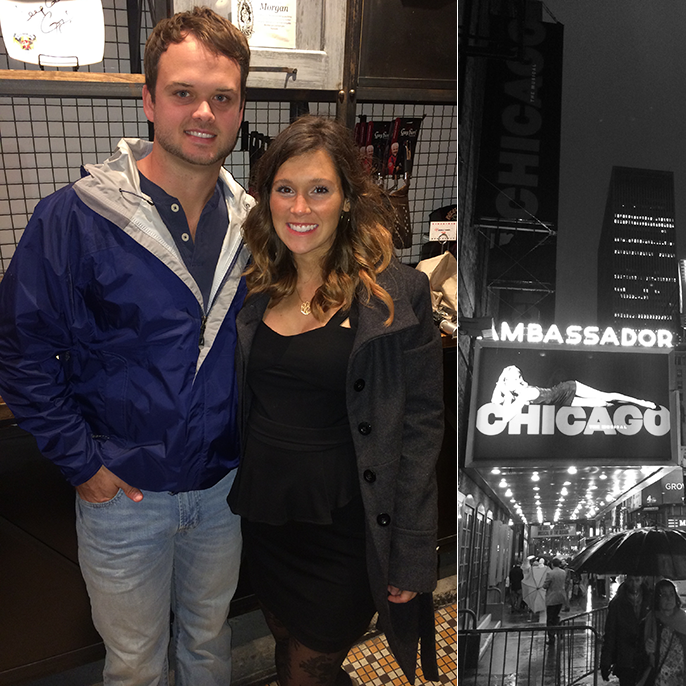 Day two was Sunday, so we took the subway and worshiped at the Brooklyn Tabernacle. The music was phenomenal!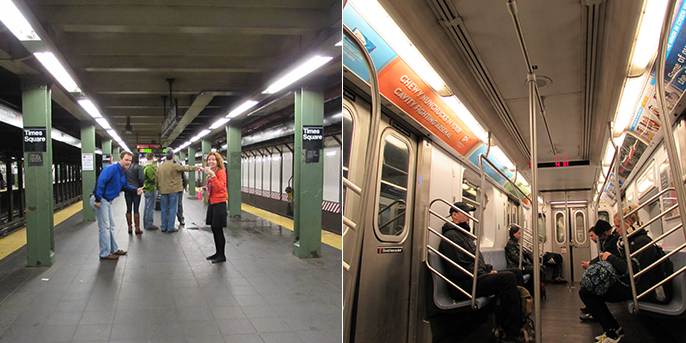 Afterward, we strolled through Central Park while waiting for a table at Sarabeth's. Being the foodie that I am, I couldn't resist snapping photos of our delicious brunch. I've been craving breakfast foods and pastries for most of my pregnancy, so this place hit the spot! I had almond crusted french toast, with strawberry and raspberry preserves. One word, amazing. Definitely my favorite meal of the trip!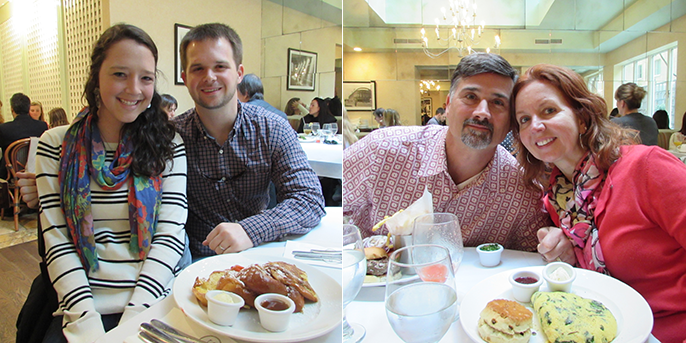 After brunch, we stopped by the Apple® store and FAO Schwarz® toy store. Any toy you can image, they had it! Chris picked out a super sweet and soft bunny for baby Heape, from him and Kaylee. They are super excited about becoming an aunt and an uncle!

After a fun morning out, we (Teresa & I) decided to see the matinee of The Lion King on Broadway. It was a last minute decision, but something I'd been looking forward to. We purchased tickets through Ticket Master and were hustling to make the only Sunday showing. Upon arrival at will call, we discovered Ticket Master screwed up the order and gave us tickets to the 2015 showing in January. Fail. So we tried to purchase new tickets, only to find out that they were sold out. Fail. Then, the kind ticket salesman informed us that he had two tickets for half the price we'd paid on Ticket Master, but we had to purchase them with cash. Unfortunately before I left Justin (moments before), I'd given him all of our cash. Fail. We rushed across the street to an ATM, only to discover that it was out of service. So was the 2nd and 3rd ATM we went to. Fail. At this point, we decided it was just not meant to be for us to see The Lion King and we gave up.
We joined the rest of the group back at the hotel and headed to Chinatown for a little bargain shopping. Kaylee lucked up and got a beautiful purse! I couldn't handle the haggling, but it was fun to experience.
After our Chinatown escapade, we visited the 9/11 Memorial. It was amazing to see and definitely something I'll never forget. Unfortunately the weather was horrendous and our only view of the new World Trade Center was from under an umbrella.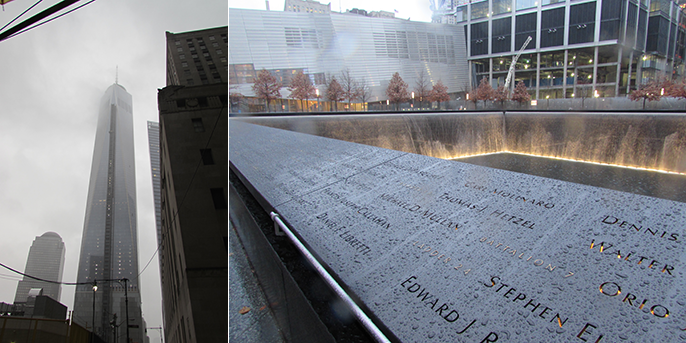 We made reservations for dinner at Carmine's, which I highly recommend. Their entrees are served family style and with an abundant amount of food. Not only were their portions large and the price right, but the food was delicious!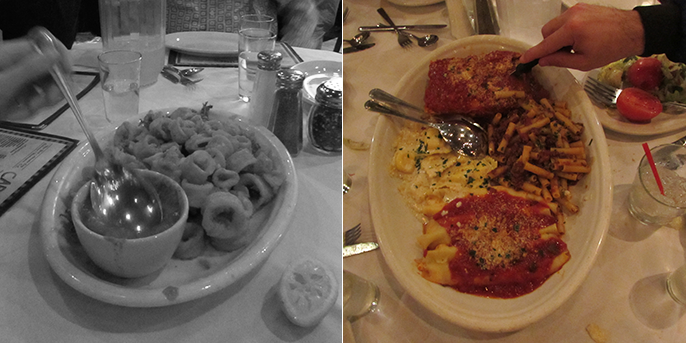 Day three was the only day it didn't rain torrents on us, which was great seeing as it was Opening Day at Citi Field. We were able to watch the Mets challenge the Nationals, which I will admit was one of my favorite activities. Maybe it had something to do with the sunshine and lack-of walking, but I absolutely loved seeing my man so happy. Baseball is definitely his favorite sporting event to attend and it was our first game of the season. The only thing that could have made it better would have been to be in Yankee Stadium and cheering on our Atlanta Braves.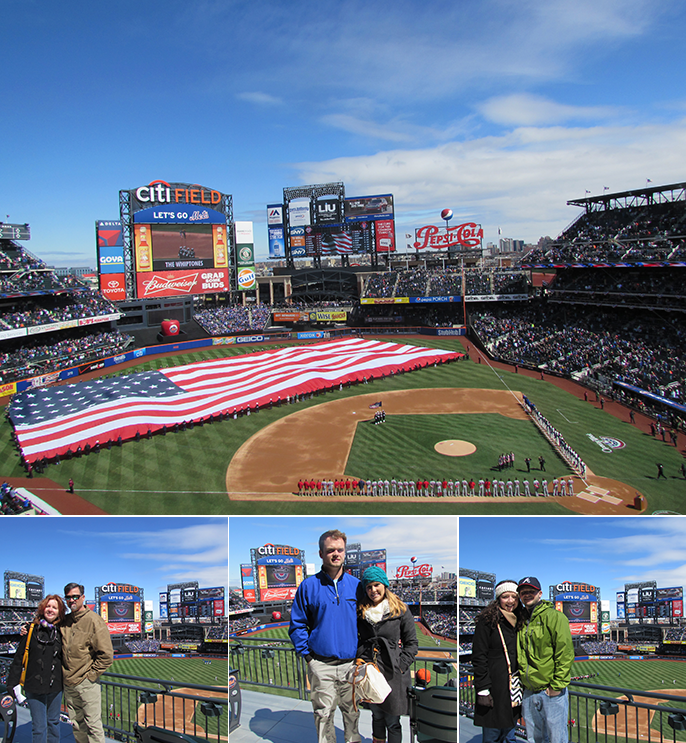 That night, we participated in Escape the Room NYC. If you haven't heard of it, it's worth looking up. Chris saw something about it before the trip and really wanted us to play. Basically, they lock you in a room for one hour and you have to figure out how to escape. Seeing as less that 5% make it out in time, I'm proud to say we escaped with a minute to spare!
Afterward, we stopped by Little Italy for some classic, New York style pizza. It was greasy deliciousness from a hole-in-the-wall, but one of our favorite (and cheapest) meals while in the big city.

Overall, we had a wonderful time in the big city! Although I will say walking 10+ miles a day… in the rain… while pregnant is not recommended by this gal. Don't get me wrong, I survived and I'd call myself a trooper – but I can bet I wasn't the best travel companion for the majority of our touring. (Read: Swollen feet + trekking miles in the rain + pure exhaustion = big, whinny baby!)
Coming up, our travels through Washington, D.C. and the road trip home – a.k.a. part two. And in case you missed our posts from last week, here you go: second trimester and southern wire!

facebook // twitter // instagram // pinterest // bloglovin'