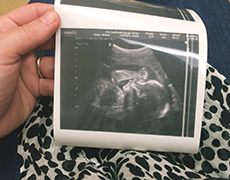 It's so hard to believe we've made it to the end of the second trimester! It seems just like yesterday, we announced our big news. Since the last trimester recap so much has happened, including finding out baby Heape is a girl and learning about baby girl's clubfoot diagnosis. It's been a whirlwind of a trimester, but truly a God experience.

Here are a few highs and lows of this second trimester,
Morning sickness disappeared.
I'm still experiencing spontaneous nosebleeds.
Somehow I'm still not in maternity clothes.
The weird food aversions have dissipated and now I can't get enough of pastries (that includes donut holes).
This trimester I felt baby girl squirming and so did Justin! Seems our little one is still quite active.
She's started waking me up throughout the night, because she's a little night owl.
Baby Girl is head down, feet up and has been for several weeks. Now if she'll only stay that way?
We've officially reached the third trimester! 26 weeks down, only 14 weeks to go. That's less than 100 days!
I shared this photo of our sweet girl on Instagram recently and couldn't resist sharing with all of you. She's growing like a weed and is a bit camera shy. In each ultrasound screening, she hides her face with her hand. I'm thinking she's taking after her Daddy.
Other pregnancy posts,

facebook // twitter // instagram // pinterest // bloglovin'