Monday marked 20 weeks for baby Heape and mama, which is halfway! It's so hard to believe that we're already halfway through our journey. It seems as if we just found out our big news yesterday.
While my bump is steadily growing and it's nice to still be able to wear my "normal" clothes, I'm definitely ready for the she's-pregnant look oppose to the girl-needs-to-stop-eating-donuts look. The good news is that as my bump continues to grow, so is baby girl. She's healthy and active, with 10 fingers and 10 toes!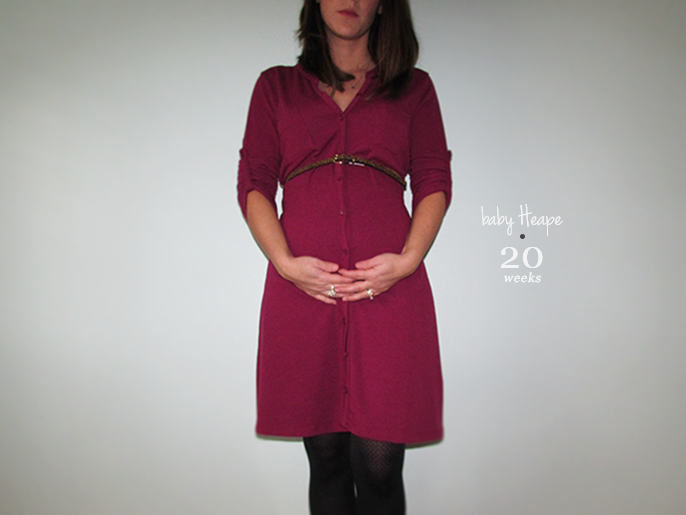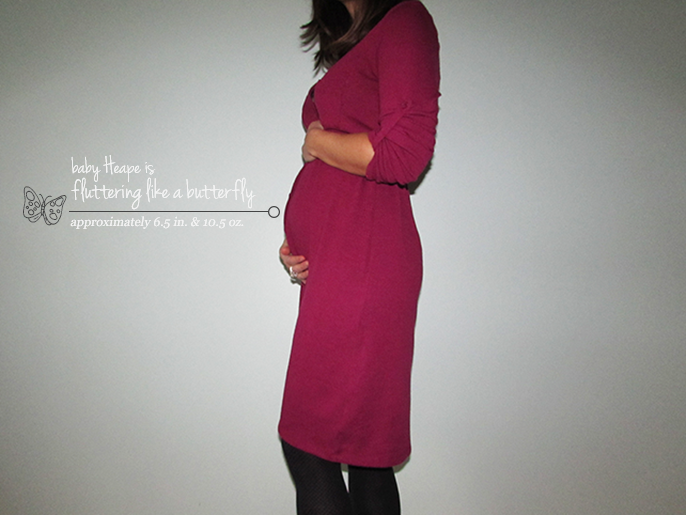 *The photos turned out a bit darker than I'd hoped, due to an overcast winter day.
How far along are you?
 20 weeks, 2 days.
Best moment(s)?
 Feeling baby girl squirm!
Food cravings or aversions?
 Lots of pizza and donuts, specifically donut holes
(munchkins)
from Dunkin Donut.
Symptoms?
 Morning sickness for the most part has said good-bye and for that I'm grateful.
Sleep?
My new bedtime is earlier than ever before, but I get up multiple times throughout the night for bathroom breaks.
Gender?
Baby Heape is a girl!
Movements?
Yes, finally. She's fluttering around like a little butterfly!
Cranky or happy?
Whenever I'm hungry or tired, I tend to get really anxious and grumpy. But other than that, I'm happy-go-lucky!
Maternity clothes?
 Still rocking my low-rise, H&M jeans, but some of my skirts are too snug to wear any more.
Miss anything?
 My long hair. Even though this was a pre-prego decision, I want my long hair back. And these prenatal vitamins aren't making it grow fast enough.
What are you looking forward to? Our babymoon/family vaca to New York in March and feeling little bit move more!
A few outtakes just because,

Other pregnancy posts,

facebook // twitter // instagram // pinterest // bloglovin'