As most of you know, we've been busy checking projects off of our to-do list since the day we moved in. Although the list seems never-ending, I'm hosting a baby shower at my house in a couple of weeks and it's put the pressure on to get several of the bigger projects completed. One major project we decided to tackle was expanding and rebuilding our back porch. Initially we'd hoped to expand it past the fireplace, but after evaluating the work – we decided to keep the updates as simple as possible.
Justin and his dad started the project back in January and the work has continued on into several weeknights and weekends. Ultimately, we had several friends assist Justin – so, here's a special thank you to Barry (my FIL), Trevin, Trae, and Christopher. We are so thankful for your help and grateful to have this big project checked-off our to-do list.
I'm especially thankful for all of the time Justin put into this porch! He really went above and beyond.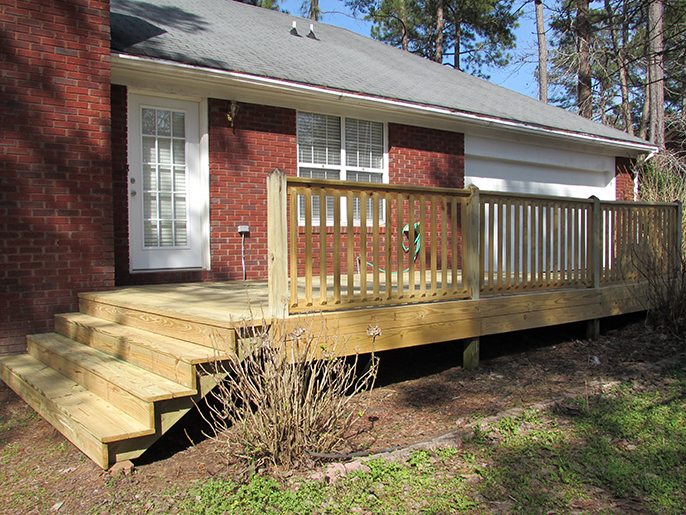 Although we do have plans for the future to stain it, this is the completed look of our porch for now.
I looked for before photos, but the best I've got are these photos from the early stages of the rebuilding. And I have ask you to please ignore the bare branches of our hydrangea plants and sparse flowerbeds. We do have plans to put our green black thumbs to work this spring.
Hopefully we'll be sharing a few more home projects soon, along with some DIY crafts for the upcoming shower.

facebook // twitter // instagram // pinterest // bloglovin'