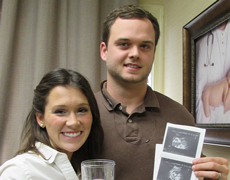 … healthy, baby girl!
On Tuesday, January 14th, Justin and I found out the sweetest news – not only is our blessing growing and healthy, but baby is a girl! We are super excited for our little bundle of joy and can't wait to meet this sweet baby girl this summer. As happy as I am for the many Mommy/Daughter dates our future holds, I've got a feeling that this wee-one will be a Daddy's girl through and through.
As the Lord continues to perform a miracle in our lives, our prayer is that this blessing will help us to fall more in love with Him daily. Words can't express how excited we are that He has trusted us to be parents to this baby girl.

facebook // twitter // instagram // pinterest // bloglovin'