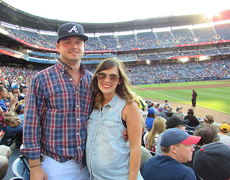 Take me out to the ballgame, take me out to the crowd… Traveling has become our weekend route, which I must admit is pretty exhausting. I guess we're trying to cram all of our "trips" in before baby girl makes her grand appearance, but I'm honestly ready for a weekend at home and a chance to slow down.
This past weekend, we decided to celebrate our anniversary cheering for the home team! We hit the road to Atlanta for a little Braves action. As unfortunate as it is that we didn't bring home a win, we had a great time with some pretty great friends.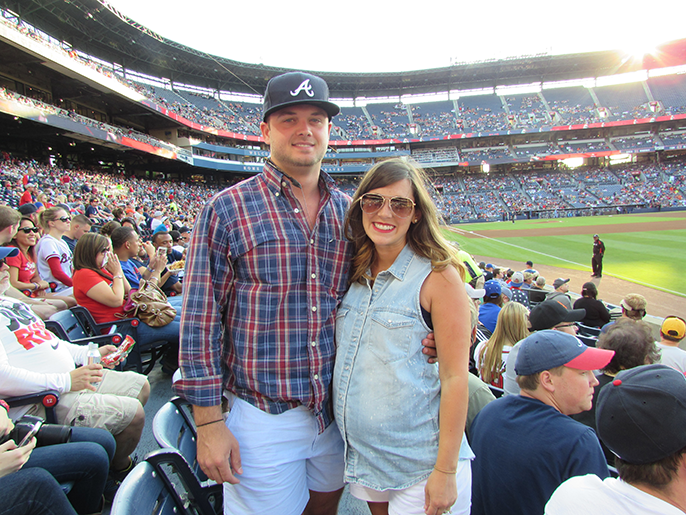 top
//
shorts
//
shades
We have both been anxious to go to an Atlanta Braves game this season and it just hasn't worked out until this weekend. Aside from it being our anniversary weekend, we were pretty excited that the Braves would be facing-off against the San Francisco Giants. For most this may not be a big deal or significant at all, but one of our hometown stars, Buster Posey is catcher for the Giants – so it only made sense that we see this guy in action. (Although we are fans of Buster's, we were in no way, shape, or form cheering for the Giants. In fact, we're holding a grudge that they swept us.)
All in all, we had a wonderful weekend out at the ballgame! In fact, the only thing we'd change would be bringing home a big W rather than a loss on the books.
Hope you all had a lovely weekend and enjoyed a very festive, Cinco de Mayo celebration!

facebook // twitter // instagram // pinterest // bloglovin'