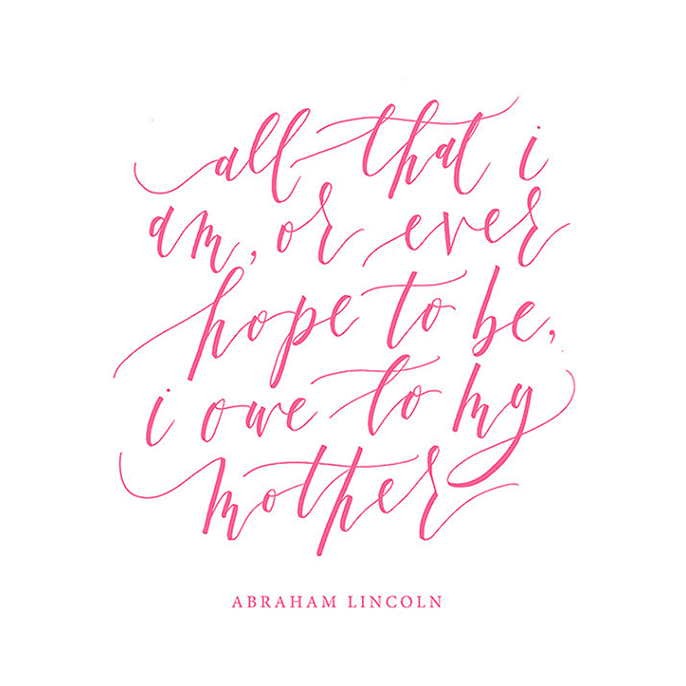 Sunday is Mother's Day and I couldn't think of anything more suitable to share than this lovely print by Juliet Grace Design. Not only is it absolutely darling with the hot pink script, but a perfect gift to tell your mother just how much she's inspired you. These sweet words accurately describe how I feel about my mother! It's just an added bonus that the quote is from one of my favorite U.S. Presidents, Abraham Lincoln.
*Snag it while you can, this print is only available through Sunday, May 11th (Mother's Day).
—
Update // This friend over at LayBabyLay.com is speaking my language today, as she talks about weirdness and motherhood. I can't imagine how I will feel once baby girl arrives, but I know already that my heart is full. The Lord has filled my heart with a love that I couldn't have imagined. I am continuously changing, both inside & out; my heart has grown at least three sizes over the last few months, like my belly & rump! I may not always fit in and I'll definitely have to learn to embrace my new identity, but there is no doubt – I am so very blessed to be a mama.
May you all have a lovely, Mother's Day and spend it with those you love!

 facebook // twitter // instagram // pinterest // bloglovin'