Today would have been 39 weeks into my pregnancy, but as you may have noticed – our girl made her debut a couple of weeks early. However last Monday, before Joy Belle made her grand entrance, I had intentions of sharing this post of my 38 week, baby bump and pregnancy update.
—
I'd be lying if I said I thought I'd make it this far into the pregnancy. For whatever reason, I thought I'd be meeting this sweet girl on June 18th – no significance, I just thought she'd be here then. Obviously, I was wrong. From the very beginning, I've said she'd arrive sometime between June 18th – 24th. (Again no significance, just my guess.) Even though I have a day and a half left for my prediction to come true, I'm thinking this little one has a mind of her own. But I'm happy to say, we've made it to thirty eight weeks and baby Heape is healthy and continuously growing. At last week's appointment, baby was already weighing in at 6 pounds, 13 ounces!
How far along are you? 38 weeks, photo was taken at 37 weeks, 5 days.
Best moment(s)? All of the wonderful showers people have hosted for us! We have been truly showered with love.
Food cravings or aversions? Ice cream and La Croix sparkling water, in any flavor.
Symptoms? Braxton Hicks, swollen feet, aching back, etc.
Sleep? Still uncomfortable.
Gender? Baby Heape is a girl!
Movements? Yes! I love to feel her kick and squirm. 
Cranky or happy? Happy, bossy, cranky, and a whirlwind of crazy emotions!
Maternity clothes? Maternity pants and larger tops/dresses. The dress I'm wearing is an Old Navy (not maternity) sale rack find.
Miss anything? Sushi, oysters, my jeans, and good sleep.
What are you looking forward to? Her arrival! Only 23 days until due date and I'm convinced she's coming early.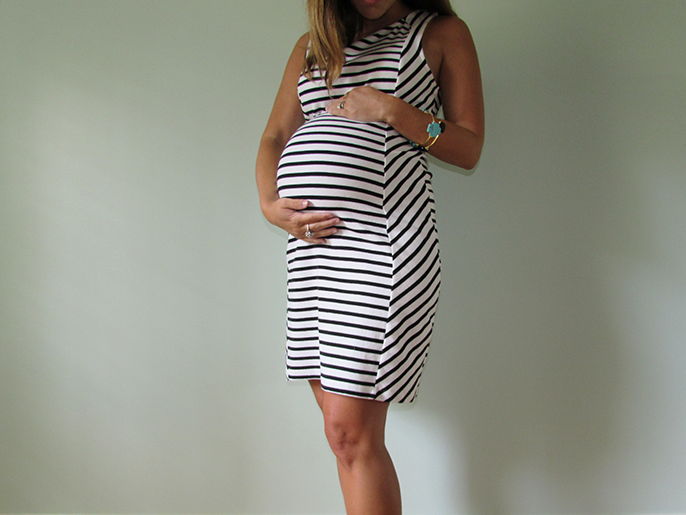 —
It's so hard to believe that this time last week, our baby girl was inside of me. This time last week, we were rushing to the emergency room to meet our baby. I still can't believe it. But it's been one of the best week's of my life!
Since the arrival of our sweet baby girl, I've been a bit preoccupied and consumed with taking care of our wee one! Although I can't promise any more posts this week (or the next), I did want to let you all know I intend on sharing her birth story, lots of photos, and documenting her feet treatments as we begin the journey.
Prayer Request // Today, I would like to ask each of you to say a prayer for Joy Belle, the doctors, and us. We are traveling to Atlanta tomorrow (Tuesday) for her very first casting. The doctor plans to cast both of her legs from the hip down to her toes. The casts will be changed weekly, so we have a long few weeks ahead of us. Please pray specifically for the doctor, that the Lord will guide him through this journey. Please pray that Joy Belle is at ease and in the least amount of pain as possible. (This mommy is scared!) Please pray for me and Justin, that we are continuously reminded that this is what is best for Joy Belle, that the Lord is in control, and that He will keep her safe and heal her. Please pray that we are strong for our girl. I can't tell you how many times in the last 6 days I've cried over the thought of seeing my girl casted. How many nights I've laid in bed crying out for the Lord to heal her tiny feet. I need your prayers!
And lastly, please pray that we have safe travels. It'll be a day trip to Atlanta, which promises an early morning, long drive, and emotionally and physically draining day. We can't thank you enough for the extra prayers and continued words of encouragement. It means so much!
a Heape of love,
Brianne, Justin, and Joy Belle