It's so hard to believe that it's already been half of a year since I first laid eyes on this tiny beauty. She's taught me so much in her short span of life and filled my heart with more happiness than I could have ever asked for or imagined. Her little personality is perfect and I can't get enough of seeing her grow. She's steadily learning new things. I say it every time, but it just keeps getting better! This phase… it's my favorite.
Joy Belle, six months.
How old is baby? 6
 months.
Best moment(s)? 
She woke up on her 6 month birthday and gave me eskimo kisses. I've been giving her eskimo kisses since she was born (we don't believe in kissing babies in the mouth!), so it was the sweetest when she grabbed my cheeks and rubbed her tiny nose against mine.
Favorite food(s)? 
Milk.
Sleep? 
She's still waking up in the night – whether it's due to teething, sniffles, or growth spurts.
Activity?
It's as if she kicked the casts off and said nothing will hold me back. She's hitting all milestones like a champion. She's rolling over, scooting towards toys, sitting up on her own, and practicing standing up with help too.
Mood(s)? 
She's a little happy baby with happy feet!
Growth?
At her last check-up, she was 17 pounds and 23 1/2 inches. She's steadily growing, but is still wearing 3-6 months clothing.
Favorite toy(s)?
Her Radio Flyer wagon and Rainforest Jumperoo.
What is baby's favorite thing to do with Mommy? 
She loves to grab my face and give me kisses – lots of open mouth and slobber. She really enjoys learning new things with Mommy by her side. These days, she doesn't let me get too far and rarely out of her sight.
What is baby's favorite thing to do with Daddy? 
She loves for Daddy to tickle her with his beard and when he makes silly noises. She will just cackle!
Likes? 
She loves to sit up (she can now do this on her own!), walking outside/strolls, bright lights, music, tags, Chipper, daddy, mommy, and her grandparents. She enjoys riding in her new wagon. She likes to cuddle before naps and bedtime. She's into grabbing and reach for things. She really likes to "tap dance" with her shoes, but loves to have her shoes/brace off.  She loves to put anything and everything in her mouth.
Dislikes? 
She's still not a fan of putting on her new shoes/brace. She doesn't like for mommy or daddy to leave the room. She doesn't like to take naps. She dislikes loud clapping and cheering. She (like her mommy) hates to be aggravated. And she's recently started to dislike having her diaper changed.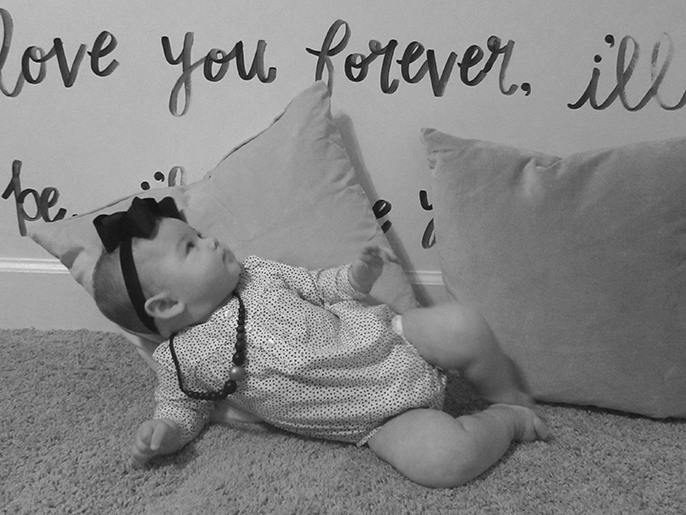 onesie, Carter's / bow, Georgia Belle's Bows on Etsy / necklace, Willow + Stout / moccasins, Freshly Picked
In case you've missed the last few monthly photos,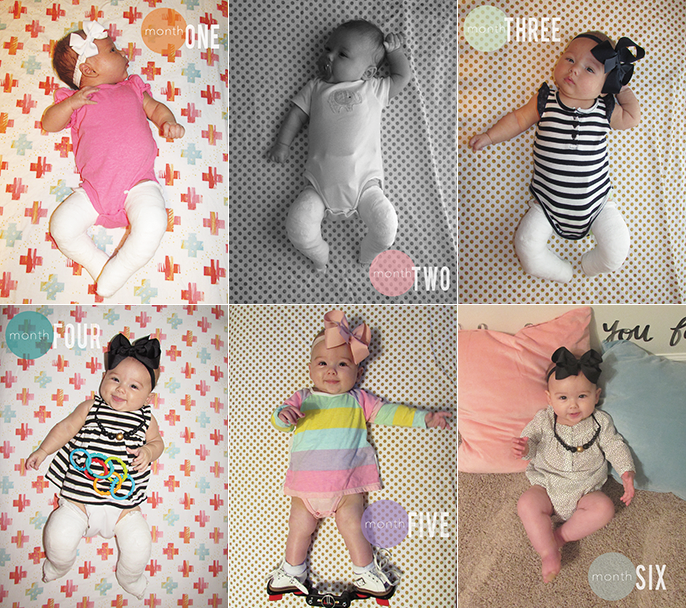 facebook // twitter // instagram // pinterest // bloglovin'