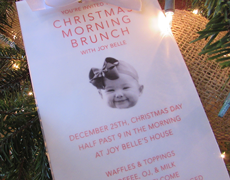 With this Christmas being Joy Belle's first, I really wanted a way to share Christmas morning with our families. She's the first and only grandchild on both sides, so we thought it would be nice to invite our parents and siblings over on Christmas day. Brunch was doable for everyone and would still allow us our own time as a family of three.
Everything was perfect! Not only was brunch delicious (thanks to my husband), everyone enjoyed watching Joy Belle enthusiastically open gifts. She was all smiles for her mini audience and paparazzi.
Justin and I were so happy to host everyone and to share our slice of heaven with those closest to us. Christmas morning would have been perfect either way, but we are glad our families were able to spend it with us. Who knows, maybe it'll become a tradition.
 facebook // twitter // instagram // pinterest // bloglovin'