I probably say this every month, but these are some of my favorite photos of our sweet girl. From watching the airplane fly by, to rocking her baby doll, I feel like the pictures captured her personality so well. She's quite a ham & despite feeling terrible, she still smiled for the camera.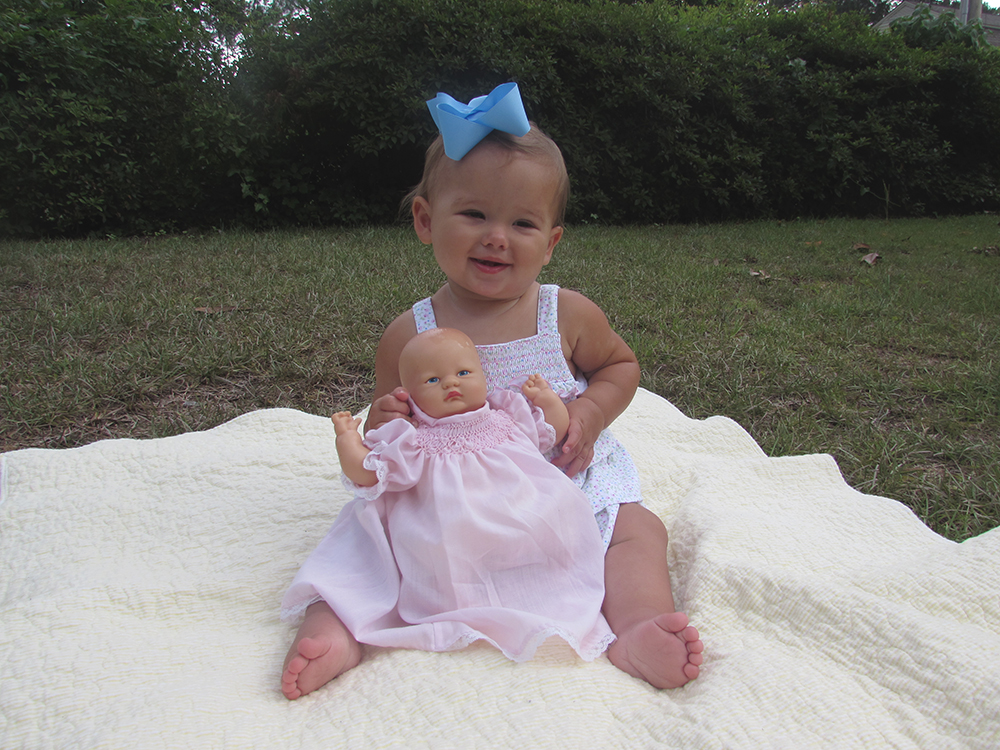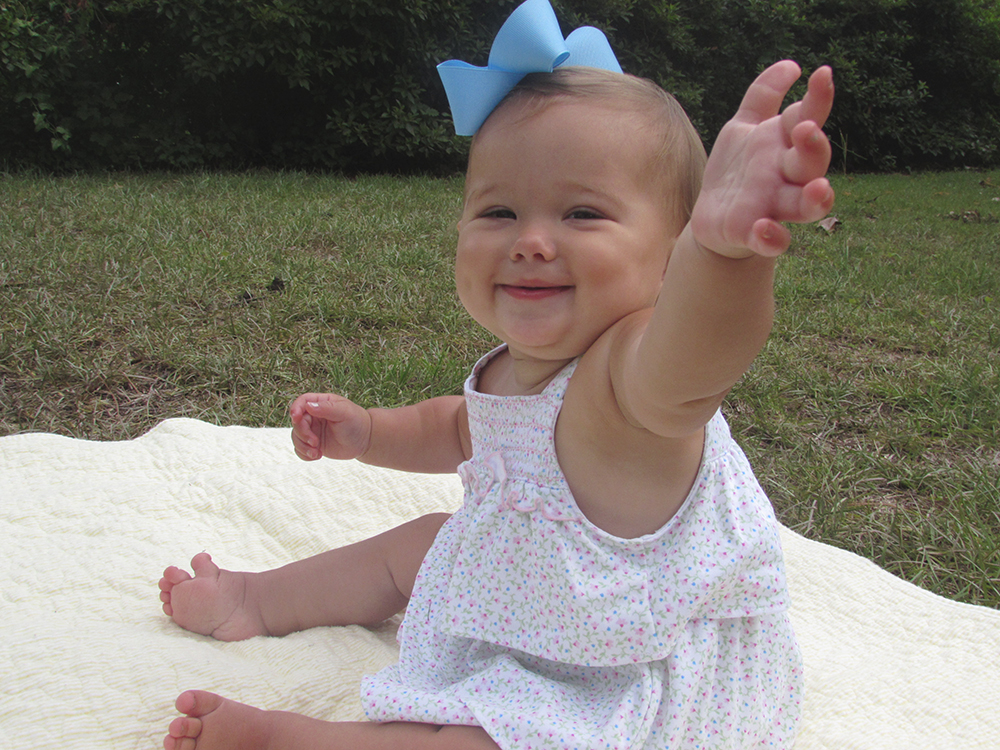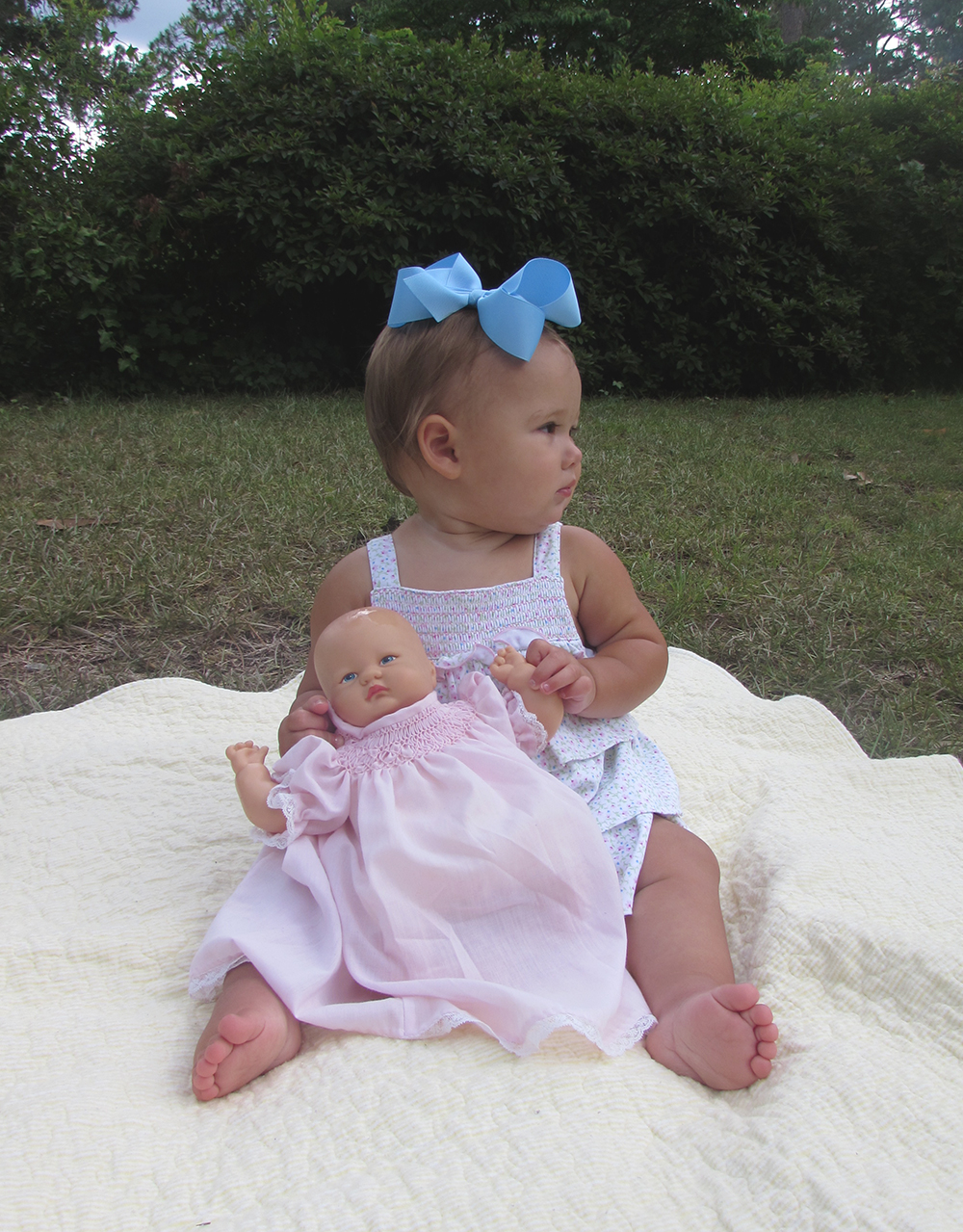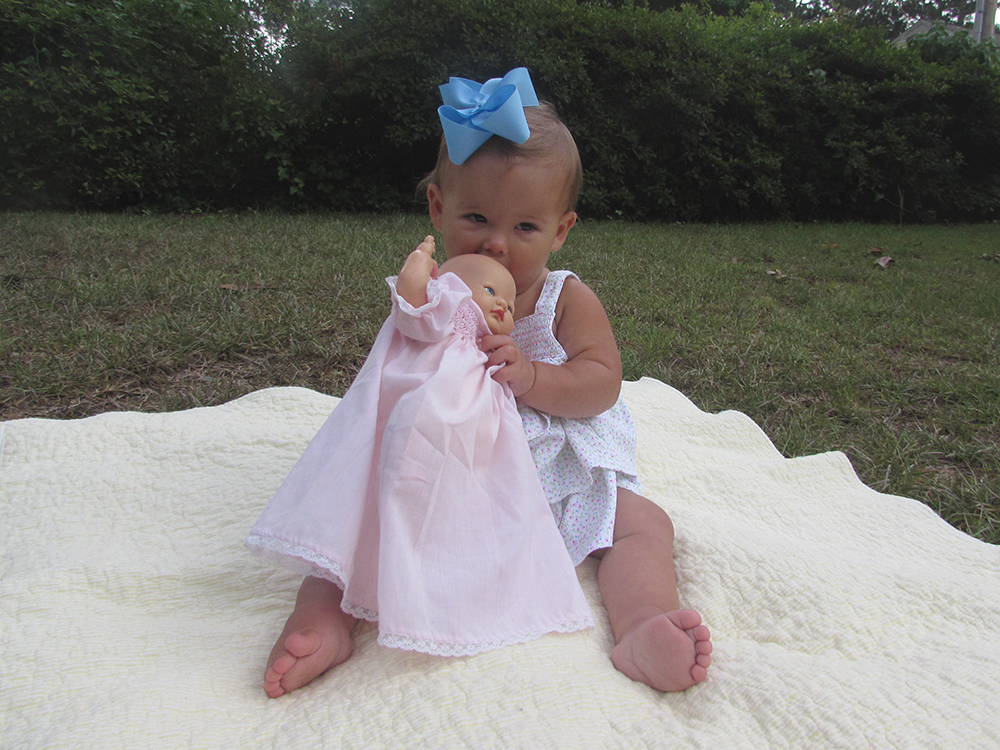 Joy Belle, eleven months.
How old is baby?
 11
 months, 5 days. (Latest I've been taking these monthly pictures! Taken on May 27th.)
Best moment(s)?
Whenever she holds her hands up & says, "mama." Melts my heart every time!
Favorite food(s)?
She loves Annie's Cheddar Bunnies, avocados, hummus, olives, cauliflower, quesadillas, pickles, cherries, watermelon, and pears! She hates strawberries & blueberries, which I think is so strange. 
Sleep?
Same sleeping situation, or lack there of. She doesn't like to sleep, but it does seem to be getting better. At night, she's still waking up at least twice. And lately she's been taking naps, which I think is helping.
Activity?
She's using the walker & other toys to walk across the living room. And she's still crawling everywhere & into everything! She can crawl up stairs at racing speed too.
Mood(s)?
Happy, happy, happy.
 She's only cranky or irritable whenever she's tired, hungry, or cutting teeth – which is more often these days
. 
Growth?
She's officially in 9 – 12 month clothing, some 18 months, but still rocking a size 1 shoe. She's actually wearing a size 00 in her corrective shoes.
Favorite toy(s)?
Her dolls & stuffed animals. Her absolute favorites are her dolls. She wakes up looking for them, holds them, gives them kisses, & rocks them. She gives them these "love pats" on the head too. It's the sweetest! She's a good little mama. The doll in the pictures with her was mine when I was her age.
What is baby's favorite thing to do with Mommy?
She loves for us to go on walks – in her stroller, her wagon, or on mommy's bike. Together we swim (or really splash) in the pool and she loves it. She loves to play a game with me, where she crawls as fast as she can to the edge of the bed & giggles when I tell her no. She loves for me tickle her. And she loves to snuggle with mommy. She also loves for us to take baths!
What is baby's favorite thing to do with Daddy?
She loves when Daddy comes home from work. She waits for him at the backdoor. She also loves to wave bye-bye to him as he leaves for work. She loves when Daddy throws her high in the air & catches her. She loves for him to flip her onto the bed. After he gets home for work, they usually walk to get the mail together & play fetch with Chipper.
Likes?
She loves snacks, clapping, dancing, walking outside/strolls, anything she can chew on, using a straw, FaceTime with Aunt Bethany, music, daddy, mommy, & Chipper, her puppy. She loves to see her grandparents & aunts & uncles. She likes to cuddle before naps & bedtime. She likes to chase Chipper & watch him catch bubbles. She likes to take Chipper's toys, ride in her wagon, & splashing in the pool. She loves 
bath time too! She loves Mickey Mouse Clubhouse, especially the songs at the beginning & end of the show. She loves to dance & bounce to the music. Her favorite is Minnie Mouse! She likes to be flipped upside down. She loves her baby dolls! She likes to climb up & on everything. This month we learned that she likes to ride on boats & planes! She loves to visit her friends too – especially the bigger kids.
Dislikes?
She doesn't like to sleep & isn't a fan of laying down. Recently, she's decided she doesn't like to get in her car seat or having her diaper changed. And although she likes to ride on the boat, she hates to wear her life vest. She doesn't like to be fed with a spoon or any utensil. She doesn't like lemons or strawberries.
Is baby doing anything new?
 S
he's pulling up on everything & using her walker a lot more. I'll be surprised if she isn't standing by her 1st birthday. She squeals loudly when she gets excited. And she added "u
t-oh" to her vocabulary! It's absolutely adorable. I'll have to share a video soon. It's a very loud "ut" followed by the sweetest "oh." The only downfall to this is that she drops things just to say it & smile. She's also got quite the attitude, with her feisty head turn when she doesn't want something.
How many (if any) teeth does baby have?
Six! My baby now looks like a toddler. Overnight (more like a week or so) she cut 4 front, top teeth. I may or may not have gotten emotional over the sudden mouthful of teeth!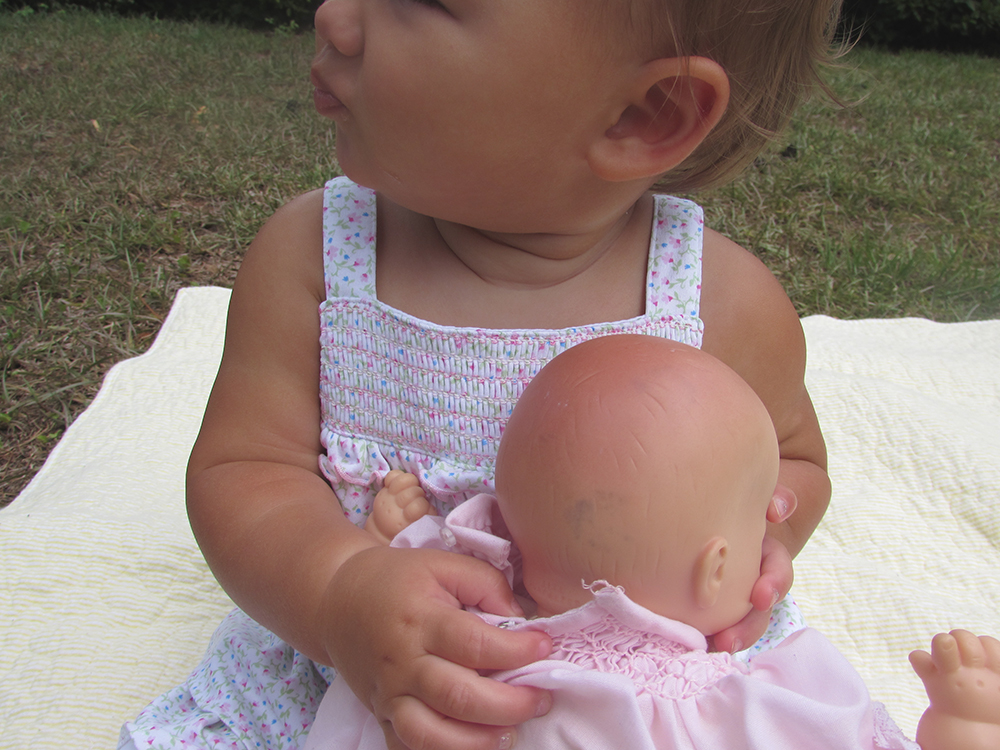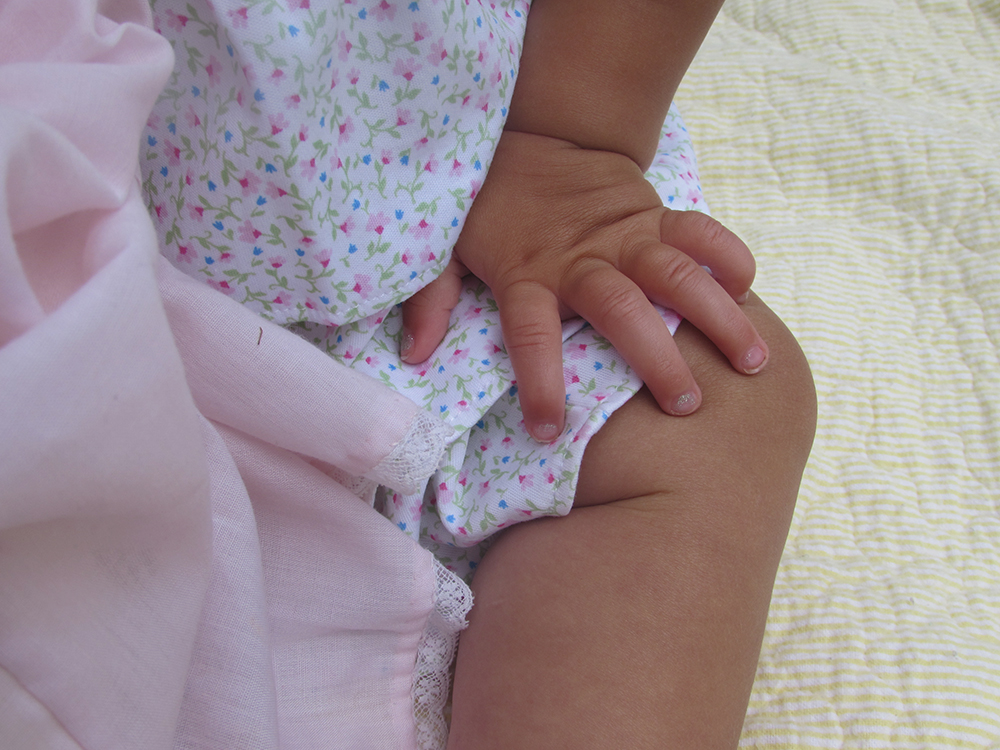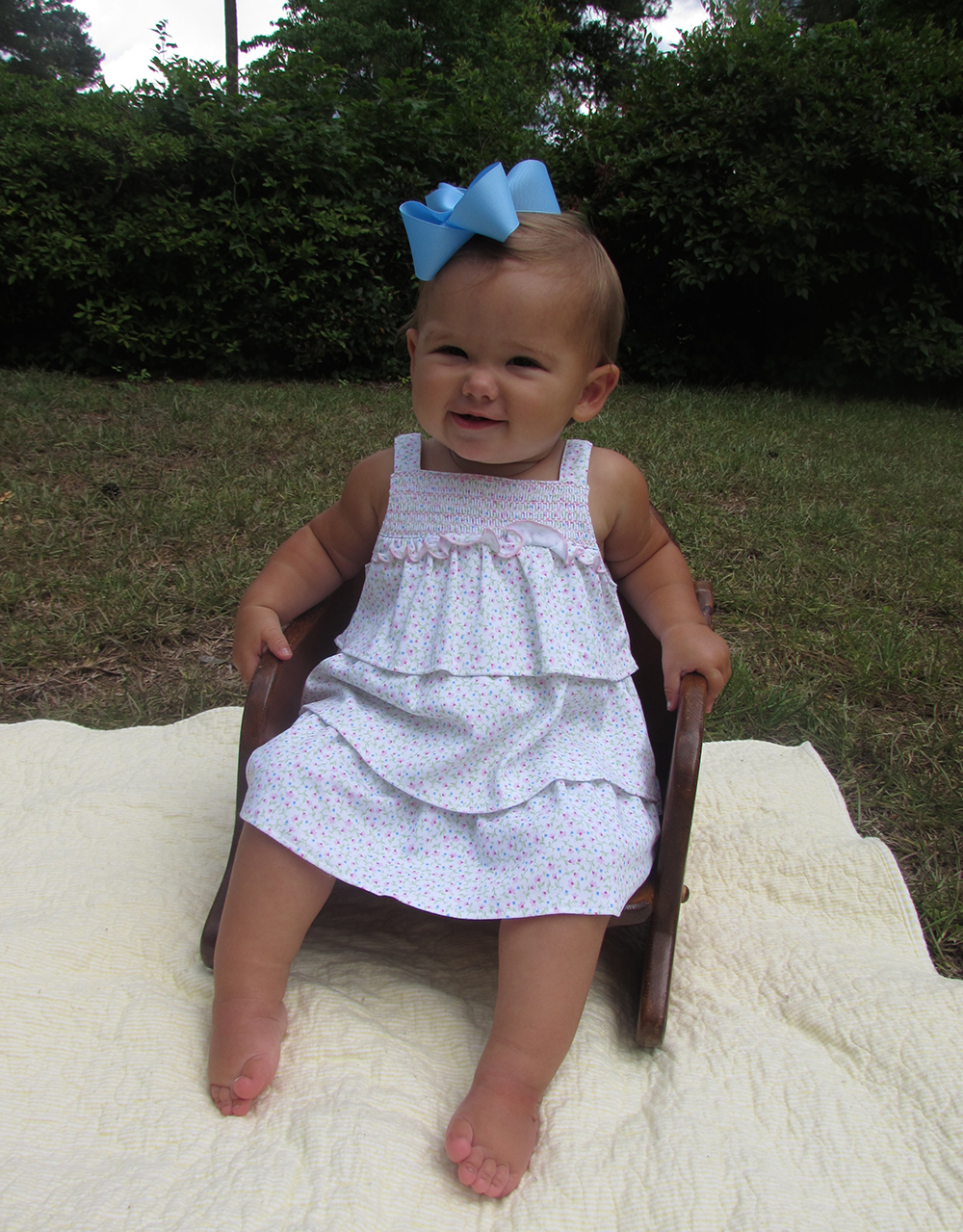 It's so hard to believe my baby is growing up so quickly. She not only will be considered a toddler soon, but she looks & acts like one too. Her personality is something else. My little fashionista loves clothes, bright colors, crazy patterns, & dresses. She's the definition of sassy. She's independent when it comes to feeding herself & playing. And in less than a month, we will be celebrating her 1st birthday. It seems just like yesterday we were preparing to meet her, now I can't imagine life without her.