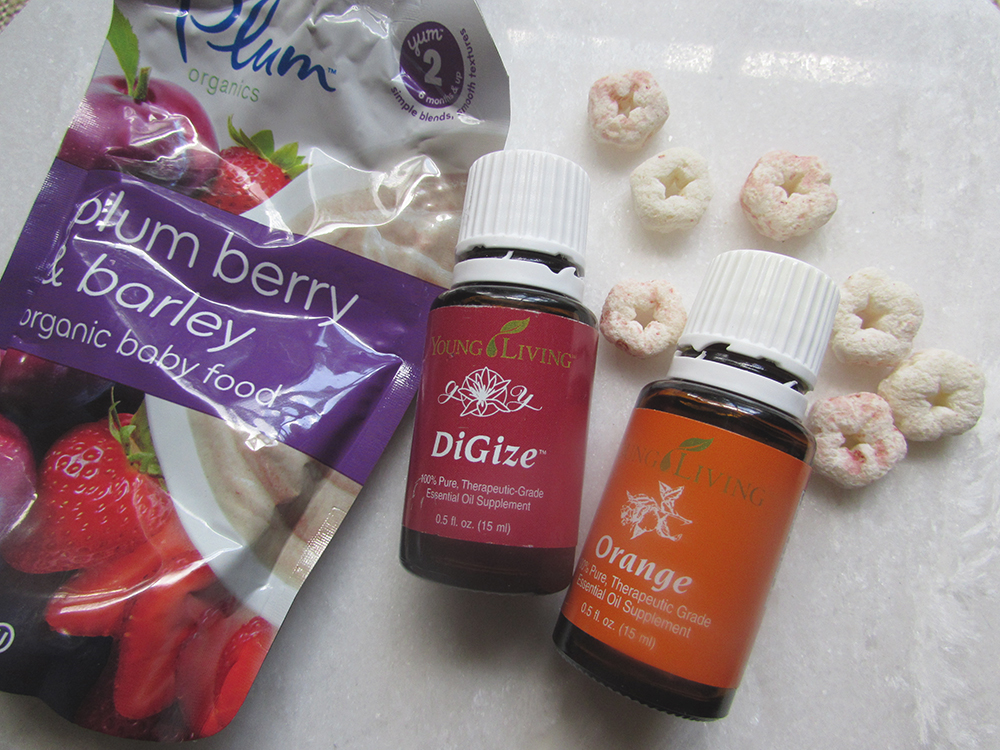 Like teething, I wanted to find other remedies than common medicines to help whenever Joy Belle (or one of us) gets a tummy ache. Since first discovering essential oils, I've found several alternatives to help us with Joy Belle's tummy aches (specifically when foods give her gas!) & I thought I'd share a few that have worked for us, in hopes of helping other first time moms.
Avoid onions, broccoli, & dairy. Since we have a breastfeed baby, I've found it beneficial for me to avoid foods that may upset her stomach. For us, that includes dairy – which has been the hardest for me to avoid, since I love ice cream & cheese. We replaced our milk with almond & coconut milk. Plus, I avoid gassy foods like onions, broccoli, & super spicy foods.
Orange essential oil. I've found orange oil helps with digestion. I've recently started diluting it with coconut oil & rubbing it on Joy Belle's tummy whenever she's gassy. The oil also aids in relaxation, which helps calm her down & distract her from the pain.
DiGize™ essential oil. DiGize™ is a unique blend of Ginger, Anise, Fennel, Peppermint, Tarragon, Lemongrass, Patchouli, Lemongrass, & Juniper essential oils.  To be honest, the smell isn't my favorite, but I've found it to really help ease nausea. The last time a stomach bug hit our household, I applied a drop (diluted with 4 drops of coconut oil) to the inside of my bellybutton.
Bicycling. Not on an actual bicycle, but the bicycling motion of their legs helps to relieve gassy tummies.
The booty burp. Yes, I just made that up – the terminology, not the concept. Similar to burping a baby, you pat right above their bum to help relieve gas. Don't call me crazy until you try it, because it works!
Never will I claim to be an expert or doctor, but as I find solutions & remedies for everyday issues I've faced as a first time mom, I plan to share in hopes of helping others. As for oily tips, we are definitely still newbies when it comes to oils, but I want to use the knowledge I've learned to help others along the way. If you are interested in signing up as a wholesale distributor (this does not mean you have to sell anything!), a retail customer, or just learning more about essential oils, you can read more here. You can also sign-up for my monthly newsletter by commenting below with your email address.
Some of our favorite baby foods & snacks are by Plum Organics®. Joy Belle is a big fan of the blends of veggies & fruits, along with the super puffs, little yums bars, & teensy fruits. Since she's so independent & hates using utensils for eating, the pouches were the key to getting her to eat healthy. The fact that Plum's mission is to provide the very best, organic foods is just an added bonus that makes this mama happy!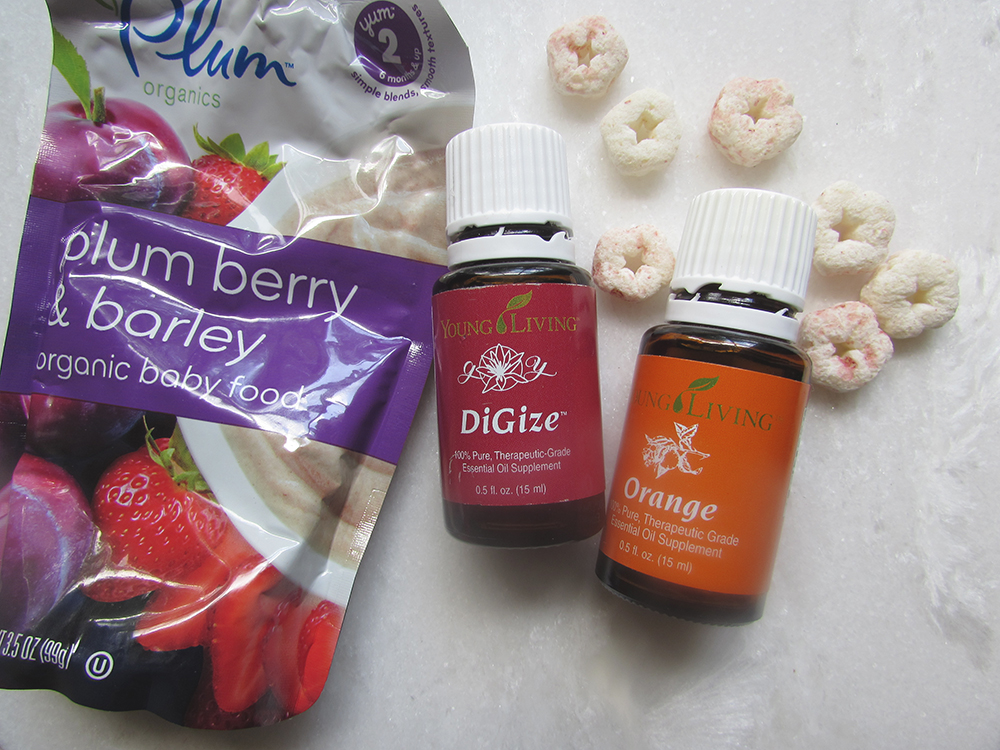 Please note that all suggestions are of my own opinion and specific to Young Living essential oils. My statements have not been evaluated or approved by the FDA. In no way am I suggesting that these oils will cure, alleviate, treat, prevent, or diagnose a disease, symptom, or injury. Please do not replace your current prescriptions or OTC medications based on the information provided on this blog. Keep out of reach of children.