For a little over a year, Justin and I have tried to lead healthier lifestyles. It took some getting use to, but we gradually incorporated more fruits and vegetables in place of processed foods. We kickstarted our healthy lifestyle with Zumba for me and the gym for Justin. Then, we subscribed to a local farm to table program and incorporated kale smoothies and healthier meals into our daily routines. (I'd be lying if I said we stuck to these good habits while I was pregnant. I couldn't stomach the smoothies.)
Since having a baby, we've continued eating and living a healthier lifestyle. After all, we've got a breastfed baby, so what I consume directly effects her. And with her health being a major concern of ours, we wanted a natural way to keep her healthy and well. I spent a few months researching essential oils before I decided to give them a try. For me, it seemed like a big commitment and I didn't want to take the plunge without fully giving it my all.
So what are essential oils? They are oils extracted through careful steam distillation but also through cold pressing. Essential oils have been used for thousands of years for their spirituality and emotionally uplifting properties, along with their cosmetic benefits. These oils are extracted from nature, specifically from herbs, flowers, roots, trees, and seeds.
A little fun fact: essential oils are mentioned over 200 times in the Bible.
So why Young Living? Not only are their oils pure, organic, and effective, they are gentle enough for little ones. They are safe for ingestion, with no expiration date. Plus, they guarantee a Seed to Seal product which you can read more about here.
Although I know lots of women that are avid wholesale distributors, that is not my goal in the least. However, it is my goal to help anyone that is interested in using the oils and incorporating them into their daily lifestyle. In that case, I would be more than happy to mentor you along your oily journey. If you are only interested in learning a little more about the oils, you can check out my Instagram account: heapeoflove. There I share ways we incorporate oils into our daily routines.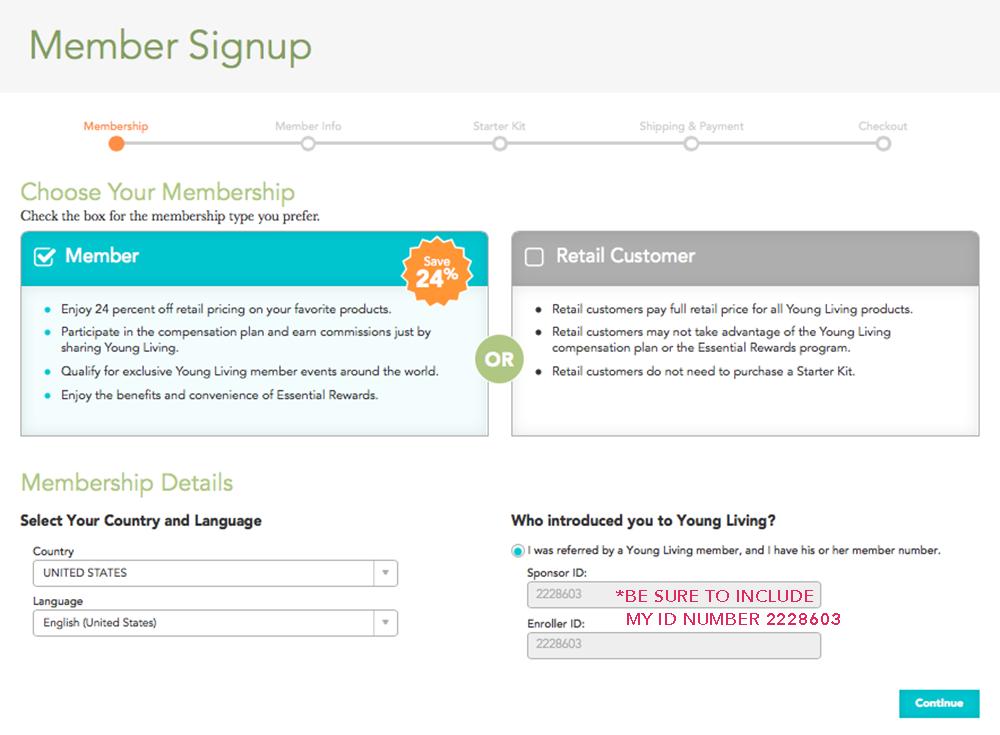 If you are interested in becoming a retail customer only, you can click here.
If you are interested in signing up as a wholesale distributor (this does not mean you have to sell anything!) and joining my team, you can click here. You will receive 24% off retail prices as a distributor, with no minimum order. When you purchase a starter kit, it's as if you're paying a one-time membership fee. But with the starter kit, you get 11 oils, a diffuser, a product guide, a resource guide, samples and much more. And although you don't have to sell Young Living oils, if you are interested in making this a personal business this is the option for you. You will receive a member number for signing up as a distributor, which you can share with your family and friends. If they place an order with your number, you'll receive compensation. (Just another added perk!)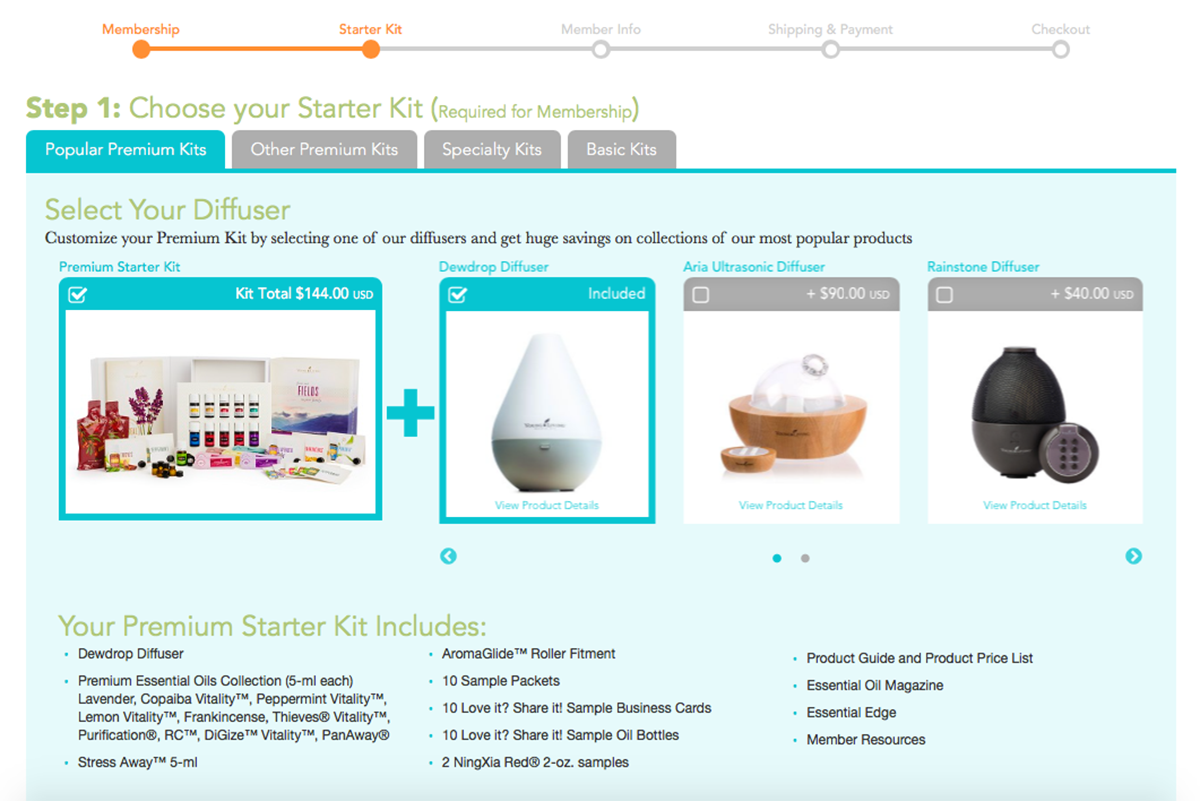 Whenever choosing a starter kit, I highly recommend the Premium Starter Kit with Dewdrop™ Diffuser. It's the option I went with and I believe it's by far the best deal. The Premium Starter Kit includes:
Dewdrop™ Diffuser

, my favorite part of the kit! ($83 value)

Everyday Oils collection

, includes a 5 mL bottle of Copaiba Vitality™, DiGize™ Vitality, Frankincense, Lavender, Lemon Vitality™, PanAway®, Peppermint Vitality™, Purification®, R.C.™, Thieves® Vitality and a bonus bottle of Stress Away™. ($163 value)

AromaGlide™ Roller Fitment

10 Sample Packets

, including 2 each of Lavender, Lemon, Peace & Calming®, Peppermint, and Thieves™.

2 NingXia Red® 2 oz. samples

+ additional information, including Distributor Resource Guide, Distributor Agreement, Essential Oils at a Glance user's guide, Product Guide, Product Price List, S.E.E.D. Sharing for Success booklet, and Welcome to Young Living booklet.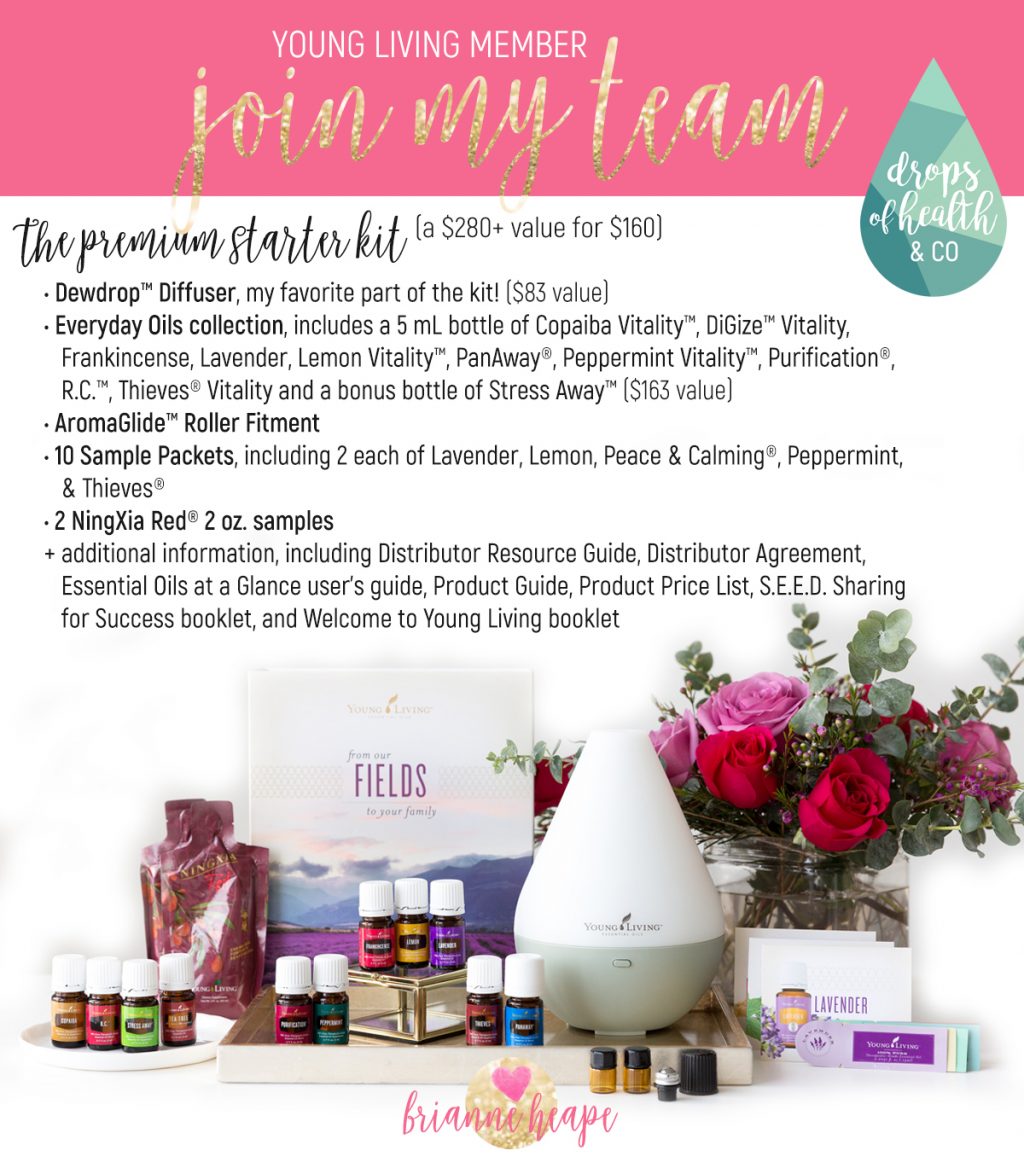 (01) 2 NingXia Red® 2 oz. samples; (02) Bamboo Diffuser; (03) Sample Oil Bottles; (04) 10 Sample Packets; (05) Stress Away™ 5-ml
Please email heapeofoils (at) gmail (dot) com or comment below with questions you may have regarding essential oils. I may not have an answer, but I will do my best to get you one. And don't forget to follow along our oily journey on Instagram at heapeoflove.
 facebook // twitter // instagram // pinterest // bloglovin'
Please note that all suggestions are of my own opinion and specific to Young Living essential oils. My statements have not been evaluated or approved by the FDA. In no way am I suggesting that these oils will cure, alleviate, treat, prevent, or diagnose a disease, symptom, or injury. Please do not replace your current prescriptions or OTC medications based on the information provided on this blog. Keep out of reach of children.
*Updated on June 29, 2016 to reflect new pricing and new products for Young Living.