It's  been one very crazy week and this week's forecast appears to be the same. If you follow me on Instagram (@BrianneJoy) you know that it must have been a very busy week, because of my lack of photos these days. With that said, there is no weekly recap this week. Instead, I'm sharing a new favorite of ours with you!
—
In our attempts to live healthier, I'm always on the hunt for new, healthy recipes. For the most part, it's fairly simple to find healthier dinner options, but it's lunch that can be tough. For lunch, we've been on a wrap kick. Spinach wraps, with turkey, greens, provolone, and hummus – it's so easy, light, and delicious! Justin claims I'm addicted, but he loves them too. We've also done a couple of lettuce wraps too. (Surprisingly filling.)
Several months ago, a co-worker recommended a quinoa salad that Publix's deli makes each week. Seeing as I do my grocery shopping on my lunch break, I love stopping by Publix's deli for a quick bite to eat. After trying this quinoa salad a few times, I decided to try and recreate the dish for us. Although it isn't exactly the same, it is very similar and we both really enjoy it. Plus, it's super easy to create and very healthy!

quinoa, 1/2 a cup fresh spinach, 1/2 a cup
(chopped)
craisins, 1/4 a cup
(a.k.a. dried cranberries)
olive oil, 1 teaspoon lemon juice, 1/2 of lemon honey, 1 teaspoon edamame, 1/4 a cup
(cooked & shelled)
sunflower seeds, 1/4 a cup
(raw)

One, cook quinoa (as packaging suggests).
Two, drain & cool quinoa.
Three, combine spinach, craisins, olive oil, lemon juice, edamame, honey, and sunflower seeds with quinoa.
Four, refrigerate, serve & enjoy!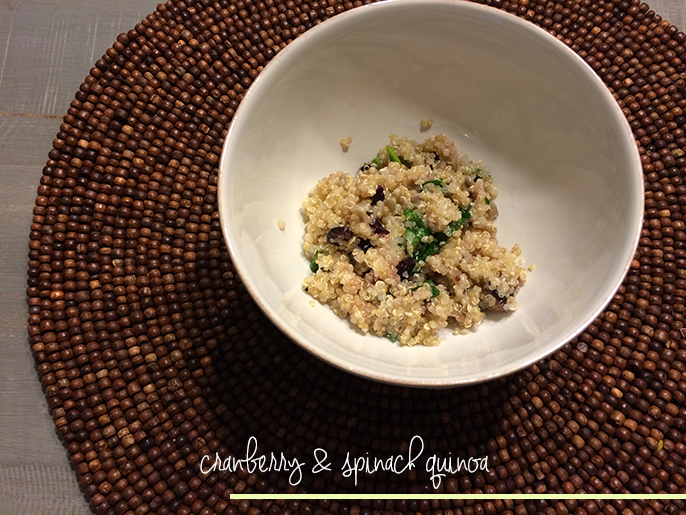 Although I couldn't find a recipe for Publix's quinoa salad, I did see where they posted the nutritional facts on their Facebook page. Click here for the nutritional information of their version.
For awhile now, I've heard the rave on quinoa, it's awesomeness, and benefits. Even though it took me awhile to join the bandwagon, I can't wait to find new ways to incorporate quinoa into our diet. Do you have any awesome quinoa recipes that you love?

facebook // twitter // instagram // pinterest // bloglovin'