A couple of weekends ago, we packed our bags & prepared for our first flight with a baby! I have only flown a total of 4 times, & never with a baby; so I knew I wanted to be as prepared as I could possibly be. A bit nervous, I called the airline (& our ear doctor) with questions. Once those conversations were over & my mind was at ease, I began scribbling a to-do list. I'm typically not the most organized; however, for this trip, I felt like that was the only way we'd survive. And although I'm no seasoned flyer, I feel like I learned a lot on our flight to & from Cincinnati – enough to share a few of my tips with you.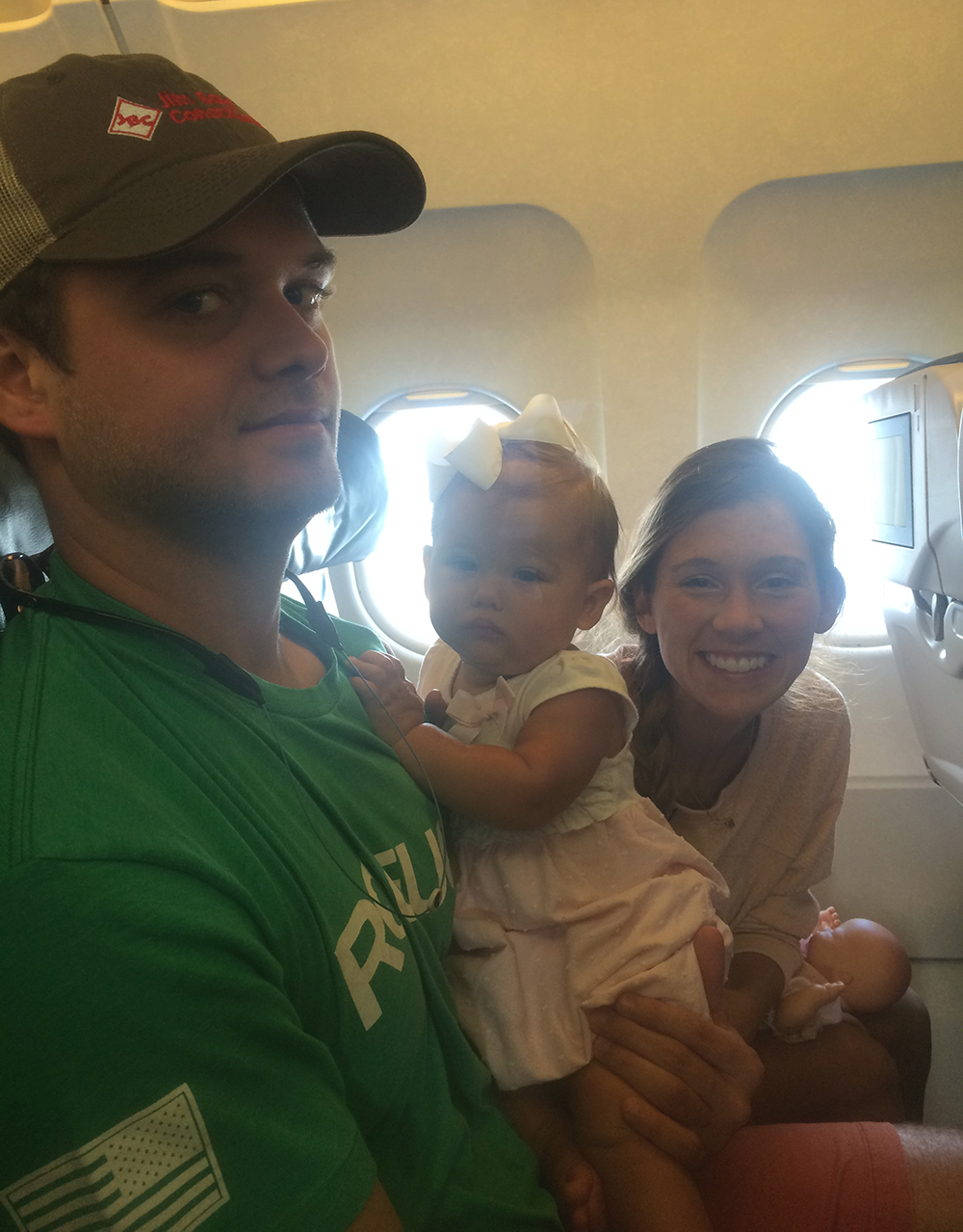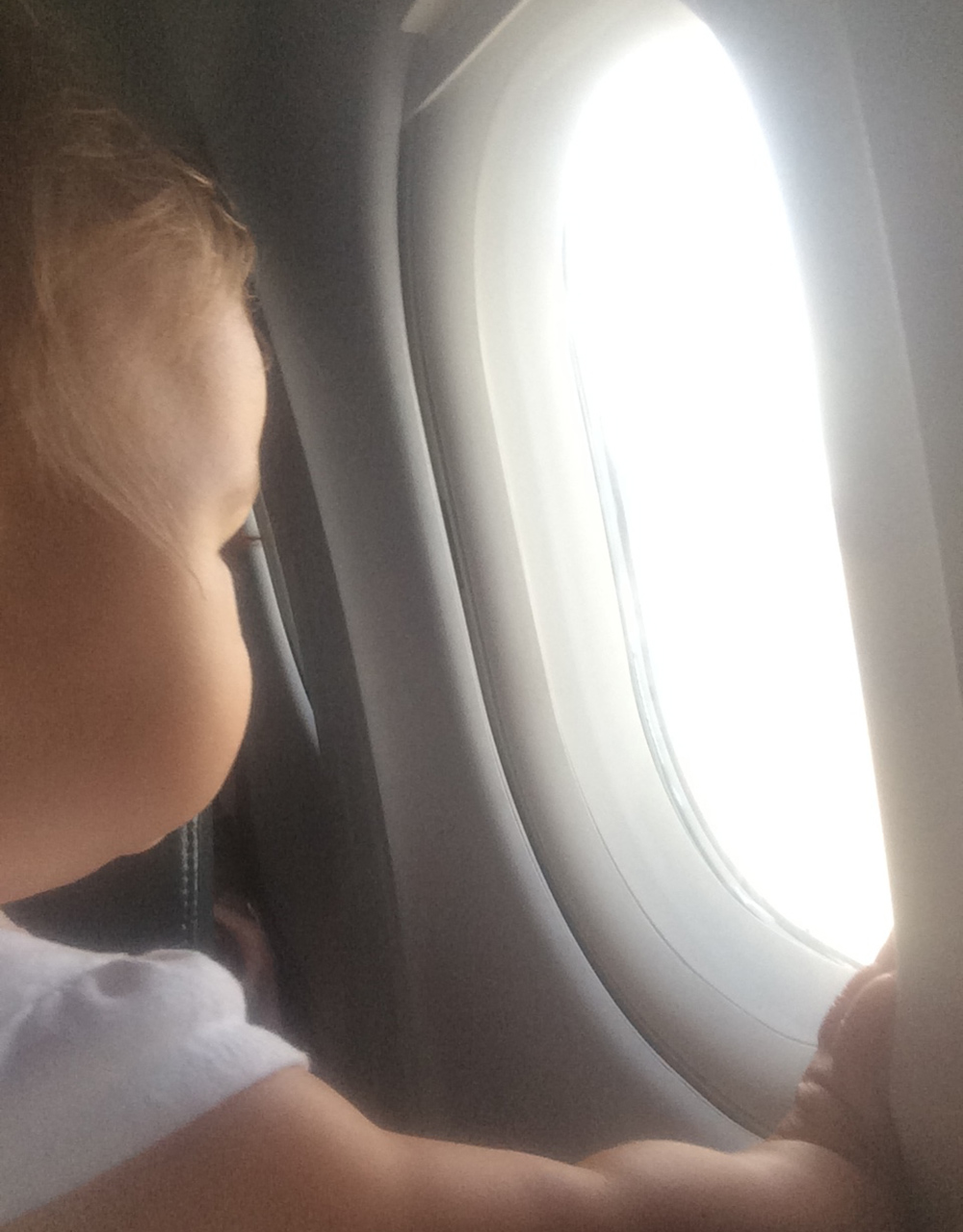 Let's get started. Grab a sharpie & a box of gallon ziplock bags. No seriously, this will help you pack efficiently & stay organized on any trip. I went ahead & packaged two outfits (of hers) in each ziplock, including bows. Plus, ziplock bags for pajamas, socks, bath supplies, & extras. Not only did it make packing her stuff simple, but it helped me keep it organized during our stay.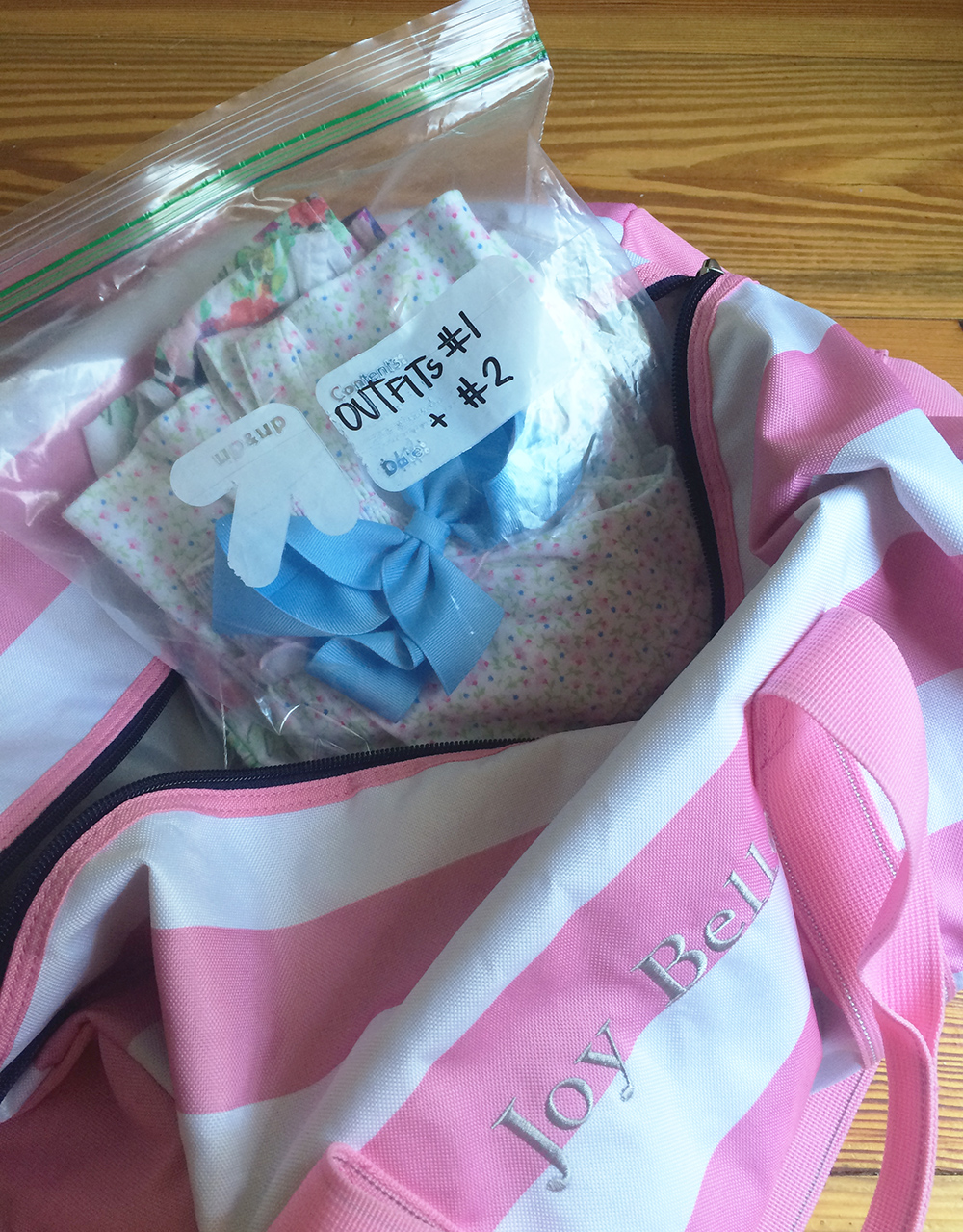 For our actual flight, I had my purse (for the entertainment, IDs, etc.) & the diaper bag (for the necessities, like diapers, wipes, & a change of clothes). Based on reviews, I feared checking the carseat & stroller, so I was pleasantly surprised to learn you can gate check these valuables. It not only saved us money on checked items, but insured that our car seat & stroller weren't tossed around like luggage.
What was in my purse?
a clutch with cash, boarding passes, & IDs
a babydoll (her favorite!)
CoveredGoods breastfeeding cover
WetOnes® wipes
a fully charged phone with the Vudu app
a charger, just-in-case of a delay (which happened!)
What was in the diaper bag?
diapers, of course
wet bag
wipes
Copaiba essential oil (for teething)
Thieves® essential oil (for germs)
an extra outfit
a sippy cup (I filled this with water before boarding)
PlumOrganics® fruit snacks
Other tips I found useful,
most airlines let you gate check your carseat, stroller, etc.
I recommend a dolly (or something with wheels) to lug the carseat through the airport
prepackaged snacks are best for flights & easy to stash in the diaper bag/carry-on bag
nursing or bottle feeding baby during take-off can help with their ears popping
children under 2 fly for free (with most airlines), as long as they sit with a parent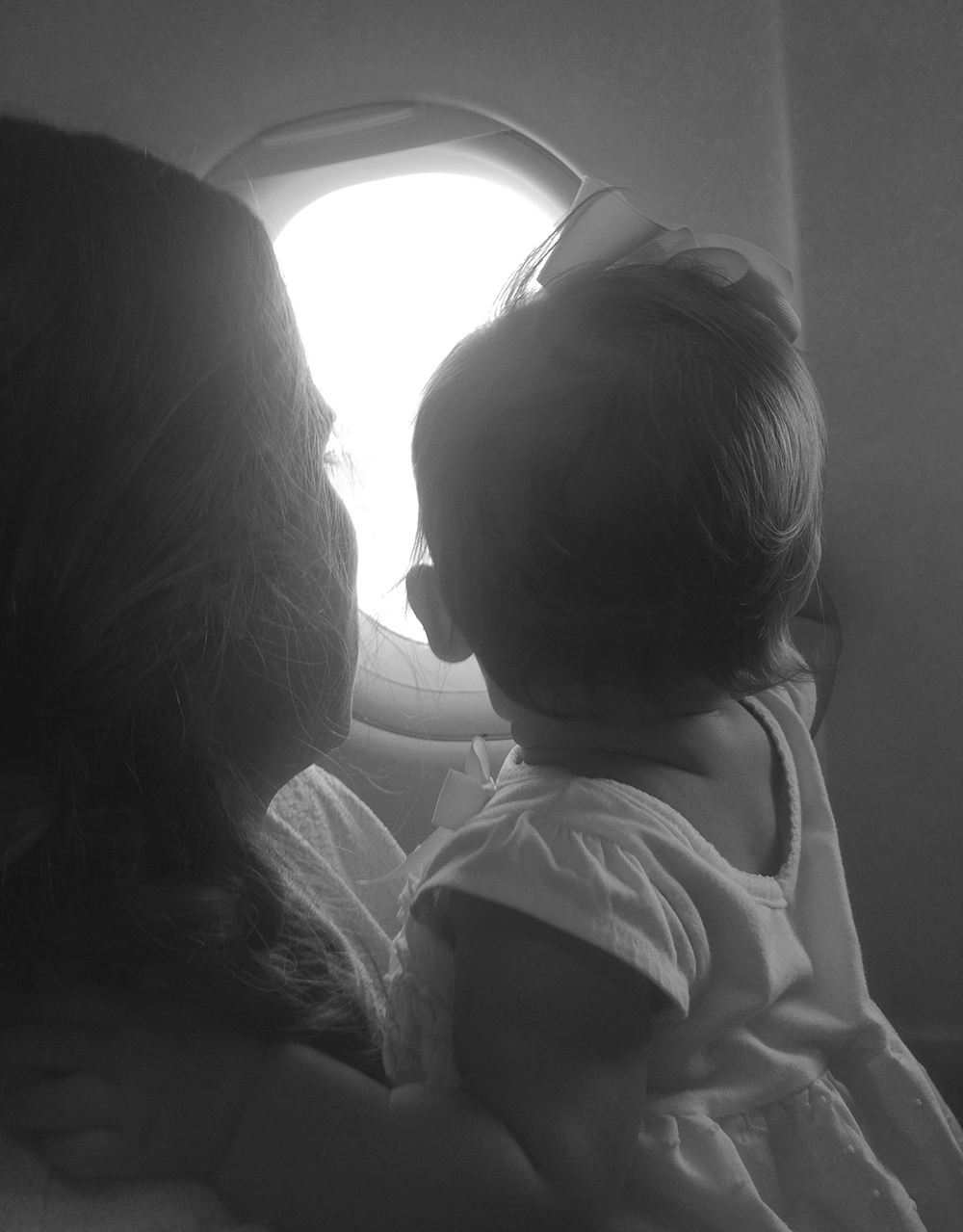 Like I said before, we're not frequent flyers; but, I hope you find our guide to flying with a baby to be helpful. Aside from a couple of friends recommendations, I definitely wish I'd had a simple guide prior to our first flight.
All in all, I couldn't have asked for a better first flight with Joy Belle. She was a dream of a child to fly with. After take-off, she fell right to sleep & didn't wake until we were leaving the airport. On the way home, she didn't even wait until take-off to doze.
At some point during our flight delay on the way home, I snagged this photo of our sweet girl. I was honestly surprised at how well she was entertained during the 8 hour delay.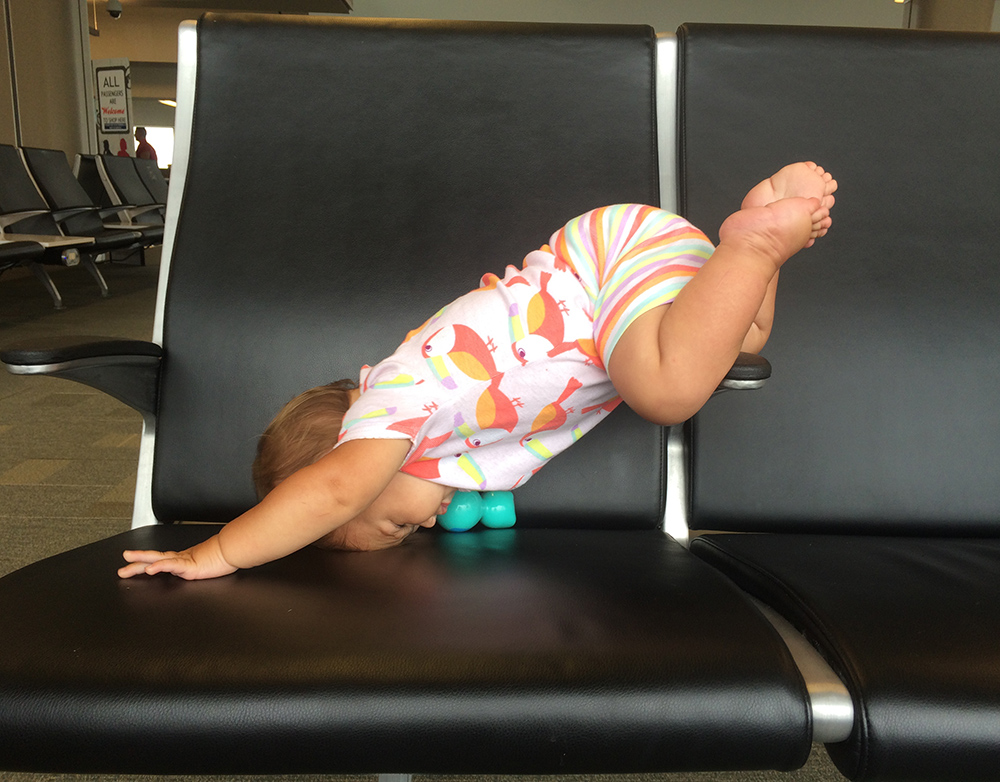 We're hoping our next flight with Joy Belle will be overseas to visit her Aunt Bethany & Uncle Mike. Seeing as they literally live around the world, & the flight will be 12+ hours, we may be packing a few more toys the next go round.
Have you flown with children? I would love to hear any tips or suggestions you may have for flying with little ones.